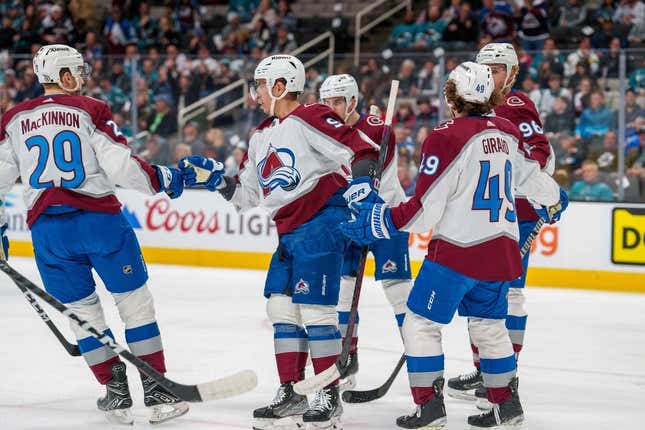 The Colorado Avalanche are rising up at the right time of the season
They'll try to climb another rung on the ladder when they visit the San Jose Sharks for the second time in three days on Thursday night
Chris Paul should ride the bench next season | Keep it a Buck(et)
The Avalanche (46-24-6, 98 points) beat the Sharks 4-3 in overtime on Tuesday to clinch a playoff spot for the sixth consecutive season and move into a tie atop the Central Division standings
The Minnesota Wild and Dallas Stars also have 98 points entering Thursday. The Stars would own the tiebreaker because they have more regulation victories this season (35).
Nathan MacKinnon won Tuesday's game with the 10th overtime goal of his 10-year NHL career, moving him past Milan Hejduk for the most in franchise history. The winning goal also gave him 100 points on the season for the first time.
"Tons of amazing players on this team helped me a ton," MacKinnon said of the milestone. "Obviously, I don't need to say the names, but everyone has helped me a lot throughout the season, so it's fun to get it for sure."
Colorado is also as close to being 100 percent healthy as it has all season, though it still has a ways to go.
Gabriel Landeskog, a pivotal part of the past five playoff runs for the Avalanche, including their march to the Stanley Cup title last season, has not played this season after undergoing knee surgery in October, but he's skating and joined the team on the current road trip
He has been joined by defenseman Josh Manson, out since March 1 with a lower-body injury, backup goalie Pavel Francouz, out since Feb. 7 with a lower-body injury, and left wing Artturi Lehkonen, out since March 13 with a finger injury.
Avalanche defenseman Cale Makar and center Darren Helm also missed the most recent game in San Jose with lower-body injuries, but those aren't expected to keep them out long term
The Sharks (22-39-16, 60 points) have been as competitive as they've been all season in recent games
The overtime loss to the Avalanche matched their longest point streak of the season (3-0-1)
San Jose was also considerably more competitive against the Avalanche than it was in a 6-0 loss on March 7 in Denver
"Really proud of the way we competed and the way we played, especially after what happened the last time we played these guys," San Jose coach David Quinn said.
Sharks defenseman Erik Karlsson has five assists in the past two games to give him 74. He needs six more to move into the top 10 for the most in a season by an NHL defenseman
Logan Couture is also three goals from reaching the 30-goal plateau for the fourth time in his 14-year career in San Jose, and the first time since the 2017-18 season.
"We're just all competitors," Sharks forward Kevin Labanc said. "It doesn't matter if we're in it or not. We're competing every single game. We compete to win, and we compete for each other. [Some] guys are playing for contracts. Guys are playing to move up in the lineup, make a good showing for themselves for next year. We're all working hard. We're all competing.
San Jose could be without their third-leading point scorer, forward Tomas Hertl, who did not play in the third period on Tuesday because of an upper-body injury. Quinn said he's day to day.
--Field Level Media