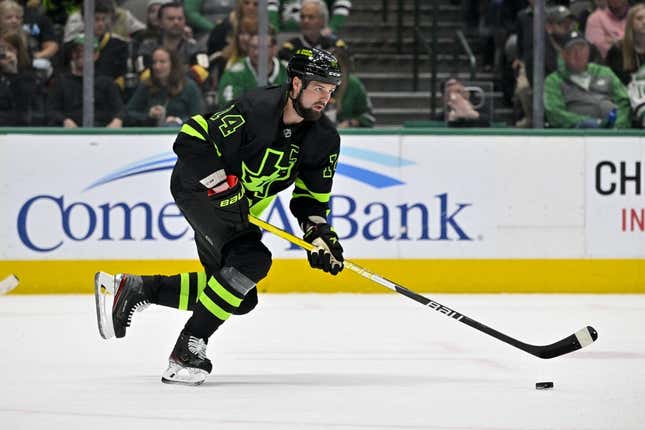 The Dallas Stars will continue their push for the Central Division title when they visit the St. Louis Blues Wednesday to open a home-and-home sequence
Bass' ERA stinks, but not compared to who he is off the mound | Worst of the Week Countdown
The two teams will play again Thursday night in Dallas to close their regular season.
Through Monday's games, the Stars (45-21-14, 104 points) were tied with the Colorado Avalanche for first place -- although the Avalanche had played one fewer game
"It's tight. A lot of good teams in the West," Stars captain Jamie Benn said. "We'll finish with seven teams with 100 points. We have two big games coming up and we want to finish strong. Wherever we're at, we're at.
The Stars defeated the Red Wings 6-1 in Detroit on Monday night for their fourth straight victory and their sixth in seven games
"It was a big win," Stars coach Peter DeBoer said. "We've got to win the rest of our games in order to have a chance at the division and to lock up home ice, so we've got to play for that. We came in and took care of business. It wasn't perfect, but we did what we had to do and now we have to do the same thing against St. Louis.
Stars forward Joe Pavelski scored his 1,000th career point in Detroit. Miro Heiskanen earned his 71st point of this season, tying him with Sergei Zubov for most single-season points by a defenseman since the team moved to Dallas
The Blues (37-36-7, 81 points) are coming into the game on the heels of their 5-3 road loss to the Minnesota Wild. Prior to that, St. Louis had gone 8-2-2 over a 12-game span
"We tried to score. We had some looks," Blues forward Pavel Buchnevich said after the Minnesota game. "We had some chances to score. But when your confidence is low, you have do something -- maybe different. I don't know. If I had answers, we'd already have it fixed
"It's not our year, I guess."
Blues coach Craig Berube is guarding against a season-capping letdown
"Dallas coming in here, you know, it's big points for Dallas, so we've got to be prepared," he said. "I want our guys to play hard, finish out playing hard."
The Blues recalled goaltender Joel Hofer from Springfield of the American Hockey League, and he will start one of the games against the Stars
With Robert Bortuzzo out for the season, the Blue recalled fellow defenseman Tyler Tucker from the AHL to potentially fill in. Also, forward Hugh McGing is expected to make his NHL debut Wednesday after his AHL recall.
"Hard-working guy down there that gives you everything he's got every shift, he's good energy all the time, competitive, he's done a really good job down there the last couple of years," Berube said of McGing. "We wanted to get him up here and get an opportunity to look at him."
Dallas won the previous game between these teams 4-1 back on Nov. 28. Scott Wedgewood earned the victory in goal and Wyatt Johnston (goal, assist) and Benn (two assists) paced the offense.
--Field Level Media