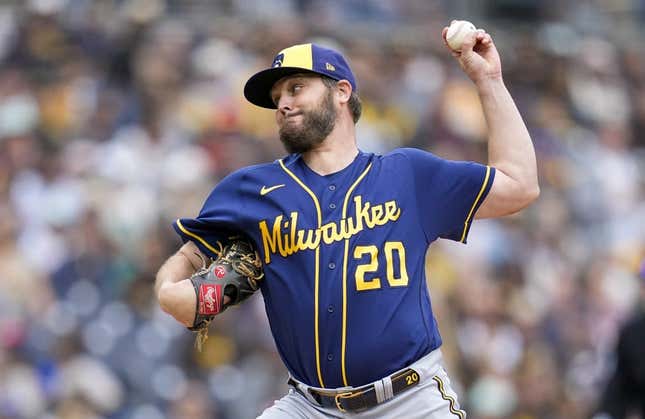 Wade Miley topped Yu Darvish in a classic duel Sunday with a pitching disengagement violation leading to the game's only run as the visiting Milwaukee Brewers scored a 1-0 win over the host San Diego Padres to win a third game of their four-game series
Bass' ERA stinks, but not compared to who he is off the mound | Worst of the Week Countdown
Garrett Mitchell scored the decisive run in the second inning after reaching on a bunt single up the first base line on the first pitch he saw from Darvish.
Mitchell was on first when Darvish twice stepped off the rubber to draw a balk under the new pitching disengagement rule. Mitchell then stole third and scored on Brian Anderson's sacrifice fly to left.
Both Miley and Darvish pitched seven innings and allowed only four hits.
Miley (2-1) didn't issue a walk and struck out eight while throwing 89 pitches to earn the win. Peter Strzelecki pitched a perfect eighth.
The Padres loaded the bases with two outs in the bottom of the ninth before Brewers closer Devin Williams threw a called third strike past Trent Grisham, who had been ahead 3-1 in the count, to end the game
Darvish (0-2) issued two walks and had 12 strikeouts in a 100-pitch outing. It was the 50th double-digit strikeout game of his career.
Miley worked out of jams in each of the first two innings. Xander Bogaerts and Manny Machado opened the Padres first with back-to-back singles putting runners at the corners with no outs. But Miley struck out Juan Soto and Nelson Cruz before getting Jake Cronenworth to fly out to left to end the inning
Austin Nola doubled in the second and advanced to third on a wild pitch. Miley then struck out Trent Grisham and Jose Azocar.
Miley retired 17 of the last 19 hitters he faced. Ha-Seong Kim singled with two outs in the fourth and Nola reached on a throwing error by third baseman Mike Brosseau in the seventh.
--Field Level Media