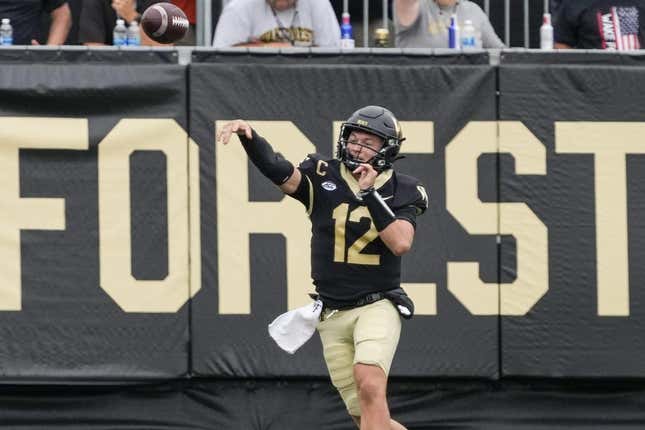 There's a lot to gain for Wake Forest and host Old Dominion when the teams meet Saturday afternoon in Norfolk, Va.
How running an NFL team is like running a restaurant | Chef Emeril Lagasse
This will be the first road game for Wake Forest (2-0), while Old Dominion (1-1) will play its second opponent from the Atlantic Coast Conference after losing at Virginia Tech in the season opener.
"You just don't get very many of these opportunities," Old Dominion coach Ricky Rahne said of being the home team against an opponent from a Power 5 conference. "A lot of teams don't get these opportunities. To be able to have opportunities like this is awesome and it's something we need to take advantage of."
Wake Forest has been well-rounded in victories against Elon and Vanderbilt. Coach Dave Clawson, who has seen a decrease in mental miscues, was encouraged to witness improvement from one game to the next.
"I think that's where we probably had the most growth," Clawson said. "We had less missed signals. We had fewer missed assignments."
Wake Forest quarterback Mitch Griffis, who is from Northern Virginia, will make his fourth career start.
Rahne said the Demon Deacons' offense is tailored to suit various quarterbacks, so even with Sam Hartman moving on, there will be challenges for the Monarchs.
"Multiple different quarterbacks can operate it," Rahne said. "Mitch Griffis has done a great job and he has shown that he has the tools and the know-how to do it. I don't think that has changed anything."
The Monarchs defeated visiting Louisiana 38-31 last week as transfer quarterback Grant Wilson threw four touchdown passes in his home debut.
Old Dominion received a big boost from linebacker Jason Henderson, the Sun Belt Conference Defensive Player of the Week, as he made 17 tackles — the third-most by a Football Bowl Subdivision player this season.
The Monarchs hope the offensive line can continue its strong physical play as the season progresses.
"I think that helped establish an identity for our entire offense," Rahne said.
The Demon Deacons and Monarchs have met only once before with Wake Forest winning 42-10 at home to open the 2021 season.
—Field Level Media