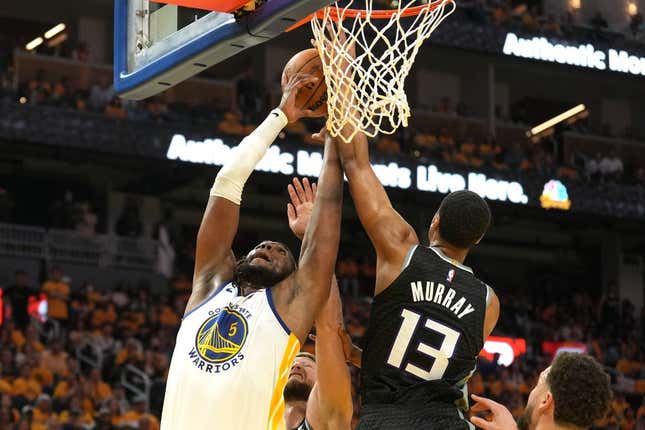 The young and talented Sacramento Kings and the veteran and accomplished Golden State Warriors have delivered an arresting first-round Western Conference playoff series, with Game 5 set to go down Wednesday in the California capital
The Kings will return home where they won the first two games of the series, as De'Aaron Fox and Domantas Sabonis led the charge, as expected. The duo had its hands full when the series shifted to the Bay Area as the Warriors tapped into their championship pedigree to win Games 3 and 4 at home
Yet it is the Warriors who are feeling a sense of optimism after it was announced Monday that Fox has an avulsion fracture on the index finger on his left shooting hand that occurred late in Game 4 on Sunday. Fox, who is listed as doubtful, has averaged 31.5 points, 7.0 assists and 6.0 rebounds in the series
Fox did tell reporters Tuesday that he would not be kept from playing, calling himself "99, 100 percent" likely to play. He practiced shooting while wearing a splint on the injured finger.
While it is the Kings who are the No. 3 seed in the Western Conference, the series has followed a season-long pattern familiar to the No. 6-seeded Warriors
Golden State was a troublesome 11-30 on the road in the regular season, the worst among all of the playoff and play-in tournament qualifiers. But the Warriors were an impressive 33-8 at home, the third-best mark in the NBA and better than any team in the Eastern Conference
The Kings made a late push in Game 4 in an attempt to take a commanding series lead, with the Warriors holding on for the 126-125 victory. Fox made a contested 3-pointer with 28.7 seconds remaining to bring the Kings within a point and the Warriors' Stephen Curry missed a shot with 14.1 seconds remaining on the other end, but Harrison Barnes' potential game-winning 3-point attempt for the Kings was a touch long
Fox scored 38 points for the Kings, while Keegan Murray had 23, but Sabonis was held to 14 with a team-best eight assists. Curry had 32 points for the Warriors, while Klay Thompson had 26 and Jordan Poole added 22 in a surprise start
"Obviously it would have been big if (Barnes) knocked that down for the team and for him but we trust him with that shot every day," Sabonis said. "That's his spot and we couldn't get a more open look. We've got to prepare for Game 5."
The Warriors threw a wrinkle at the Kings in Game 4, bringing defensive stalwart Draymond Green off the bench, after he missed Game 3 on a one-game suspension
And in the second half of Game 4, Green was assigned to defend the more agile Fox, who scored 17 points in the final two quarters but was held to 5-of-15 shooting from the field.
"I watch basketball, I'm studying and I studied that game, and I saw what was working, you know? And we won," Green said about being a spectator in Game 3. "So I'm a firm believer in if something isn't broke, you don't fix it. Our offense was rolling and we played good defensively, really good defensively.
"So I didn't want to come back and just shake things up just because I'm back. That's not right. Jordan went out there, he played well, we played well. He earned it."
--Field Level Media