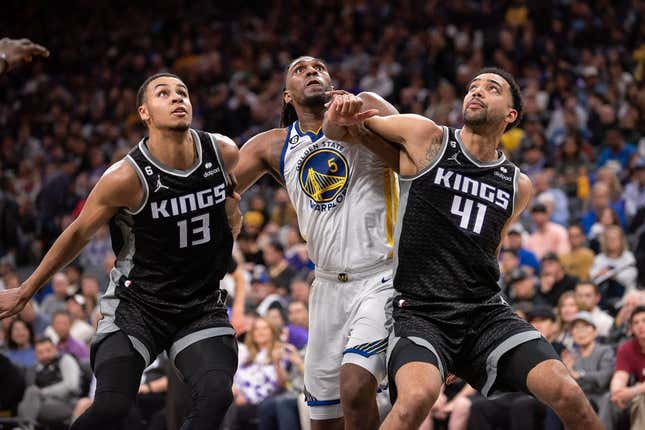 The defending NBA champion Golden State Warriors have the history, the momentum and even the season series
Air Jordans are more American than McDonald's French fries | Deon Cole's Ultimate Sports Fantasy
But the Sacramento Kings have the home-court advantage when the Northern California rivals meet in the NBA playoffs for the first time in an opening-round series that tips off Saturday night in the state capital
The Warriors needed an 8-2 finish to the regular season not only to avoid the league's play-in tournament but land in what some of their players have admitted is a favorable spot. Travel between the sites will be done on a 90-minute bus ride rather than as much as a four-hour flight
The Kings had locked up the Pacific Division crown and the No. 3 seed in the West before they rested four key players, including All-Stars Domantas Sabonis and De'Aaron Fox, last Friday on the third-to-last day of the regular season. It was a game the Warriors won 119-97 in Sacramento to position themselves for the upcoming rematch
The good news for the Kings is that if the goal was to keep their stars healthy, it worked. Sacramento enters the series with all hands on deck, which was also the case the previous time Golden State visited this season
That was back on Nov. 13, when Sabonis collected 26 points, 22 rebounds and eight assists while Fox went for 22 points and eight assists in a 122-115 win.
The victory was part of a seven-game winning streak that vaulted the Kings to the top of the Pacific Division while the Warriors were heading in the opposite direction. Sacramento wound up earning a playoff spot for the first time since 2006, but also claiming its first division title since 2003
The question now is: Can an inexperienced club continue to have that level of success in the postseason, especially when having to deal with the playoff-tested defending champions in the first round?
Kings coach Mike Brown, who was with the Warriors as an assistant last season, admits he's not sure
"I don't think there's any other way but to go through it," he said. "You prepare your team as best you can, and you talk to them about the experiences that you've had as a coach and as a player, and then you lace them up and you go out there and you get through it.
"As we all know, there's no better teacher than experience. But you can talk until you're blue in the face. You can watch film until you're blue in the face. You could drill it until you're blue in the face. It's hard to simulate what it's really going to be like until you actually go through it."
The Warriors also enter the series in season-best health, which includes the return of Andrew Wiggins from a 25-game absence for personal reasons. The five days off afforded non-play-in tournament participants has helped last year's key playoff contributor work his way back into shape deemed good enough to make his return, perhaps as a reserve early in the series
Golden State opens the best-of-seven event on the road, but that hasn't been an obstacle in recent years as they've won at least one road game in an NBA-record 27 straight series and prevailed in 22 of their last 24 series overall dating back to the start of their run of four championships in eight years. They've won 18 straight series over Western competition in that span.
They've also taken Game 1 in the first round on seven straight occasions.
Although rarely satisfied with his team's play during the regular season, Warriors coach Steve Kerr admitted this week his team has demonstrated in past years an ability to save its best for the finish
"We got where we needed to get and that's into the playoffs," he said. "We've got a chance and that's all we were hoping for."
--Field Level Media