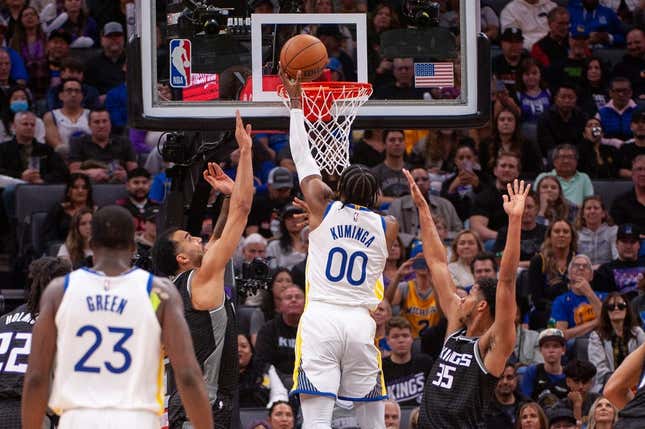 Klay Thompson scored a game-high 29 points and the visiting Golden State Warriors moved within one win of claiming a Western Conference playoff spot with a 119-97 romp over the unmotivated Sacramento Kings on Friday night
Chris Paul should ride the bench next season | Keep it a Buck(et)
The Warriors (43-38) overcame 24 turnovers and a 98-78 discrepancy in field-goal attempts to move a half-game ahead of the idle Los Angeles Clippers (42-38) in their duel for the fifth playoff position in the West
The Clippers hold the tiebreaker advantage over the Warriors and would finish fifth with wins Saturday over the Portland Trail Blazers and Sunday at Phoenix, or with one win coupled with a Warriors loss in their regular-season finale Sunday at Portland
Golden State caught a break Friday when the Memphis Grizzlies (51-30) beat the Milwaukee Bucks to lock down the No. 2 spot in the West. That assured the Kings (48-33) would finish third even before taking the court against the Warriors
With nothing to gain, Sacramento sat out stars Domantas Sabonis and De'Aaron Fox as well as regulars Kevin Huerter and Malik Monk against the Warriors. The Kings trailed 32-16 after the first quarter and never caught up en route to a second straight defeat
Stephen Curry added 25 points for Golden State, and Kevon Looney pulled down a game-high 16 rebounds.
Thompson shot 5-for-8 on 3-point attempts, Donte DiVincenzo was 4-for-6 and Curry 3-for-7 as the Warriors outscored the hosts 48-33 from beyond the arc despite taking three fewer attempts (39-36)
DiVincenzo finished with 18 points to go with a game-high nine assists. Jonathan Kuminga chipped in with 15 points and Gary Payton II 10 for the Warriors, who won the season series 3-1 from the Kings, a possible first-round playoff opponent
En route to a seventh win in their past nine games, the Warriors outshot the Kings 52.6 percent to 38.8 percent
Reserves Trey Lyles and Chimezie Metu each had 15 points and Metu added a team-high nine rebounds for the Kings, who added to their advantage in field-goal attempts by grabbing back 18 of the misses. Alex Len had five of the offensive rebounds
Harrison Barnes added 13 points, Richaun Holmes 11 and Terence Davis 10 for Sacramento, which already had clinched the Pacific Division title.
--Field Level Media