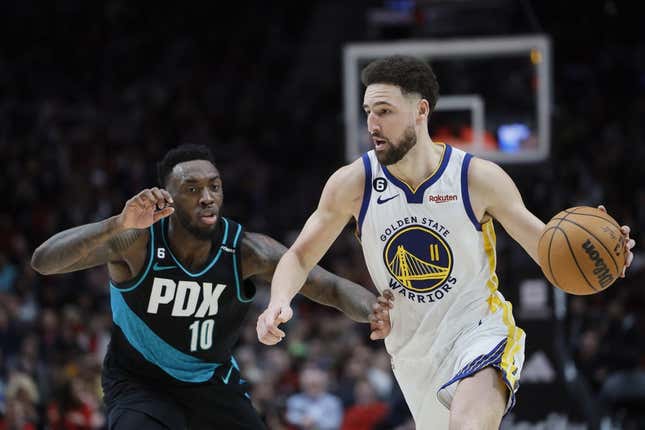 The Golden State Warriors could move up or down in the Western Conference standings on the final day of the regular season Sunday, but they'd be perfectly happy staying put when they visit the Portland Trail Blazers
The Warriors (43-38) begin the day tied with the Los Angeles Clippers for the fifth playoff berth in the West, and with a win, would be assured of finishing either fifth or sixth. They would lose a tiebreaker to the Clippers (43-38), who finish at Phoenix, should both teams win
Landing fifth, which would put them in a first-round series with the fourth-seeded Suns, or sixth, which would earn them a matchup with the third-seeded Sacramento Kings, would allow them to avoid the conference play-in tournament. They currently lead the Los Angeles Lakers (42-39) and New Orleans Pelicans (42-39) in their quest to escape the play-in.
After watching his team struggle at times, in a must-win game, to beat a Kings squad resting three starters Friday night, Warriors coach Steve Kerr noted of the roller-coaster season: It had to come down to this
"We've always been a team that lives on the edge," he said. "We're a little wild, a little chaotic, but we've thrived in that chaos for many years. We just can't cross the edge.
"It's up to us. We have it in us. But the focus, the attention to detail, it all has to be there."
A loss to the Trail Blazers would open the door for the Warriors to fall as far as No. 8 in the play-in tournament should both the Lakers and Pelicans win, or to No. 7 if just one of them wraps up Sunday with a victory
The Lakers finish at home against the Utah Jazz, while the Pelicans travel to Minnesota. Like the Clippers, both the Lakers and the Pelicans would win a tiebreaker over Golden State.
The Warriors have won two of three from the Trail Blazers this season despite not having Stephen Curry for any of those games. Jordan Poole (36.0 points per game against Portland) and Klay Thompson (28.3) have taken up the scoring slack
Coming off a 14th loss in its past 16 games Saturday in Los Angeles against the Clippers, Portland (33-48) actually could help itself with one more loss Sunday. The Trail Blazers currently reside in the fifth position in the draft lottery, a spot that would be at risk with a win should the Indiana Pacers and/or the Orlando Magic lose a 48th game Sunday
The Magic will finish their season Sunday at Miami, the Pacers at New York.
Kevin Knox II had 30 points, Shaedon Sharpe 26 and Trendon Watford 24 for the Trail Blazers against the Clippers on Saturday. Portland played a ninth consecutive game without Damian Lillard (tightness in right calf) and 10th straight without Anfernee Simons (sore right foot)
Trail Blazers coach Chauncey Billups said his players will show up Sunday, inspired to go out a winner
"We play hard as heck and we play together. We root for one another every single night and we never let go of the rope," he said. "As a head coach, that's what I believe in, and that's what I want, and that's what our guys do."
The Trail Blazers beat the Warriors 125-122 on Feb. 8 in the clubs' only previous head-to-head in Portland this season
--Field Level Media