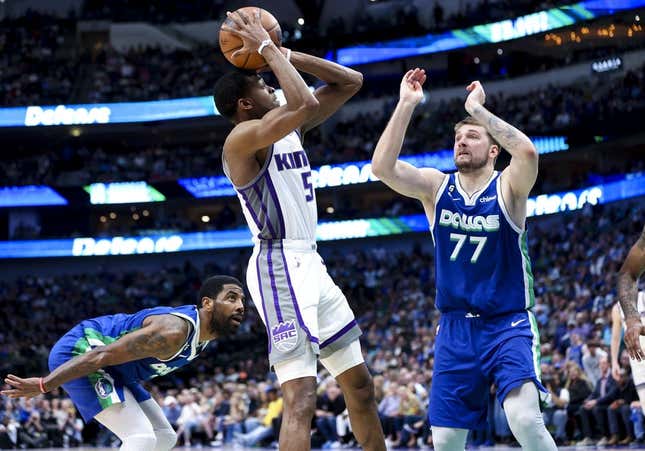 The Sacramento Kings will get an opportunity to do some scoreboard-watching before determining just how important a win over the Golden State Warriors might be when the rivals meet Friday night in the California capital
Does Jimmy Butler have the best NBA Finals origin story? | Agree to Disagree
The Kings (48-32), who have already clinched the Pacific Division title, are assured no worse than the No. 3 seed in the Western Conference playoffs
They could still land second, but that would require the Memphis Grizzlies (50-30) to lose both their remaining games as well as the Kings to finish on a two-game winning streak
The Grizzlies are scheduled to face the Milwaukee Bucks on Friday night in a game that should be ending right about the time the Kings tip off against the Warriors
A Memphis win would render the Kings' game meaningless for the home team, which could be a huge break for the Warriors (42-38), who are in much tighter of a playoff bind than Sacramento
Golden State will take the court tied for fifth in the West with the Los Angeles Clippers, with LA holding the tiebreaker. The Warriors could still pass the Clippers, but more importantly would assure themselves no worse than the sixth playoff spot with wins at Sacramento and Portland on Sunday
The Los Angeles Lakers and New Orleans Pelicans, both of whom also hold tiebreaker advantages over the Warriors, could catch Golden State with a win Friday coupled with a Warriors loss to the Kings. The Lakers will be hosting the Suns in Friday's nightcap, while the Pelicans are at home against the New York Knicks in a game that starts two hours before the contest in Sacramento
The Kings faced a similarly focused opponent on Wednesday when they fell 123-119 to a desperate Dallas Mavericks squad in a game that could have moved Sacramento within one game of the Grizzlies
Sacramento coach Mike Brown said there was a lesson to be learned on the eve of the playoffs.
"They upped their physicality in the second half," Brown said of the Mavericks. "Which team brings the most aggression and/or physicality is going to have a chance to win. That's what we can take from this."
Meaningful in the standings or not, one reason for the Kings to take a serious approach to Golden State's visit is the perception that the Warriors would prefer to face Sacramento in the playoffs rather than options such as the Grizzlies or Suns
Both Draymond Green and Stephen Curry have gone on record in the last week saying as much, although each insisted it was nothing personal.
"I'm not upset if the standings shook out how they did today and we met Sacramento in the first round," Green said on his podcast this week. "Not because I think Sacramento is a weak team, but because the travel is so much easier. ... The only place we can fly and get to in 45 minutes in the Western Conference is Sacramento."
The Warriors were beaten 122-115 in their only previous visit to Sacramento this season. The clubs played three times in the first three weeks of the season, with Golden State also holding serve at home, prevailing 130-125 and 116-113
Andrew Wiggins, who returned to the Warriors this week after a 23-game absence due to a personal matter, will not face the Kings or Trail Blazers, the club has announced. He is being prepared for the playoffs or play-in tournament
--Field Level Media