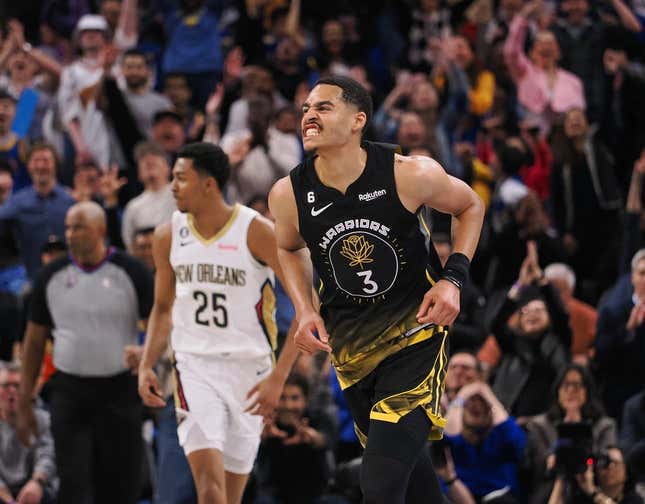 The NBA season is in its final week and there is much to be settled, especially in the Western Conference. Five teams are jockeying to finish above the play-in tournament, and one is trying to hold on to the top seed.
That adds a little drama to Sunday night's meeting between the visiting Golden State Warriors and Denver Nuggets
Golden State (41-37) is holding onto a secure playoff spot with four games left in its season, a position few might have expected the defending champion would be in at this stage. The Warriors have had a roller-coaster season marked by an uncharacteristically poor road record
Golden State is just 9-29 away from home and has been without one of its key contributors from last season, Andrew Wiggins, who has not played since Feb. 13 for personal reasons. But the Warriors do have a sharpshooting trio playing at a high level consisting of Steph Curry, Klay Thompson and Jordan Poole
Poole hit six 3-pointers in the Warriors' win over San Antonio on Friday night to join Thompson and Curry with 200-plus makes from beyond the arc this season. They join James Harden, Eric Gordon and Ryan Anderson of the 2016-17 Houston Rockets as the only teammates to accomplish the feat
"It's pretty special," Poole said. "Especially being the second team in history to do it. Up there with really big company, and we still have a couple games to go."
More importantly, his 27 points -- along with 33 from Curry and 31 from Thompson -- helped Golden State get a tighter grip on a playoff spot.
Denver (51-26) has already clinched a trip to the postseason but has yet to secure the top seed in the Western Conference. The Nuggets have lost two straight and hold a two-game lead over Memphis with five to go
Denver has the tiebreaker over the Grizzlies.
"I don't think we think about it all that much," Nuggets guard/forward Bruce Brown said of the top seed. "We're just trying to get wins every night.
The Nuggets have prioritized caution over clinching the top seed by sitting Nikola Jokic (calf tightness) the past two games. They lost at home to New Orleans on Thursday night without him before falling at Phoenix on Friday night when Jamal Murray (left knee management), Michael Porter Jr. (left heel) and Kentavious Caldwell-Pope (non-COVID illness) joined Jokic on the injury report
Denver didn't practice Saturday, so there was no immediate update on the status of the four players.
The four players didn't make the trip Friday, leaving Aaron Gordon as the lone starter and giving several bench players an opportunity to get court time. Christian Braun got a rare start and continues to make a case for more playing time as the playoffs approach.
The key will be Jokic, who is on the verge of a historic season. He is averaging 24.9 points, 11.9 rebounds and 9.9 assists and can become the third player in NBA history to average a triple-double for a season. He can also be the fourth player to win the MVP award three consecutive years.
--Field Level Media