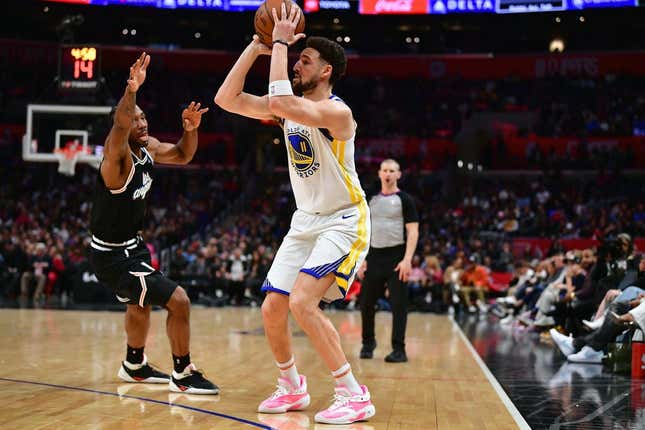 The Golden State Warriors appear to be getting just what the doctor ordered when the Houston Rockets visit San Francisco for a duel of floundering teams on Friday night.
The Warriors suffered a second straight double-digit loss in Los Angeles on Thursday, drubbed 124-111 by the Lakers in a game not nearly as close as the final score would imply.
Able to suit up just 11 players in the absence of Stephen Curry, Andrew Wiggins and four others, the Warriors trailed by as many as 28 points in losing badly on the same court for the second game in a row. Golden State lost to the Clippers, 134-124, in the final game before the All-Star break.
The one-sided loss wasn't the only consistency between the games nine days apart. Both also were played without Curry, who stayed home from the All-Star Game festivities in an effort to accelerate his recovery from a slightly torn ligament in his left knee.
Curry was able to work out lightly in Los Angeles the day before the Lakers game, but the Warriors then released an update that indicated it would be another week before he's even examined again, let alone possibly returning to action.
"We know we are going to be without Steph for the foreseeable future, so same thing as what happened the last time he went down -- we patch things together," Warriors coach Steve Kerr said. "That's the plan this time, too."
Curry had a pair of double-doubles -- 33 points and 15 assists in a 127-120 November road win, 30 points and 10 assists in a 120-101 December home triumph - in two earlier meetings with the Rockets.
The Warriors, who are clinging to the final spot in the play-in tournament in the race to the postseason, also likely will have to go once again without Wiggins. He has been away from the team bridging the All-Star break while tending to a family matter.
When Golden State last saw Houston, Curry was opposed by former Northern California prep standout Jalen Green, who countered with 16 and 13 points in the two previous meetings. But Green will join Curry on the sidelines this time around, having suffered a strained left groin in Houston's most recent outing, a 133-96 shellacking at the hands of the host Oklahoma City Thunder on Feb. 15.
Houston will be playing for the first time in nine days, but its poor health continues. Kevin Porter Jr. remains out with a toe injury, meaning the Rockets will be without their top two scorers.
The Rockets also won't have veteran guards Eric Gordon, John Wall and Danny Green, all of whom were either traded or bought out in the past week.
Having watched his team lose seven in a row to fall to the bottom of the overall NBA standings with just 13 wins, Rockets general manager Rafael Stone suggested opponents beat up on his team now before it reloads via the draft and free agency leading into next season.
"We're going to be super aggressive trying to be as good as we can next year, with an eye towards being even better in the future," Stone told The Athletic. "We're trying to build a championship team."
TyTy Washington Jr. is expected to get his first start with both Green and Porter out of action Friday. The rookie has seen his playing time increase off the bench in Porter's absence, and he responded with a career-best, 20-point outing during a five-game stretch in which he's gotten 19 or more minutes four times.
--Field Level Media