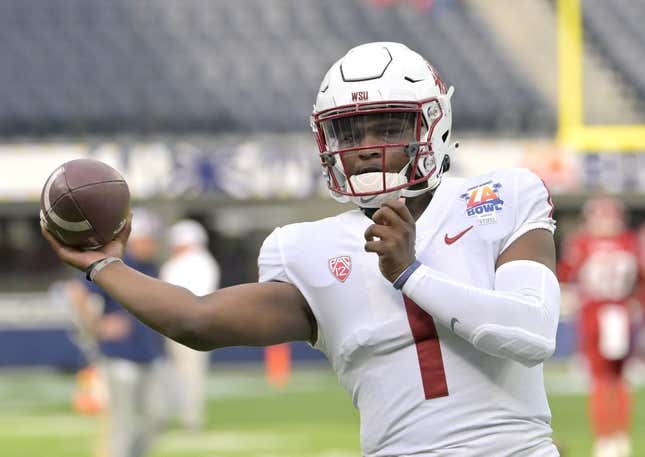 Cameron Ward threw for 451 yards and three touchdowns and rushed for another score, Josh Kelly had seven catches for 97 yards and a touchdown, and Washington State beat host Colorado State 50-24 in Fort Collins, Colo., on Saturday night.
How running an NFL team is like running a restaurant | Chef Emeril Lagasse
John Mateer ran for two touchdowns, Lincoln Victor had 10 receptions for 168 yards and Nakia Watson and Kyle Williams had TD catches for Washington State. Ward finished 37-for-49 passing.
Brayden Fowler-Nicolosi was 13-for-20 passing for 210 yards and two touchdowns and an interception in relief of Clay Millen, who was 15-for-24 for 110 yards and an interception for Colorado State.
Kobe Johnson had a 98-yard TD kickoff return, Justus Ross-Simmons had five catches for 123 yards and a score, Dallin Holker also had a touchdown catch and Troy Horton had nine receptions for 81 yards for the Rams.
Jordan Noyes kicked a 38-yard field goal to give Colorado State an early 3-0 lead, but the Cougars answered with Ward's one-yard run to make it 7-3.
Washington State took a 17-3 halftime lead on Ward's 3-yard TD pass to Williams and Dean Janikowski's 55-yard field goal as the second quarter expired.
Mateer spelled Ward near the goal line early in the third quarter and ran it in from the 3, but the Cougars' 2-point conversion failed and they led 23-3. Jaden Hicks intercepted Millen for a 36-yard pick-six to put Washington State ahead 29-3 with 10:50 left in the third quarter.
It stayed that way until early in the fourth when Ward connected with Watson on a 12-yard TD pass to put the Cougars ahead 36-3 with 14:50 left.
Colorado State got it right back when Johnson returned the ensuing kickoff 98 yards for a touchdown, but Wazzu answered on Ward's 25-yard scoring strike to Kelly with 11:22 left.
The Rams rallied with Fowler-Nicolosi, on for Millen, hit Ross-Simmons on a 75-yard TD pass to make it 43-17, and then he hit Holker with a 20-yard touchdown pass with 5:57 left.
Mateer capped the rout with a one-yard plunge with 42 seconds left.
—Field Level Media