Last night while most people were sleeping, the Nets traded Mason Plumlee and 41st-overall pick Pat Connaughton to the Portland Trail Blazers for... Steve Blake and Rondae Hollis-Jefferson. This is a bad trade.
Brooklyn is giving Portland one of the better rim-runners in the league in Plumlee, who is entering his third NBA season, as well as a promising 3-and-D prospect in Connaughton. In return, the Nets are getting a point guard nearing the end of his career and an athletic wing who can only play defense.
The biggest loss here for the Nets is Plumlee. Just two years into his career, the Duke product has carved out a fun little niche, establishing himself among the best transitional centers in the league. According to Synergy Sports, he scored 1.37 points per play in transition last season, and scored on over 72 percent of his transition plays.
He's not a guy you can plant in the post and give the ball to, but his athleticism and understanding of spacing allows him to grab rebounds and slam home just about any lob a guard tosses his way. He's more or less functioned as the Nets' version of Tristan Thompson, but because it's the Nets, nobody really paid attention unless he did something like stuff LeBron at the rim:
The guard swap happening here is also pretty perplexing. Steve Blake is a serviceable player, but at 35 years old he is in no way a better option than Connaughton at this point in both players' respective careers.
G/O Media may get a commission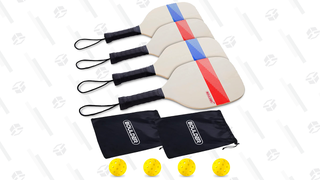 It's Pickleball
Pickleball Sets
Connaughton is a stud out of Notre Dame that got written off for a couple reasons, the big one being that he was the Baltimore Orioles fourth-round draft pick in the MLB Draft earlier in the summer. That gave teams reasonable pause, but then Connaughton and his agent came out and said that he wanted to pursue the NBA first and use the MLB as a fallback.
The other thing about Connaughton is that he can really play. He has the athleticism to hang in the pros, and shot 42.3% from 3-point land last season and while averaging 7.4 rebounds per game playing for a small Notre Dame lineup.
Connaughton was also one of the best all-around athletes available in this draft. He recorded a 44-inch vertical at the Draft Combine—the highest of the anyone at this year's event and tied for second-highest in Combine history. Look at this white boy jump:

Whereas Connaughton has the look of a legitimate 3-and-D guy, Hollis-Jefferson is just D—exceptional D, but still just D. His jump shot is traumatic to watch and triggers flashbacks of Michael Kidd-Gilchrist. At Arizona last season, Hollis-Jefferson shot 20.7% from long range, but since he was able to shut down many of the Pac-12's top players on the other end of the floor and provide more than a few highlight dunks, many slated him as a lottery pick—he was ultimately selected with the 23rd overall pick.
I'm not sure what the reasoning is here for the Nets outside of wanting someone on the wing that can play defense, but the Trail Blazers just robbed them of two of their brightest prospects.