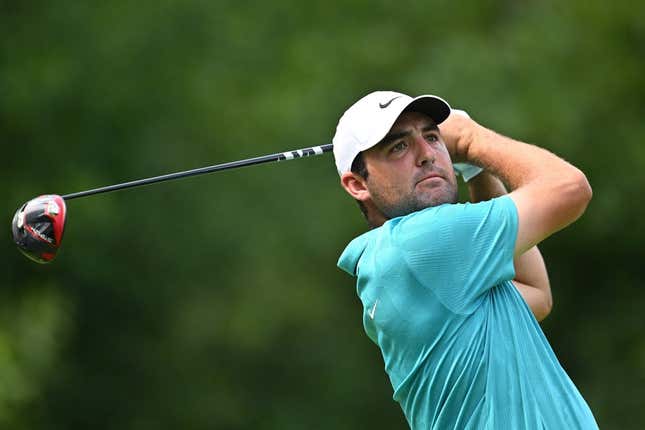 Scottie Scheffler isn't a big fan of the staggered scoring start to the PGA Tour Championship, but that doesn't mean he's ready to give up the two-shot lead he'll start the first round with at East Lake Golf Club in Atlanta on Thursday.
How running an NFL team is like running a restaurant | Chef Emeril Lagasse
"I get it. It's made for TV," he said on Wednesday. "It may be more exciting for the fans to have this type of format. But as players I think it's not the best identifier of who is playing the best throughout the year.
"With that being said, I'm starting this week with a two-shot lead and, I mean, I'm not complaining about it. It's pretty nice."
It's the second consecutive year that Scheffler will begin the season-ending event with a two-shot lead. He began the final round last year with a six-shot lead, only to see it quickly evaporate while Rory McIlroy surpassed him to claim a record third FedEx Cup title.
Scheffler said he may have been too impatient on that Sunday. He wants to embrace the experience more this time around and "to be in that moment."
Jon Rahm, whose fourth victory this season came back at the Masters in April, admitted he was fatigued after being in contention week after week. Similarly, Scheffler is coming off losing a 72-hole lead at the BMW Championship when Viktor Hovland shot a course-record 61 last Sunday. The No. 1-ranked player in the world also had a streak of 19 consecutive events where he finished T12 or better snapped last month.
"I think at this time of the year you just get a little bit fatigued," Scheffler said. "It's been a long season and to get to this point now — this is our third week in a row, and we're going to get some pretty high temperatures this week, so it's going to be a grueling week as far as the actual tournament goes."
Scheffler altered his routine a bit this week to focus on getting more rest, which he plans to get plenty of after Sunday's round is complete.
The 27-year-old will return home to Texas and not compete much — if at all — during the PGA Tour's fall swing. With the schedule shifting to a calendar format for 2024, Scheffler will pick up the sticks in earnest for next month's Ryder Cup but otherwise plans to be out of the public eye for the rest of the year.
"I'm not going to do much," he said. "I'm going to play the Ryder Cup. I don't know what I have planned after that, but it's not going to be much. You won't be seeing much of me. I'll be hiding."
That doesn't mean golf will be too far from his brain.
Scheffler isn't on the player committee advising on the framework agreement with the Public Investment Fund and the DP World Tour, but as the No. 1 player in the world, he'll be "very focused when I'm needed" for his input.
Scheffler is also a big fan of the 2024 PGA Tour schedule, which will include eight limited-field "signature events" pitting the best players on Tour against each other on a regular basis.
"It's exciting for me. I think those tournaments are a nice reward for the guys that played the best the year before and it puts them in a position to have another successful year out here," he said. "This year's been really fun having all these tournaments where (the top players are) not as spread out throughout the schedule like we have been in the past, whereas you've had a lot more of kind of the battles throughout the year with the top players.
"I think it's something that golf fans have wished for a bit more in the past and hopefully this new model will get 'em closer to those types of results."
Before he fades from the public spotlight for a bit, Scheffler does have one big final push to make this week. He hasn't won since The Players Championship in March, and wants to add a FedEx Cup to a trophy case that also includes the 2022 Masters.
"I want to win the FedEx Cup. I think in our sport the majors kind of stand alone in terms of that type of kind of distinction in the game," he said. "I wouldn't say that it is the best format to identify the best golfer for the year. Jon Rahm played some of the best golf of anybody this year and he's coming into this tournament fourth and he's four shots back. And, in theory, he could have won 20 times this year and he would only have a two-shot lead.
"But made for TV and I'm definitely grateful to be here and grateful to be in the position that I'm in."
—Field Level Media