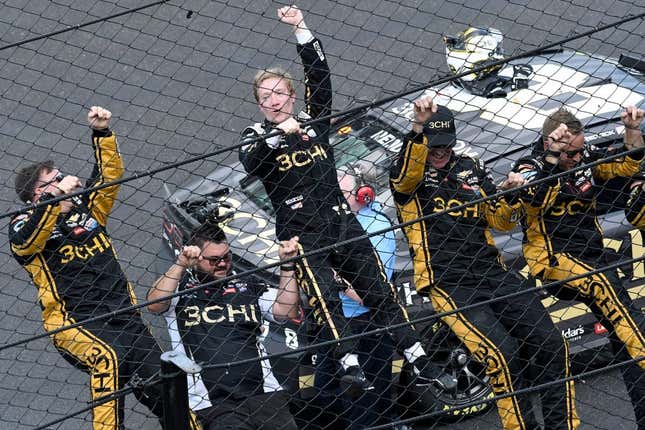 Now there are three — three races remaining, that is — to determine the last four contestants in the NASCAR Cup Series Playoffs.
How running an NFL team is like running a restaurant | Chef Emeril Lagasse
With two road courses and Daytona International Speedway left on the regular-season schedule, the permutations are perhaps more numerous than they otherwise might be.
The next chapter in the race for the Playoffs is Sunday's Verizon 200 at the Brickyard (2:30 p.m. ET on NBC, IMS Network and SiriusXM NASCAR Radio).
The action fans will see Sunday will differ markedly from the past two races at the Indianapolis Motor Speedway Road Course. The restart zone has been moved from the main straightaway before the start/finish line to a position between Turns 13 and 14, the latter a sharp right-hander leading to the frontstretch.
Similar to an approach that worked extremely well at the Chicago Street Course, the change should spread out the field and prevent the cars from barreling en masse into Turn 1.
Unless the next three races produce three different new winners below them in the standings — not outside the realm of possibility, given the venues — Kevin Harvick and Brad Keselowski are relatively certain they'll qualify for the Playoffs on points.
Harvick is 182 points above the cut line and can clinch a Playoff spot by scoring 44 points, if there is no repeat winner or if there is a victory by a driver who cannot compete in the Playoffs (notably Shane Van Gisbergen, who won the Chicago Street Race in his only NASCAR start so far).
Keselowski can clinch by scoring 54 points under the same circumstances.
Closer to the cut line, Bubba Wallace is 58 points ahead of Michael McDowell in 17th, and Ty Gibbs moved into 16th — the last Playoff-eligible position — with an 11th-place finish on Monday at Michigan.
Gibbs has a three-point edge over McDowell and a five-point lead over 18th-place Daniel Suarez. Road course ace AJ Allmendinger is 24 points below the cutoff in 19th.
The good news for Allmendinger is that both his NASCAR Cup Series victories have come on the next two regular-season venues — the Indianapolis Motor Speedway Road Course and Watkins Glen International. The bad news is that Allmendinger's Kaulig Racing Chevrolets haven't competed consistently with the elite teams this year.
"The last two years at Indy have been really special," said Allmendinger, who won on the Indianapolis Road Course in 2021 in a part-time Cup role and claimed victory in the NASCAR Xfinity Series race last year. "To be able to kiss the bricks in the Xfinity Series and Cup Series has been a dream come true.
"Our road course stuff hasn't quite been where we need it to be, but we are definitely working hard on it. We were close last year on the Cup side, and if we get to Indy and unload well, we can have a shot to go win the race."
Allmendinger isn't the only road course star on the entry list. Van Gisbergen, a three-time Australian V8 Supercars champion, returns to the Cup Series at Indianapolis with an eye toward full-time NASCAR competition next year.
In addition, 23XI Racing is fielding a Toyota for former F1 driver Kamui Kobayashi, and sports car standout Mike Rockenfeller is racing in place of Noah Gragson, who resigned from Legacy Motor Club on Thursday after his suspension for "liking" a meme on social media that made light of the death of George Floyd.
—Nine playoff spots remain in race for Xfinity championship
The Playoff picture in the NASCAR Xfinity Series is still taking shape, with only three of 12 drivers having clinched berths with five races left in the regular season.
Multiple race winners John Hunter Nemechek, Austin Hill and Cole Custer know they'll race for the title. Single race winners Justin Allgaier, Sam Mayer, Chandler Smith, Sammy Smith and Jeb Burton are relatively secure, though their surest path to the Playoffs is to win again.
The scenario should gain more clarity after Saturday's Pennzoil 150 at the Indianapolis Motor Speedway Road Course (5:30 p.m. ET on USA, IMS Network and SiriusXM NASCAR Radio).
If no Xfinity Series regular can win on Saturday, the Playoff contenders wouldn't object to seeing defending race winner AJ Allmendinger take the checkered flag. A full-time NASCAR Cup driver, Allmendinger is racing in both NASCAR events at the Indianapolis Road Course this weekend.
Likewise, Ty Gibbs is running both events as he strives to maintain his grip on the final Cup Series Playoff berth.
But don't look past Allgaier, who finished third behind Allmendinger and Cup driver Alex Bowman in last year's race.
"It's always a special feeling getting to race at Indianapolis," said Allgaier, who also won in 2018 on the IMS oval. "Whether it is on the oval or on the road course, this is a race that is circled every year.
"We had a really strong Chevrolet here last season, and with the speed we've had on road courses thus far in 2023, I feel extremely confident that we'll have a strong Camaro on Saturday."
—Truck Playoffs begin on historic short track
While the other two series try to clarify their Playoff scenarios on the Indianapolis Motor Speedway Road Course, 10 NASCAR CRAFTSMAN Truck Series drivers start their quest for a title in the first of seven postseason races at Friday's TSport 200 at Lucas Oil Indianapolis Raceway Park (9 p.m. ET on FS1, MRN and SiriusXM NASCAR Radio).
After the Playoff reset, regular season champion Corey Heim tops the standings with 2,030 points entering the Round of 10. Second-place Zane Smith, the defending series champion, has 2,022.
Two drivers face elimination in the opening round, and Heim is thankful for the extra 15 points he earned as regular season champion.
"I think from a logistical viewpoint, as far as the amount of Playoff points that put us ahead, it definitely means a lot — just being able to have that buffer going into the Playoffs, and not have that close counter with the Playoff cutline right from the start," Heim said during CRAFTSMAN Truck Series Media Day on Tuesday.
"I feel like it is nice to start the Playoffs off with a little less stress and being able to go from there. I feel like, at the same time, if you have one bad race, one DNF and you are kind of back to earth again. I feel like that there's positives and negatives to it. I think that kind of stems from the Playoff format as it is, but it's certainly not a bad thing to be the regular season champion."
Fifth-place Grant Enfinger (2,017 points) is the defending winner of the race at the historic 0.686-mile short track. Another victory there would give him a ticket to the Round of 8.
"I'm excited to get the Playoffs started, and I feel good about starting it out at IRP," Enfinger said. "Our GMS Racing guys are working hard to bring us just as good of a Chevy as we had last year.
"I think that IRP is a great track for the Truck Series. It has multiple grooves we can choose, but it's still a tough short track with a lot of character."
—By Reid Spencer, NASCAR NewsWire, Special to Field Level Media