It's a little after six on a sultry Tuesday evening, and the Champions sports bar nestled inside the Long Island Marriott is packed with an unusual crowd. The walls are lined with memorabilia from the New York Islanders, who up until a few days ago called the crumbling Nassau Coliseum next door home; beneath the jerseys and photographs, sweaty men ask for Grey Goose and tonic. At 6:30 almost exactly, "Keeping the Faith," Billy Joel's irritated 1983 paean to the days of stickball and 45s, blares from the bar's speakers, its horns crackling in between seating announcements.
I clutch my sauvignon blanc and circle the bar tentatively, shrinking into myself the way I did as a teenager. For me, Billy Joel always conjures up high school; after dropping out in 1967, he received a diploma from my alma mater, Hicksville High School, in 1992, thanks to his lyrics satisfying the English requirement; as a ninth-grader two years prior, I endured a three-day unit on "We Didn't Start the Fire." A stretch of my hometown's main drag might be named after him, although the fact that he's not dead yet is holding back the rechristening.
Moreover, the guy still conjures up the idea of an angst-y teen—even now that he's back near the top, with his endless monthly Madison Square Garden residency and newest wife, his pose is that of the chip-on-his-shoulder underdog, someone who felt like he didn't quite belong and was ready to sing you a song explaining why. He wore the alienated-teen pose well, from his rock-throwing stance on the cover of 1980's Glass Houses to his mid-'90s announcement that he was through writing new pop songs.
I didn't make that connection for a long while. Instead, Billy's omnipresence was a big part of why I wanted to get out of town so badly. His dropout-turned-alumni status led to some friends of mine singing backup on his 1989 album Storm Front; his songs inevitably made their way into the pre-curtain playlists for drama club get-togethers. He had gotten out, sure, but he was still everywhere, to the point where it felt like his presence was helping hold people in place.
G/O Media may get a commission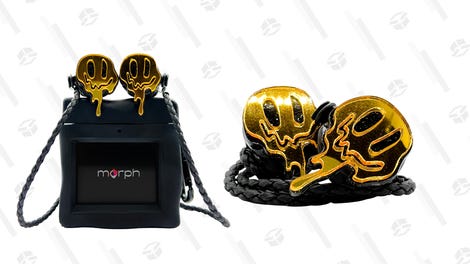 morph audio
Morph Earphones
That tension was in full flower Tuesday night, from the very beginning of Joel's 32nd and final concert at Nassau Coliseum, the last big event to grace the Nassau County arena before its demolition later this year. Sure, there were probably branding reasons that he opened with his strivers' anthem "Movin' Out (Anthony's Song)"—the 1977 song became the title of his blockbuster jukebox musical, and its pugilistic approach gets the crowd's blood pumping straightaway. More importantly, its yearning, elucidated by that sorta-manic heart attack-ack-ack-ack-ack-ack line, spoke to the longing that the suburbs will forever instill in some people, the way it could seem like a trap dressed up as a refuge, especially when the idea of The City loomed so large in even relatively mundane ways, like the way channel 13—the New York public television station name-checked in Joel's tense hit "Pressure"—had more cachet than Long Island's own channel 21.
The uneasy relationship between Long Island and New York City even helps explain why Joel hadn't played Nassau Coliseum as a solo headliner since 1998. "We got busy touring for a while," he told Newsday in its 64-page (!) supplement devoted to the show and to the coliseum's final hours. "And then there was the mutual exclusivity [agreement] … so we ended up playing Madison Square Garden a lot, and not the Coliseum." He's been selling out monthly gigs at the Garden—the arena that sits at the Manhattan terminus of the Long Island Rail Road—since 2014; that hated exclusivity agreement was waived for this show, with Billy's agent telling Newsday that the two venues agreed to allow him to "do something special" in Uniondale. No one else was qualified to tear the place down.
As soon as I walk into Nassau Coliseum Tuesday night, I'm reminded of why it's heading for the wrecking ball. The capacity crowd smashes into the arena's single concourse, moving in waves as people look for seats or beer or bathrooms; the lines for the ladies' facilities already stretch past the nearly depleted concession stands, which only offer beer, lidded wine, and soda. No hard liquor (alas); no nachos. The areas once devoted to hawking Islanders merchandise are disconcertingly bare.
Nassau Veterans Memorial Coliseum opened on the site of Mitchel Field, a former military base right off the Meadowbrook Parkway, in 1972; its first event was a New York Nets game that year, and Three Dog Night headlined its first concert. Joel's inaugural headlining gig there would come in 1977, the same year Elvis died. ("Nassau Coliseum holds the distinction of being the next facility Elvis Presley was scheduled to play on August 22, 1977 before his un-timely death a week earlier," the venue's still-existent website notes.)

It definitely looks like an arena from the '70s, especially now, stripped of its Islanders banners. Long Island's hockey franchise, the team that instilled so much pride in the 516 right before things went to shit here, is moving to (oh, the cliché!), the Barclays Center in Brooklyn, even though I've heard that the sight lines there are comparatively terrible for hockey. (At least the Coliseum has no interior columns.) The stone oval, with its single concourse and treacherous steps stretching in each direction, was the second-smallest NHL venue until the Jets moved back to Winnipeg.
I saw my first concert here in 1989, when Mötley Crüe and Warrant came to town. Our seats were pretty crummy, all the way up in section 321, although we had a pretty good view of Tommy Lee's drum kit when it rose up from the stage and spun around in midair while he kept playing. I wore a concert T-shirt to school the next day. Ten days later, Joel headlined there as part of the Storm Front tour; I didn't attend, but I rolled my eyes at all the shirts I saw in my school's halls the next morning.
When Shea Stadium reached its own end a few years back, I had a cheerful "it's a dump, but it's our dump" attitude, an outlook made more blithe, no doubt, by the well-appointed new stadium popping up across the street. But Nassau Coliseum's end is a grimmer affair. The company that birthed the Barclays Center is redeveloping the site; my debit-card statement from Tuesday night even shows charges to "4BARCLAYS CNRE" for each lidded cup of wine I bought. Once this venue, renamed and graced with more retail, opens late next year, it'll have a smaller capacity and no NHL team, as well as what Nets CEO Brett Yormark calls "synergies between what's going on in Brooklyn and Long Island, not only based on the look and feel of the building and how it behaves, but also how we book it." The big city wins again.
The Marriott's pre-show playlist is pretty heavy on post-Innocent Man Joel—the muscular "A Matter of Trust," the gloppy "world music" pastiche "The River of Dreams." I'd wondered if I would run into anyone from high school, and then my alma matter shows up in spirit via "Leningrad," the Storm Front track that featured some Hicksville High School then-students as a tribute to the school's longtime vocal teacher, who had initially encouraged Joel's musical talents. People are drinking heavily; the air has an electric snap to it. The bartenders look fairly harried. I tip well.
I left Long Island 22 years ago, and left New York City (for good, probably) two years ago this month; both departures have softened me to both Billy and his music. Reading his biography, which came out last year and was largely based on research from his own scrapped autobio, helped a lot. That huge, well-researched tome was at its best when Billy's voice—matter-of-fact and sardonic, the sort of sage New York-y voice that reminds me of the best asides from both Lennie Briscoe and my dad—was at the fore. He was matter-of-fact about his failures and begrudgingly proud of his successes; he might have come off a bit too bitter for someone who technically "won," but that sort of attitude is extremely appropriate for this part of the world, and helps explain why the Republican Party has held such a tight grip on Nassau County for so long.
Joel is often hounded by a sweet-and-sour comparison with Bruce Springsteen, his mirror-image counterpart from the mainland, but I get why he's got that edge to him, especially the more I think about Long Island and learn about the economic upheavals that inspired Billy to write, say, the updated shanty "The Downeaster 'Alexa." But I still write "Fuck New York <3" in my notebook when Billy launches into the sumptuous "New York State of Mind." I figure it's a tiny gesture in the spirit of Billy's traditional sign-off—"Don't take any shit from anybody"—and it wasn't like I'd object to the much more apocalyptic "Miami 2016 (Seen the Lights Go Out on Broadway)," which follows, and which despite an introduction by the noxious Kevin James makes me flash back to the Hurricane Sandy benefit that doubled as Billy's return to the national stage a couple of years ago.
James is only one of two guest stars—the other is Paul Simon, whose pleasant three-song interlude is punctuated by boos when he outs himself as a Rangers fan. This leads to a final "LET'S-GO-IS-LUNDD-ERRRRRRRS" chant from the rafters. I join in.
Tuesday night's show is long, but it somehow feels short, perhaps because it all feels so familiar. "Scenes From an Italian Restaurant" … "Piano Man" … "Allentown" … even "My Life," which was the A-side of one of my first 45s. Billy pays tribute to doo-wop's showy street-corner vocalizing before "The Longest Time," and brings up veterans for "Goodnight Saigon," the Vietnam War mini-epic that I always associate with one particularly stern father in my neighborhood. (The latter occasions an arena-wide "USA" chant, which was odd on one hand and obvious on the other.) He punctuates "The River of Dreams" with a bit from "A Hard Day's Night," which tantalizes with the promise of a Paul McCartney walk-on that never happens.
We also get "Captain Jack," the closing track to 1973's Piano Man that despite its musical-theater sonics is a bit of a proto-slacker anthem—think Green Day's "Longview," only more judging and way, way longer. It was controversial during my childhood because of its almost-mundane descriptions of drug use and (gasp!) masturbation, but also probably because of the way it depicts suburban ennui. "In my travels, I have seen a lot of the same suburb all over the country," he said in 1974. "The song is sort of brutal, but sometimes it is good to be brutal and offend people—it keeps them on their toes."
"No Man's Land," a River of Dreams track that Billy plays for the first time since 1995, updates that suburb-borne anomie while being more explicit about the problems Long Island in particular faced as capital decided that it didn't have much use for the area beyond its beaches:
I've seen those big machines come rolling through the quiet pines

Blue suits and bankers with their Volvos and their valentines

Give us this day our daily discount outlet merchandise

Raise up a multiplex and we will make a sacrifice
It's ripe for covering by some agitated punker types out there, although they might want to update the Amy Fisher reference.
The encore naturally runs through some of Billy's biggest hits, from the proto-MTV-beloved "Uptown Girl" to the "fuddy-duddy incoming" anthem "It's Still Rock & Roll to Me," which Joel came up with while driving on the Long Island Expressway. "Big Shot," the namesake of Long Island's biggest Joel tribute act, reminds me of all the too-long New York nights where I was on the town looking to impress somebody, even if only myself; he drops a little bit of Led Zep's "Rock & Roll" into "You May Be Right," a callback to the band's two gigs here during the first year of the Coliseum's existence. "Only the Good Die Young" closes the show, its twinned messages of lurking mortality and thwarted sexual longing an appropriate send-off for this arena, and for the people in it.
The show ends abruptly, or that's how it feels to me, although Billy sticks around for a brief hey-howdy with the front rows; "It's 11:53," I write in my notebook. We leave the Coliseum's crush and head back across the parking lot for post-show drinks, but Champions has closed up shop for the night, despite (because of?) all the people milling outside its doors. Nothing to do but make memories on the long drive home, chock full of Billy Joel blocks helpfully provided by those radio stations still broadcasting to Long Island first.
---
Maura Johnston lives in Boston, where she teaches at Boston College and edits the culture periodical Maura Magazine. She also spins records at WZBC and writes for the Boston Globeand Rolling Stone. She's on Twitter @maura.

Billy Joel photos by AP; vertical crowd/arena photos by the author.
The Concourse is Deadspin's home for culture/food/whatever coverage. Follow us on Twitter: @concourse.