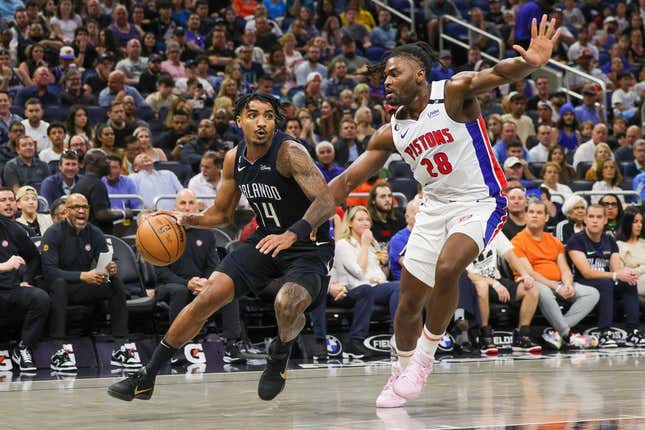 Wendell Carter Jr. closed out a 14-point, 14-rebound performance with a tip-in at the buzzer to elevate the host Orlando Magic to a 108-106 win over the Detroit Pistons on Thursday in the first game back from the All-Star break for both teams.
Carter's game-winning basket -- initially negated for offensive goaltending before the call was overruled on video review -- came after Paolo Banchero's driving attempt to break a 106-106 stalemate was unsuccessful.
Banchero finished with 11 points, almost nine fewer than his team-leading season average, on 4-of-13 shooting from the floor. His struggles were reflective of collective shooting woes for the Magic, who hit just 41.1 percent of their field-goal attempts for the game.
Still, seven Orlando players scored in double figures, led by Franz Wagner's 21 points. Markelle Fultz scored 14 points and dished a game-high eight assists, Gary Harris scored 12 points, and Cole Anthony (15) and Jonathan Isaac (10) contributed off the bench.
On the other end of the floor, the Pistons shot 45.7 percent from the floor but committed 21 turnovers.
Orlando also benefited from missed free throws -- two specifically.
Detroit shot 15 of 19 from the charity stripe, but Jaden Ivey -- who led all scorers with 25 points -- missed a pair of foul shots with 50.9 seconds remaining that would have pulled the Pistons within a point.
Maintaining their three-point cushion proved pivotal for the Magic. Detroit's James Wiseman sank a hook shot, but Wagner answered with a pair of free throws with 8.7 seconds left preceding a game-tying 3-pointer from Ivey with 5.2 seconds remaining, setting the scene for the decisive sequence.
Wiseman finished with eight points, contributing to Detroit's 50-36 advantage in bench points. Alec Burks scored 16 points in reserve duty, sub Hamidou Diallo and Killian Hayes added 12 apiece and Isaiah Stewart contributed 10.
Wiseman grabbed a team-high 10 rebounds while Stewart had eight boards.
--Field Level Media