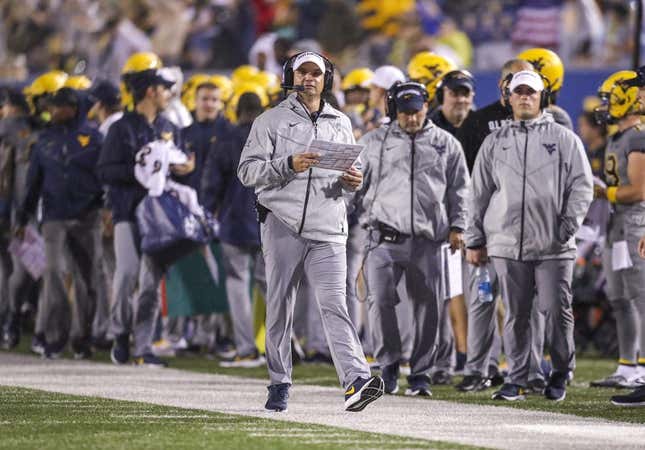 Let's Brawl.
Pitt and West Virginia take different routes to arrive for the 106th installment of the "Backyard Brawl" set for Saturday.
How running an NFL team is like running a restaurant | Chef Emeril Lagasse
The Panthers are looking to right the ship. Pitt has the rivalry to focus on as it buries the disastrous 27-21 home setback to Cincinnati last week.
Pitt quarterback Phil Jurkovec completed just 10 of 32 passes for 179 yards. While he also threw for three touchdowns, the Panthers turned it over on downs in Cincinnati territory on their final possession.
It won't get any easier for the redshirt senior when Pitt (1-1) visits West Virginia (1-1) for the first time since 2011.
"Getting the ball out quicker," said Pitt coach Pat Narduzzi on what he needs to see from Jurkovec moving forward. "When you get hit 21 times — any NFL quarterback can tell you — when you get hit 21 times in a game and you get hit early when you shouldn't, you're going to struggle."
The Panthers' defense, which allowed 216 yards rushing last week, will be tasked with slowing down West Virginia running backs CJ Donaldson Jr. and Jahiem White.
The pair combined for 166 of the Mountaineers' 304 yards rushing in what wound up being a 56-17 drubbing of FCS opponent Duquesne last Saturday.
After a subpar outing in a 38-15 blowout loss to Penn State in the season opener, junior quarterback Garrett Greene had a bounce-back performance at home against the Dukes with 240 yards passing and four touchdowns.
Three of those scores went to wide receiver Hudson Clement. He posted five catches for 177 yards and West Virginia coach Neal Brown rewarded the redshirt freshman by putting him on scholarship.
"I think life's about opportunities, and what you do with your opportunities," said Brown of Clement. "He earned a scholarship. Super happy for him."
The Panthers came away with a thrilling 38-31 win over the Mountaineers in last year's opener when M.J. Devonshire returned an interception 56 yards for a pick-six with three minutes to play.
This year's contest could come down to which team can better handle the environment that is sure to be a factor in one of the fiercest rivalries in college football.
"Our opener last year seemed like our opener this year against Cincinnati, so hopefully we'll be tied in more. We've seen live bullets in the game," Narduzzi said. "Won't be a surprise as much as it was last year."
Pitt leads the all-time series against West Virginia with a 62-40-3 mark, but the Panthers are just 3-7 in their last 10 visits to Morgantown, including a 21-20 defeat in 2011.
—Field Level Media