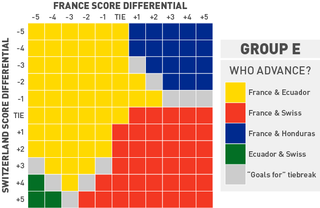 The final matches of Group E are about to kick off, with France taking on Ecuador and Switzerland facing Honduras. Each team still has a chance to make the Round of 16, and this chart shows the various ways things could shake out.
| Team | Points | Goal Differential | Goals For | Goals Against |
| --- | --- | --- | --- | --- |
| France | 6 | 6 | 8 | 2 |
| Ecuador | 3 | 0 | 3 | 3 |
| Switzerland | 3 | -2 | 4 | 6 |
| Honduras | 0 | -4 | 1 | 5 |
France
The only way France don't make it out is if they get hammered by Ecuador and Switzerland hammer Honduras. There'd have to be an eight-goal swing for things to get to the goals-scored tiebreaker.
Ecuador
In most scenarios, Ecuador get in with a win, though not if Switzerland win by two or more goals more than however much Ecuador win by. They can also get in with a draw as long as the Swiss draw or lose.
Switzerland
The Swiss have a good shot to make it into the next round, since they play the weakest team in the group while their rivals, Ecuador, play the strongest. If Switzerland win and France beat or draw Ecuador, they go through. They can also make it with a tie as long as France win.
Honduras
Honduras, with its -4 goal differential, has only a tiny shot at surviving. Not only must they win, but the Hondurans need at least a four-goal swing between the France match and their own to get into the tiebreakers, with a five-goal margin being enough to ensure qualification.
Below, you'll find similar charts for the advancement scenarios in all the World Cup groups.
Chart by Reuben Fischer-Baum