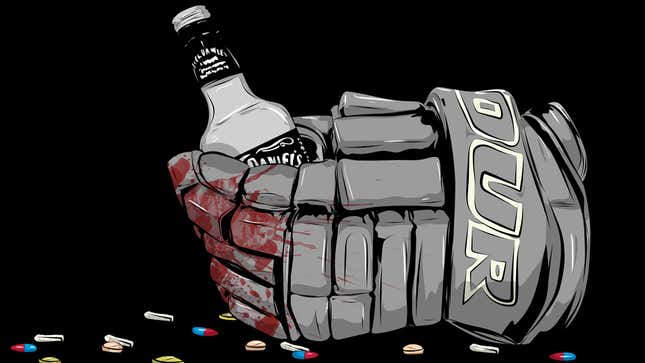 More winter Friday nights than not through my first few years of high school, I was in my usual seat at the local arena, three or four rows up behind the home team's bench. On the ice, the Ontario Hockey League's Ottawa 67's, a group of—boys, really, aged 16 to 20. A handful of them would go on to be drafted by NHL teams; one or two would actually make it. But for most, this would be the end of the line.
Is Texas or Florida State a bigger national title contender? | Agree to Disagree
The 67's were a skill team in the late '90s, reliably one of the league's best. They certainly weren't known as brawlers. But this was junior hockey in Canada, and most games featured at least a fight or two. Like almost everyone else in the 10,000-seat arena, I stood up and cheered whenever players dropped their gloves, gripped each other's jerseys and twirled in circles, throwing awkward-looking overhand punches at each other's heads. We hadn't yet heard of CTE, chronic traumatic encephalopathy, the degenerative brain disease caused by repeated head injuries. We knew about concussions – in 11th grade, I would suffer one myself, laid out semi-conscious on the ice by an illegal check to my head. But they seemed like part of the game – injuries no different, really, than bruises or pulled muscles.
How things have changed in a decade and a half. Hockey fans have watched a parade of tough guys die young; we've seen a series of star players fold up their careers early after one, or three, or 40 too many hits to the head. We've started debating the role of fighting in the game, about how best to combat headshots. We–some of us, at least–have felt a trickle of guilt at the cheers when the gloves hit the ice.
On Feb. 15, former NHL defenseman Steve Montador was discovered dead in his home at age 35. His autopsy results have not been released; no official cause of death has been announced. We do know he had taken part in 69 NHL fights, according to Hockeyfights.com, and a couple dozen more in the OHL. We know his career was ended prematurely by recurring concussion symptoms. We know he had battled depression, and had pledged to donate his brain to study for signs of CTE.
We still know little of Montador's story. But in a pair of books released last fall, we have the startling narratives of two other enforcers, only one of which barely avoided ending in tragedy. Together, they offer a window into the complex tangle of violence, substance abuse, and injuries – mental and physical – that face NHL players, particularly its tough guys.
---
Derek Boogaard and Jordin Tootoo never fought each other during their shared years in the NHL. That's not too surprising: playing mostly in separate conferences [Correction: the two were both in the West from 2005-06 to 2009-10], the giant enforcer and the scrapper with skills may not even have met. But their lives and stories overlapped again and again. Boy On Ice, the book that evolved from John Branch's Pulitzer-finalist New York Times series, tells the story of Boogaard's improbable rise to NHL fame and subsequent death from an overdose of prescription painkillers mixed with booze. All the Way, an autobiography written with sportswriter Stephen Brunt, chronicles how Tootoo emerged from a violent childhood to become the first Inuk player in the NHL – nearly losing it all to alcoholism before eventually getting sober. If there's a single common thread, it's how hockey violence and substance abuse almost inevitably went hand in hand.
Many top-tier pests and fighters fall into their roles later in life: They're scorers in junior, maybe good enough to get drafted, but their skills can't keep up when they hit the pros and so they turn to peripheral talents to keep their spot on the roster. When I watched Zenon Konopka play for the 67's, he was a second-line center whose offensive numbers improved every season. But after he went undrafted, his penalty minutes per game nearly doubled as he brawled his way up through a half-dozen minor pro teams before landing in the NHL as an enforcer.
Derek Boogaard, though, was another story. He was a marginal player even in his youth–he was cut from his AA bantam team when he was 14, and in Branch's book, his father, Len Boogaard, recalls hearing another parent describe his son as the worst player on the team. Boogaard's entry into elite hockey is telling of just how deliberate the grooming of potential young fighters can be.
One night at a Junior A game in Melfort, Saskatchewan, Boogaard–uncharacteristically–lost it. After being pulled out of a scrum by the refs, he escaped their escort to the penalty box and stormed the visiting team's bench. Bodies went flying, and he was ejected from the game. In the stands, a handful of WHL scouts who were there to see other players took note of Boogaard for the first time. "If you like that kind of stuff, it was impressive, really impressive what he did, how strong he was," one scout told Branch. "And you thought, 'Maybe this guy could be an animal one day.'" The Western Hockey League's Regina Pats claimed his rights by fax that night.
Boogaard scored three goals in three-and-a-half WHL seasons, and two more in his two-plus years in the ECHL and AHL. In the course of his six NHL seasons – many of them shortened by injuries, and the last one by post-concussion syndrome, rehab, and ultimately death – he scored just three goals. There was never any pretense that teams wanted Boogaard, 6-foot-7 and more than 250 pounds, for anything but fighting.
While Tootoo was always willing to drop gloves, in his junior days he had been a talent with a temper, not a fighter who happened to be able to score a few goals. When he cracked the Predators' lineup in the fall of 2003, he was coming off a career-high 74 points in 51 games with the WHL's Brandon Wheat Kings. He'd been a star on Canada's silver-medal-winning team at the World Juniors that past winter. But when he first arrived in Nashville for rookie camp, he remembers Preds general manager David Poile telling him: "We brought you in because of the element you bring."
"I knew what that meant," Tootoo writes in All The Way. "So I lit 'er up, I had a couple of fights, and obviously I made an impression." His transition to super-pest was pure strategy, laid out with startling bluntness in his book. "The job was to go out there, cause havoc, and draw penalties," he writes. "In the NHL, that became the most important part of my game."
The role, Tootoo makes clear, is one he plays out of necessity. "Some games, do I want to do that shit? Fuck, no. Let me play.
"But if that's what's going to keep me around, that's what I've got to do. I would take a run at somebody, wait until he knocked me down in retaliation, and then blow up to make sure the referee saw it. It doesn't make me the most popular player in the league – probably pretty close to the opposite – but it works."
Like many fans, I'd long known that hockey fights are most often a mixture of theater and strategy, rather than a natural boiling-over of emotions. And I knew that being a professional pest was almost an art form. But the bald cynicism of Tootoo's approach to his career was tough to read. He was smart enough to make a calculation about what it would take for him to go all the way, and stay there. But as a kid who grew up worshipping this league, and this game, the truth of the trade-offs players make is uncomfortable. Tootoo was willing to sacrifice his reputation. Boogaard, whether he did it knowingly or not, traded in his brain.
---
Boogaard was almost a year older than Tootoo, but he made it to the NHL a couple of years later. By then, through his time with the ECHL's Louisiana IceGators and the AHL's Houston Aeros, he'd already begun to accumulate the injuries that would nag him throughout his career: a bad back and a sore right shoulder, scab-covered hands wracked with arthritis, and a nose broken over and over again. In the ECHL, he'd also discovered that players passed Ambien around like Tic Tacs – constant pain and pre- or post-game nerves mean many can't sleep without it. Then, in the NHL, team doctors started doling out the really good stuff.
After his son's death, Len Boogaard gathered every medical and prescription record he could find, and turned them all over to Branch. The list of pills Boogaard received throughout his NHL career, often simultaneously and in large quantities, is stunning: Ambien, Xanax, Vicodin, Percocet, Oxycontin, for a start. He eventually began supplementing his formal supply with street purchases – his many massive ATM cash withdrawals were, again, documented by his father.
Tootoo, on the other hand, was virtually born into alcoholism. Like too many children in the remote Canadian northern territories, he grew up in a household where booze and violence went hand in hand, and hockey, he writes in All the Way, was one way he tried to escape. As a 15 year-old playing junior A hockey with his older brother, Terence, in northern Manitoba, he was already a regular at the bars. He partied his way through his subsequent WHL years in Brandon, and he and Terence would return to their isolated hometown of Rankin Inlet, Nunavut each summer with suitcases full of booze, spreading the wealth around to friends and family.
After a DUI that he assumed would spike his chances of playing pro in the States, Terence killed himself behind his younger brother's billet home. It was just a couple of weeks before Jordin Tootoo was due back at his second Predators rookie camp. (Terence left a suicide note urging his brother to "go all the way," instantly transforming the book's title from sports cliché to gutpunch.)
From there, Tootoo's drinking picked up steam, and a year later he had an NHL salary to fund it. In his book, he writes that he spent years promising his teammates that he'd clean up his act. He admits that being traded away from Nashville, and Tootoo's influence, might have been the best thing that ever happened to Scottie Upshall, his friend and frequent drinking partner. Finally, in December 2010, a bender culminated in Tootoo showing up wasted to a mandatory team function. David Poile told him to get clean or get cut.
Boogaard and Tootoo both landed in the NHL Players' Assocation's substance abuse treatment program. They shared an NHLPA contact, Dan Cronin, and they were shipped off to the same Malibu rehab center, The Canyon, just three months apart. But that's where their stories diverged for the last time.
Tootoo recalls being locked in his room at night for an initial week of detox. He'd been sober for over a week before his arrival, but his roommate was another story. "The guy walked in and he was just fucking mangled," Tootoo writes. "I was looking at him, thinking, I know that look. I've been there." (Orderlies eventually had to prevent the pair from fighting. Later, Tootoo learned that his roommate was the Houston Astros' Jeff Bagwell.)
Tootoo recalls being completely cut off from everyone he knew – no phone calls, no internet – and slowly learning to open up in group therapy sessions. Boogaard, Branch's reporting shows, came and went freely from rehab, skipping sessions, and never seemed to accept his problem was a problem.
Tootoo says that he's never had a drink since that final showdown with Poile. Boogaard was getting prescription painkillers from NHL doctors while he was still in the league's substance abuse program, and routinely failed NHL drug tests without consequences. Tootoo made it back into the lineup in time for Nashville's postseason run. By the time the Stanley Cup was presented, Derek Boogaard was dead.
That same summer, enforcers Wade Belak and Rick Rypien killed themselves after struggling with depression. Legendary fighter Bob Probert had died a year earlier, at age 45, after years of drug and alcohol abuse – doctors discovered evidence of CTE in his brain right around the same time Derek Boogaard was headed to The Canyon. Zenon Konopka, the scorer-turned-fighter that I remember watching as a teen, was suspended last season for violating the terms of the NHLPA's substance abuse program. He's now playing in Poland. These men are being used up.
After his death, Steve Montador's brain was transported to Toronto to be studied by researchers at the Canadian Sports Concussion Project. Four days after his death, Montador's son was born.
---
Fighting is down in the NHL, along with nearly every other violent infraction: penalties are at their lowest level since the 1960s. Analytics are driving one-dimensional bruisers out, as teams realize the value they're forfeiting by icing guys who can't skate. The NHL is cracking down on dangerous plays, probably not coincidentally as it prepares to fight a flurry of lawsuits from former players blasting the league for its handling of head injuries. When he died, Montador was preparing to file suit as well.
Fighters may be an endangered species at the top, but fighting is still something that can take an enforcer higher in the game than his skills would otherwise mandate.
"I think most fighters don't love doing their job, but ultimately if that's what's going to keep them in the league, that's what they're going to do," Jordin Tootoo writes in All The Way. "But for me, because of the way I grew up and the things I had to fight for, I don't mind doing it at all… I understand that you put your life at risk when you fight, but for me there's no fear."
He goes on: "I know the stories of guys like Derek Boogaard and Rick Rypien – fighters who had all kinds of problems that eventually cost them their lives. But I'm happy. My life is in control. If I was still partying, I'd be a miserable man. But it wouldn't be because of fighting."
Tootoo's book is bluntly honest, and I don't doubt that he meant what he wrote when he wrote it. But I have trouble believing, as the science evolves, that he'll always be so accepting about the role of fighting in his life. There's a heartbreaking moment in Boy On Ice when Len Boogaard hears from the doctors who've been examining his son's brain. The father has been mourning his son's lost years, the decades of life he missed out on after dying at age 28. But the doctors tell him that Derek didn't lose a bright future when he overdosed: his brain damage was so advanced that he was only a couple of years away from the onset of dementia anyway. It was supposed to be a consolation.
---
Eva Holland is a freelance writer and editor based in Canada's Yukon Territory. Follow her on Twitter @evaholland.
Illustration by Sam Woolley.