The scene was unprecedented: seven runners walking off the track hand in hand, in quiet protest against their own governing body. The women had just run the 1,500-meter race at the U.S. indoor national championships on Feb. 23 in Albuquerque. The day before, the winner of the 3,000-meter race, Gabe Grunewald, had been disqualified by one of the most powerful men in track, Nike Oregon Project coach Alberto Salazar, for supposedly interfering with one of his athletes. How Salazar managed the feat is still unclear, but to fans and to other runners it was obvious what had happened: The people who really run the sport had prevailed upon the people who nominally do to change a result in their favor.
Jokic? Embiid? The NBA MVP is obvious... right? | Keep it a Buck(et)
By itself, this was nothing new—dictatorial, rule-bending judgments are the order of the day in track. What was new was the backlash: an immediate eruption on social media and the small, televised show of solidarity after the 1,500, which a day later led to Grunewald's reinstatement as national champion. And the outcry is ongoing. People are pissed about the way the sport is run—about the lack of transparency, about the way the athletes are left out of the process, about the appearance of Nike favoritism—and for the first time they're saying so en masse and out loud, right there in front of God and Phil Knight. Call it the Albuquerque Spring.
To understand what's happening here, you first have to understand that this sort of thing never happens in the track world, which exists largely thanks to Nike's dollars. According to USA Track & Field's 2012 annual report, sponsorships account for 45 percent of the nonprofit's operating budget, and Nike is by far the most generous donor. That money buys, among other things, the grudging acquiescence of runners who might otherwise object to their sport's unhealthy relationship with its patron. So when USATF appoints team coaches, determines who moves on from a semi-final, or adjudicates protests behind closed doors—or when yet another decision comes down in favor of a Nike athlete—the grumbling is often tempered by the knowledge that the track the athletes are standing on and the meet they're competing in might not exist without Nike's largesse. That's the way of the world, right? Put up or shut up. Add to that dynamic the fact that track athletes are not of the Richard Sherman school of public relations—they're quiet and undemonstrative—and you've got yourself, in simplistic terms, a classful of underweight, underpaid geeks getting stuffed into lockers while the principal looks the other way.
Or at least, that's how it used to be, until the Foul Foul of Gabe Grunewald.
The Scene Of The Crime
What happened? Bear with me here, because the details are important: In the final lap of the 3,000-meter national championship held, Grunewald, a Brooks/Team USA Minnesota-sponsored runner, coached by Dennis Barker, tried to get around fading, Nike-sponsored Jordan Hasay. (Full disclosure: Dennis is my husband; while this may not be the most neutral account you'll find, I don't think you'll find many people who dispute this version of events.) She did, then blew by Shannon Rowbury and continued on to a glorious win, her first national championship, and a ticket to this weekend's world championships in Poland. But a race official tossed up a flag as Grunewald went around Hasay, indicating there may have been contact between the two.
G/O Media may get a commission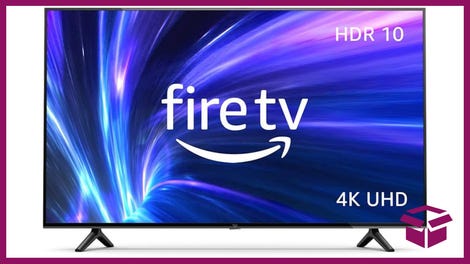 42% Off
Amazon Fire TV 50" 4K Smart TV
The track official who raised the flag conferred with other race officials and determined there had been no interference. But Salazar, Hasay's coach, was not happy. Things had not gone according to plan, and for a man with as much power and as much influence as he has, over both his runners and the races they run, this represented a serious breach in the order of things.
USATF.TV - Videos - Womens 3000m - USA Indoor Track and Field Championships 2014-2
Salazar's intensity is well known, dating back to his days as a distance runner in the 1980s. He often finished his races in a prone position, twice receiving last rites because his condition appeared permanent. His peers never accused him of being a nice guy. Since the 1990s, his intensity has found a ready outlet in a style of coaching that goes beyond the mere training of athletes. Infinitely engineering race variables, Salazar hires rabbits, prescribes paces, changes race venues, and scratches his runners from or adds them at the last minute to fields that optimize their chances of winning. If that doesn't achieve the desired first-place finish, there's always his go-to, the post-race protest. He's a pain in the ass to race directors, other coaches, and athletes, but with Nike backing him, there's almost nothing he can't make happen. And with each successful manipulation, he's emboldened to try something even more outré.
So Salazar and an entourage of Nike henchmen stormed to the protest table and filed a protest, saying that Grunewald had impeded Hasay and should be disqualified. Unfortunately for then, the committee ruled unanimously that there had been no infraction.
Furious, Salazar filed a protest with the jury of appeals, three track experts who volunteer their time and thus are not on the USATF payroll. They also unanimously found no infraction, and denied Salazar's protest.
At this point, Grunewald's coach and her agent's assistant, Poitrek Buciarski, saw the commotion at the jury of appeals—a curtained-off table next to the practice track—and asked if they could safely leave the track now that two appeals had been denied, which is normally the end of the road. The jury of appeals said they could, that Grunewald was the winner. No infraction had been found. They could leave.
But Barker and Buciarksi noticed that Salazar and his people were badgering the jury members and appeared to be writing out another appeal. According to USATF rules, a third appeal can be filed only if there is new and conclusive evidence of a foul. When Buciarski asked what was going on, the jury asked him to step away. They were speaking with Salazar.
Minutes later, with Salazar gesticulating in their faces, the jury of appeals reversed the two previous decisions and disqualified Grunewald. This meant Grunewald would lose her national title, the $5,000 that went with it, and the trip to the world championship meet, and that Hasay would move up to third place and earn a spot on the world team. The members of Grunewald's camp immediately protested, and were just as immediately denied. Neither they nor anyone else has ever seen the new and conclusive evidence that allowed Salazar's third appeal to happen, which was so apparently compelling it convinced the jury to reverse two previous decisions.
On a protest binge that also included screaming at runner Lopez Lomong and having to be restrained from shoving his coach, Jerry Schumacher, Salazar also filed a protest against Andrew Bumbalough, a Nike-sponsored runner in the men's 3,000-meter, claiming Bumbalough had stepped in front of his athlete, Galen Rupp, and should've been disqualified. Neither Bumbalough nor his coach was apprised of the protest, and the flustered jury of appeals, perhaps cowed after the Grunewald browbeating, accepted Salazar's claims without even looking at a video. Embarrassingly, a review of the footage showed that Bumbalough was never near Rupp and that the supposed interference, minor as it was, was caused by a different runner. Though an appeal has been filed, the verdict against Bumbalough still stands.
Similar scenarios have played out many times. The parties getting the short end could grumble, but what could they do? To whom would they complain?
The Track-Industrial Complex
Once called the Amateur Athletic Union, track and field's governing body changed its name to USA Track & Field in 1979. Geography played a role in the Nike-USATF relationship: Nike is based in Beaverton, Ore., and Eugene, an hour away, has come to be known as Tracktown USA, a virtual mecca for runners. Nike's lightweight trainers debuted at the 1972 Olympic trials, held at the University of Oregon's Hayward Field, and the company recruited homegrown running phenom Steve Prefontaine as their brand ambassador, one of many top Oregon runners to rep the swoosh. Now, of course, Prefontaine's role in the twining growth of Nike and USATF seems bitterly ironic: He was a vocal critic of the AAU's lack of transparency and its heavy-handed treatment of the athletes.
Nike co-founder Bill Bowerman was a long-time coach at the University of Oregon, and his co-founder, Phil Knight, was one of his runners. Both have donated large sums of their fortunes to their alma mater for renovations of Hayward Field, host to six USATF championships and five Olympic trials as well as NCAA championships and USATF Elite Running Circuit events. There is no camera angle at Hayward Field that does not include a swoosh.
Ollan Cassell, CEO of track's governing body from 1979 to 1997, approached Nike about providing all athlete gear for Olympic and national championship events. Thus, though Grunewald is sponsored by Brooks and Team USA Minnesota, her world championship gear will only have one logo on it— Nike's. Craig Masback, CEO of USATF from 1997 to 2008, expanded track development programs and solicited sponsors to help fund the expansion. Though Masback reached out to other potential sponsors including Adidas, Nike outbid them. Masback now works for Nike.
Even when the swoosh is not apparent, its presence is felt. Nike-sponsored Alan Webb was placed in the field of the 5,000-meter race at the 2012 Olympic track trials, while many runners with faster qualifying marks were excluded. The Oregonian reported that 75 of the 120 track athletes who qualified for the 2008 Olympic team were sponsored by Nike. It's safe to say that the company has more U.S. coaches and track athletes on their payroll than any rival.
That's why you rarely hear any criticism. And given the power structure of the sport, those not on the Nike payroll—young athletes looking for sponsorships; coaches and agents hoping to get their runners into competitive races; race directors looking to attract top-notch fields; and, yes, even journalists seeking interview access—are wise to keep mum too. Most high-level competitive running in America is a self-contained ecosystem, shaped like a swoosh.
#USATFCorruption
So what's different now?
"There are two main reasons this incident became such a big deal," Grunewald's agent, Paul Doyle, told me. "The first is, the supposed violation was very obviously not a violation. It's absurd to think Gabe could have been DQ'd for such a minor interference. Contact between athletes happens hundreds of times, particularly in indoor track. Athletes, fans and coaches saw what happened or didn't happen. The second reason is the unorthodox procedure. Three times, Gabe was cleared, and 30 minutes later, after 'enhanced video evidence,' which no one has seen, she was DQ'd. I can't remember, in my 15 years in professional sports, that this has ever happened."
NBCSPORTS_02-23-2014_16.00.26-1
When I spoke with him last week, before Grunewald's reinstatement, Doyle was still at a loss to explain what had happened. The jury of appeals claimed "they had new evidence," he said, "but they had no new evidence. The third appeal should never have even happened. Not only should the first two decisions have been final, but Salazar was able to speak directly with the jury while they were looking at this enhanced video and deciding, but Piotrek was not. In fact, the jury member deliberately withheld information by asking him to step away from the table. We were held in the dark and just given the result. Then they denied our appeal without allowing us to see the supposed new evidence."
Doyle has been involved in many appeals in the past. (Agents negotiate athletes' contracts, arrange travel, apply for entry into races, and sometimes also file appeals, which are also the jurisdiction of a coach.) At the 2003 world indoor championships, he filed a protest on behalf of a 400-meter runner he repped, Paul McKee, who'd dived for the finish line alongside Jamie Baulch. Officials called Baulch third and McKee fourth. "I filed a protest because it was very close," Doyle recall. "The officials brought me, Baulch's representative, coaches and the two athletes all together with the head photo-finish official, and we all reviewed the pictures at the same time. We had a good chance to discuss what we saw, and the officials made a decision on the spot for a joint third place. It was fair and transparent to all parties."
On the night of the 1,500 runners' protest, after a USATF lawyer had insisted all procedures had been followed and that the disqualification would stand, Doyle filed a petition for arbitration with the US Olympic Committee, which provides a platform for outside arbitration for any Olympic sport. Things began to right themselves on the Monday after the event, with Salazar withdrawing his protest and USATF hastily and magnanimously reinstating Grunewald as national champion.
"The end result is what we wanted," Doyle said, "but what it doesn't do is fix the flaw that we all experienced. There are a lot of inconsistencies at USATF."
A switch had been tripped, though, and despite Grunewald's reinstatement, the criticism continued to flow. Elite 800-meter runner Mark Wieczorek wrote on the popular running site Letsrun.com, "Either USATF indeed does have conclusive video evidence or they, in collusion with Alberto and Nike, lied and cheated to manipulate the system." The hosts of Letsrun.com posted their own reported article about the incident, and it drew more traffic in a single day than any story in the site's nine-year history. People took to Twitter, using the #USATFcorruption hashtag.
Toni Reavis, a longtime observer of the sport, said the perception of impropriety between USATF and its major sponsor Nike is a constant. He added: "Though it [USATF] has a professional staff, the vast majority of the organization is volunteer-based. And it shows! Its constituency spans cradle-to-grave all things running, jumping, and throwing, well beyond the scope of any single organization to properly govern, administer, much less promote and market with a budget of $23 million a year. By comparison, the University of Florida athletic department has a $100 million budget."
The Track & Field Athletes Association petitioned USATF, requesting that two athlete representatives be allowed to sit in on all protest and appeal procedures at major USATF championship competitions. While the petition states TFAA representatives would not be involved in the decision-making, they could witness the entire procedure, and take notes.
While this may seem like a small step, any transparency at all would ward off some of the shadiness that plagues the sport. And more importantly, the reforms speak to a suddenly empowered athlete class, agitating for a new way of doing things. When current Nike superstars Shalane Flanagan, Will Leer, and Lopez Lomong openly demand changes at USATF, fully aware of the implications for their sponsor, you know something has changed. Pro runners, essentially independent contractors, are banding together—that's new. Track observers across the internet—typically representing a broad spectrum of opinions—are unified in their condemnation of track's status quo. And another first: Salazar, no doubt after a speaking-to from the boss, withdrew the protest against Grunewald and apologized for verbally abusing Lopez Lomong. Like a light switch turned on suddenly at a junior high party, Grunewald's Foul Foul caught Salazar, Nike, and USATF doing what they've been getting away with in the dark for years.
On Monday, USATF will meet with the TFAA to "discuss the procedure for protests and appeals of results" at championship track meets. The Albuquerque Spring has succeeded in getting the athletes a seat at the table. Now comes the hard work of getting USATF to more clearly define its rules and ensure everyone is playing by the same ones. The fact that something so simple would represent so revolutionary a step is an indication of how deeply the rot has set in. It's time to change that. Just undo it.
---
Sarah Barker writes and runs in St. Paul, Minn.