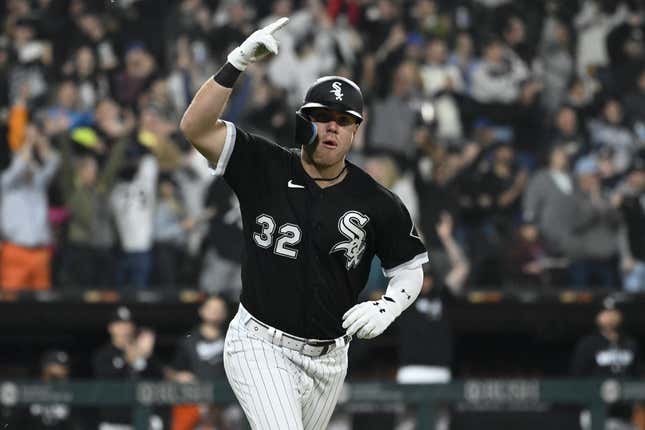 The Chicago White Sox will look for another team effort when they take on the visiting Cleveland Guardians in the second game of their three-game series on Wednesday night
How running an NFL team is like running a restaurant | Chef Emeril Lagasse
Every player in the White Sox's starting lineup produced at least one hit in an 8-3 win against the Guardians in the series opener on Tuesday
Luis Robert Jr., who carried Chicago's offense last weekend while it lost two of three to the visiting Houston Astros, was the lone player in the lineup without a hit Tuesday until he homered in the eighth inning.
Robert now has a home run in four straight games and leads the American League in homers.
Yasmani Grandal, Yoan Moncada, Andrew Benintendi, Andrew Vaughn, Hanser Alberto and Jake Burger also had multi-hit games Tuesday, and Gavin Sheets blasted a three-run homer against 2020 AL Cy Young winner Shane Bieber, who gave up a career-high 12 hits.
"We've got too much talent here to just lay over," Sheets said of the White Sox, who are 15-28. "We've got some big matchups these next two weeks. We can still make a statement and have a great May and take it into June and see what happens. This isn't over.
Chicago starter Lance Lynn pitched into the eighth inning on Tuesday, and the White Sox hope to get a similar performance from right-hander Mike Clevinger on Wednesday
Clevinger (2-3, 4.79 ERA) has gone winless in his past six starts after winning his first two of the season. He allowed three runs and three hits over six innings in his most recent outing last Thursday but took the loss in a 4-3 defeat to the Kansas City Royals.
Clevinger played his first four major league seasons with Cleveland, going 41-21, but he fell out of favor with the team after violating COVID-19 safety protocols during the 2020 season. He was traded to the San Diego Padres later that season.
Clevinger has made two career starts against the Guardians, going 0-1 with a 4.22 ERA. Both starts came for the Padres
The Guardians could be without two of their better hitters on Wednesday
Jose Ramirez missed the series opener because he's on the bereavement list due to the death of his grandmother, and Josh Naylor left the game with left-leg tightness.
Cleveland plans to start rookie right-hander Peyton Battenfield, who's still seeking his first win after five starts.
Battenfield (0-4, 4.45) has received little run support so far.
In his past two starts, he has combined to allow six earned runs over 13 innings with 11 strikeouts and no walks, but the Guardians were shut out in both games and have combined for four runs in his five starts overall
He has not faced the White Sox
In his most recent performance, Battenfield gave up five runs (four earned) and seven hits over six innings in a 5-0 loss to the Detroit Tigers last Wednesday.
"I was probably missing up more than I wanted or not getting it up enough," he said. "Command-wise, I wasn't too far off and had some things not really go my way, so that's part of the game."
--Field Level Media