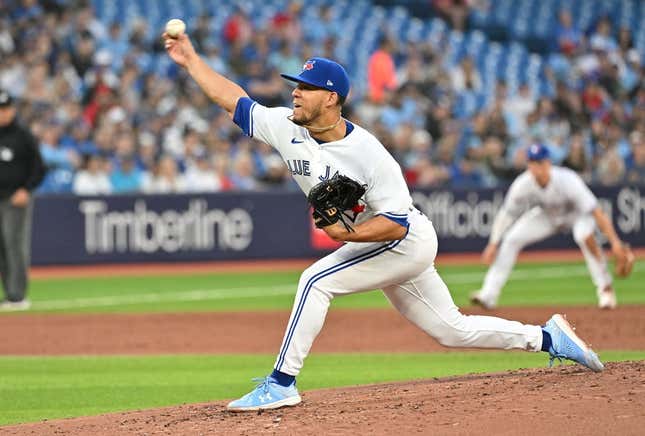 The visiting Chicago White Sox will be going against a familiar foe Tuesday night when they face Toronto Blue Jays right-hander Jose Berrios
Bass' ERA stinks, but not compared to who he is off the mound | Worst of the Week Countdown
Berrios (1-3, 6.23 ERA) will attempt to help the Blue Jays clinch the three-game series after they took the opener 5-2 on Monday night
In 22 career starts against the White Sox, Berros is 12-6 with a 3.43 ERA. Most of those starts came when Berrios was with the Minnesota Twins, who are American League Central rivals with the White Sox
The White Sox will start right-hander Mike Clevinger (2-1, 3.26 ERA), who is 3-1 with a 3.86 ERA in five career games (four starts) against the Blue Jays
The White Sox, who have lost five straight, struck out six times on Monday. That was an improvement over their three weekend road losses to the Tampa Bay Rays when they struck out 33 times, including 11 times on Friday
White Sox manager Pedro Grifol said the team's hitters have been chasing too many pitches
"We need to make adjustments on those," Grifol said before the game on Monday. "We feel like we're headed in the right direction with that. Guys are putting in the work. They're learning the pitchers, they're learning their strike zone. They're learning where they can do damage. It needs to translate out there.
"When you chase, you're not getting pitches that you can do damage with. That's just a part of the game. You stay in the strike zone, you're going to get a good pitch to hit, you're going to do some damage. You come out of the strike zone, you're not going to put good wood on the baseball. That's no secret. ... We just have to execute those things here against Toronto."
The White Sox led 2-0 on Monday, but the Blue Jays took over with a four-run fourth inning that included Cavan Biggio's three-run homer
Blue Jays starter Chris Bassitt left in the seventh inning due to tightness in his lower back
Bassitt said he felt sore warming up in the bullpen but that it was not a problem.
"I never felt any threat of an injury the whole game," he said. "Won't even miss a bullpen session."
Toronto put right-hander Adam Cimber (right rhomboid strain) on the injured list Monday and recalled right-hander Nate Pearson from Triple-A Buffalo.
Pearson, once the team's top pitching prospect, has overcome illness and injury to get another chance in the majors.
"I've been through some stuff, so it's good to just be able to be here early in the year and help the team," Pearson said on Monday. "I've definitely grown mentally, just more at peace with whatever outcome as long as I'm competing."
Pearson has been used primarily as a one-inning reliever. He produced a 2.16 ERA with 16 strikeouts and five walks over 8 1/3 innings with Triple-A Buffalo this season.
"I feel great," said Pearson, who did not appear in the game on Monday. "It's always great to be back here in the Rogers Centre."
Chicago reinstated right-hander Joe Kelly (right groin strain) from the IL Monday and placed right-hander Lucas Giolito on the bereavement list. Kelly did not pitch on Monday.
--Field Level Media