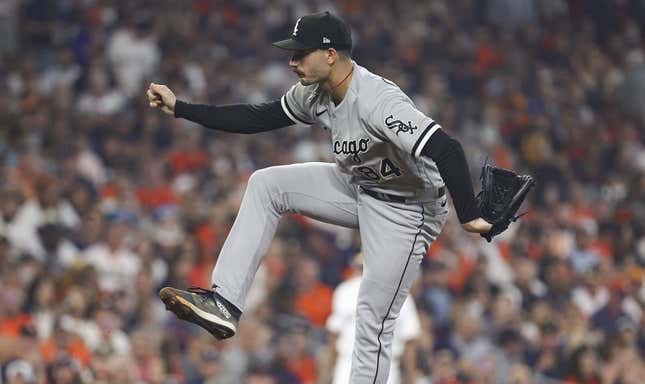 Inconsistency has hurt the Chicago White Sox this season, but they're hoping Saturday's big finish can get them going in the right direction
Bass' ERA stinks, but not compared to who he is off the mound | Worst of the Week Countdown
They have a chance to win the three-game series against the visiting Baltimore Orioles when they play the rubber game on Sunday afternoon
Chicago's 7-6 victory in 10 innings snapped a three-game losing streak.
"You saw a lot of fight out there and a lot of guys coming through in big moments," Chicago third baseman Jake Burger said. "Hopefully, we can get that going."
The Orioles were on the verge of racking up their first three-game winning streak this season before some late-inning troubles arose
"We had chances," Baltimore manager Brandon Hyde said. "I thought it was a really good baseball game. Punches thrown back and forth, both teams. I was happy with how our guys competed."
Both teams have played 15 games, and they have both had five games decided by one run. Further, each team is 3-2 in those games.
Orioles right-hander Grayson Rodriguez (0-0, 6.75 ERA) will be making the start Sunday in his third game in the majors
The White Sox have right-hander Dylan Cease (2-0, 1.65) pegged as their starting pitcher. Cease has gone at least five innings in all three of his starts this season and has 24 strikeouts in 16 1/3 innings
"I think there's another gear I need to take it to and I can take it to," Cease said. "It has been good enough, but I think I definitely can be more consistent."
Cease split a pair of decisions last year against the Orioles, striking out 13 in seven innings in the victory. He's 2-1 with a 3.09 ERA in four career starts vs. Baltimore
Ryan Mountcastle homered off Cease in the first inning of last season's other game against between the teams, a Baltimore victory.
The White Sox will be looking to get more efficiency from their pitchers, who have walked a combined 19 batters in the first two games of the series. Ten of those came Saturday
"We've got to attack the zone," White Sox manager Pedro Grifol said
The Orioles hope that Anthony Santander, one of their key hitters, will get going after getting his first homer of the season on Saturday
"You have to stay confident, keep working hard," Santander said.
Meanwhile, the Orioles placed third baseman Ramon Urias in concussion protocol after he was hit in the head by a Kendall Graveman pitch in the seventh inning. A roster move could be forthcoming, with Joey Ortiz a potential call-up from Triple-A Norfolk
Baltimore was shaky in the field, so a shake-up among infielders could be interesting.
"We didn't play our best defense," Hyde said. "I thought (Friday) night we played great defense."
The Orioles should be able to unleash all available pitchers in the series finale. After Sunday, they play on only two of the next four days
The White Sox are 2-3 in home games
"I think we're going to continue to get more in a groove and a rhythm," Cease said.
--Field Level Media