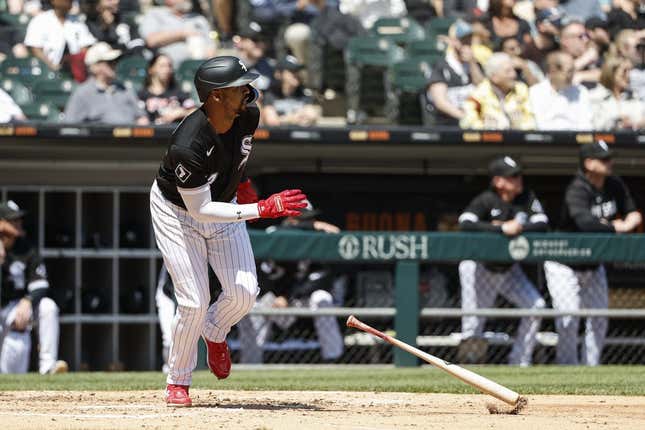 Chicago White Sox designated hitter Eloy Jimenez was hospitalized Saturday in Cincinnati due to abdominal pain
Jimenez was experiencing pain on Friday and it worsened overnight, according to White Sox manager Pedro Grifol
"He had some abdominal pain last night and it intensified throughout the night," Grifol told reporters prior to Saturday night's game against the Reds. "This morning we took him to the hospital for further evaluation and he's still there. We should know something shortly."
Jimenez was 1-for-4 during Friday's 5-4 win over the Reds. One night earlier, he was 3-for-5 with a homer and three RBIs.
Grifol said the concern level was high over Jimenez's situation leading to a hospitalization.
"Any time you have to go in with abdominal pain, it is scary," Grifol said. "I talked to him this morning, and he said it hurt when he moves. It intensified a little bit, so we're erring on the side of caution to see what it is."
Jimenez, 26, owns an eight-game hitting streak and is batting .258 with four homers and 15 RBIs in 25 games this season. He has started 22 games as designated hitter and three in right field.
The fifth-year pro hit 31 homers as a rookie and has 75 over four-plus seasons. He has a .274 career average and 226 RBIs in 341 games.
Reds outfielder Jake Fraley (lower-back stiffness) was scratched less than an hour before first pitch.
--Field Level Media