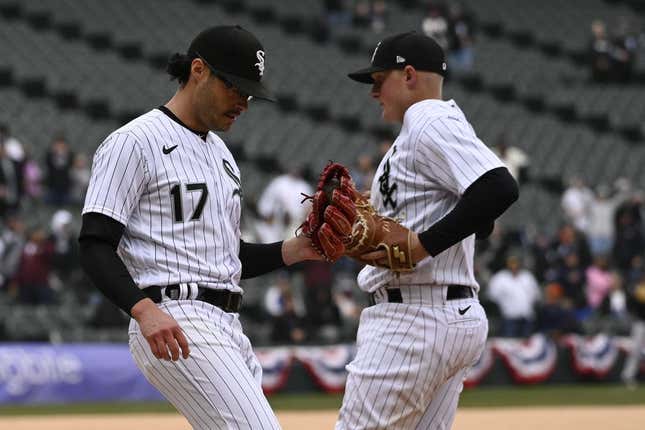 A year ago, the Los Angeles Dodgers and Chicago White Sox were a fashionable prediction to meet in the World Series. Both teams are simply trying to get their house in order one year later
How running an NFL team is like running a restaurant | Chef Emeril Lagasse
At least the Dodgers made the playoffs last year before they flamed out in the division series to the rival San Diego Padres. The White Sox were a mere .500 in 2022 while missing out on the postseason, and are a disappointing 29-38 this year as their search for answers continues
As the teams open a three-game series at Los Angeles on Tuesday, both enter with glaring bullpen issues, although other problems do persist.
The Dodgers lost two out of three games at Philadelphia on Friday and Sunday, first using an opener then getting taken down in a bullpen game. Left-handed starter Julio Urias was expected to return Sunday but he remains out with a hamstring strain
The White Sox had consecutive bullpen meltdowns while losing Saturday and Sunday at home to the Miami Marlins. The consecutive defeats ended an optimistic run when the Chicago had won six of seven contests, with three of the wins in walk-off fashion
The Dodgers will send right-hander Tony Gonsolin (3-1, 2.21 ERA) to the mound Tuesday in just his ninth start of the season. Gonsolin began the season on the injured list with an ankle sprain after forearm and shoulder injuries in each of the previous two seasons
Gonsolin could have pitched on regular rest Sunday, but the Dodgers elected to push him back to the White Sox series
"I think with Tony, the recovery hasn't been great," Dodgers manager Dave Roberts said. "So, (we are) trying to appreciate the short and the long term, and make sure we take care of him and his health. Making sure the recovery is where it needs to be. We just felt that it's the best for him.
Gonsolin has faced the White Sox once, giving up a run on three hits over six innings last season in the Dodgers' 4-1 victory June 8 at Chicago
The White Sox will counter with veteran right-hander Lance Lynn (4-6, 6.72), who has gone 4-2 over his last seven starts but is coming off a pair of outings when he gave up a combined 13 runs on 16 hits over nine innings
Lynn is 3-2 with a 3.80 ERA in eight career starts against the Dodgers and is 2-1 with a 3.82 ERA in six starts at Dodger Stadium
Former Dodgers right-hander Joe Kelly was at the center of the White Sox' meltdown Saturday when he gave up five runs in the ninth inning (two earned) against the Marlins in a 5-1 defeat. Chicago then squandered a 5-1 lead in the eighth inning to lose 6-5 to Miami on Sunday
"We put ourselves in a position to win that ballgame (Sunday), and the right guys were on the mound, and it didn't happen," White Sox manager Pedro Grifol said. "I would not hesitate again to do it the same way on Tuesday.
White Sox shortstop Tim Anderson was given the day off Sunday as he continues to search for his power swing. Anderson's .311 slugging percentage and .611 OPS are the lowest of his career and he has not hit a home run since July 15 of last season, going his last 62 games without a homer
--Field Level Media