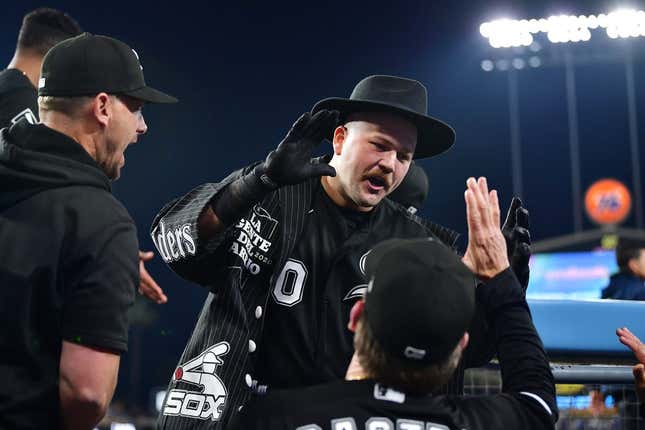 The first two-homer game of Jake Burger's career was special to him, and not solely because it helped the Chicago White Sox end a three-game losing streak
How running an NFL team is like running a restaurant | Chef Emeril Lagasse
It was because one of the blasts came against Los Angeles Dodgers ace Clayton Kershaw, a likely Hall of Famer
Burger went deep twice and drove in three runs on Wednesday as the White Sox downed the Dodgers 8-4. He will look to follow up his big game when the teams play the rubber match of a three-game series in Los Angeles on Thursday night
"That was special," Burger said of his second-inning homer off Kershaw. "He's such an incredible pitcher. ... I was just fortunate enough to get one off him."
The Burger household is one of divided allegiances during his first career series in Dodger Stadium.
"My wife's family grew up out here, so the house is split for sure," said Burger, a 27-year-old St. Louis native. "Her grandpa passed away a few years ago and was the biggest Dodger fan, so it meant a little more hitting off Kershaw and being here at Dodger Stadium."
Burger's second homer was a two-run blast high off the left field foul pole against Yency Almonte to knot the score at 4-4 in the eighth inning.
Burger got a good look at the tying shot.
"My reaction was I didn't know if it was going to stay fair or not," he said. "I'm not one to (watch) home runs very often."
Burger is on a power streak, having hit five homers in his past 11 games to raise his season count to 15.
He had help from some teammates on Wednesday. Luis Robert Jr. also homered, Clint Frazier delivered the tiebreaking single in the eighth inning, and Yasmani Grandal had three of Chicago's 13 hits.
Kershaw pitched six innings and departed with a 4-2 lead, but the Los Angeles bullpen gave up six runs over the eighth and ninth innings.
Dodgers manager Dave Roberts was not happy about it, as the bullpen has been one of the worst in the majors all season. The relief corps' collective 4.90 ERA is the worst in the National League
"It's not workload," Roberts said. "It's not the wrong lanes or the right lanes -- it's they need to be better. Period."
Los Angeles managed just seven hits on Wednesday. Miguel Rojas had two and Mookie Betts had a two-run single.
The Dodgers won the series opener 5-1 on Tuesday
Los Angeles infielder Max Muncy (left hamstring strain) will miss his third straight game on Thursday. The Dodgers hope he can return on Saturday
Dylan Cease (3-3, 4.38 ERA) will take the mound for the White Sox in the series finale. The right-hander has received no-decisions in three straight starts
Cease, 27, allowed one run and four hits in six innings against the Miami Marlins on Friday. He also gave up one just run in his previous outing, when he tossed 5 1/3 innings against the Detroit Tigers on June 3.
Cease lost the only previous time he faced the Dodgers. He gave up six runs -- all unearned -- and six hits in 4 2/3 innings during an 11-9 defeat on June 9, 2022. He struck out eight and walked three
J.D. Martinez is 3-for-7 against Cease, and Freddie Freeman is 2-for-3.
Right-hander Michael Grove (0-2, 8.28 ERA) will start for the Dodgers on Thursday. He has never faced the White Sox
Grove, 26, gave up four runs and seven hits over four innings as the bulk reliever against the Philadelphia Phillies on Friday in his most recent appearance.
--Field Level Media