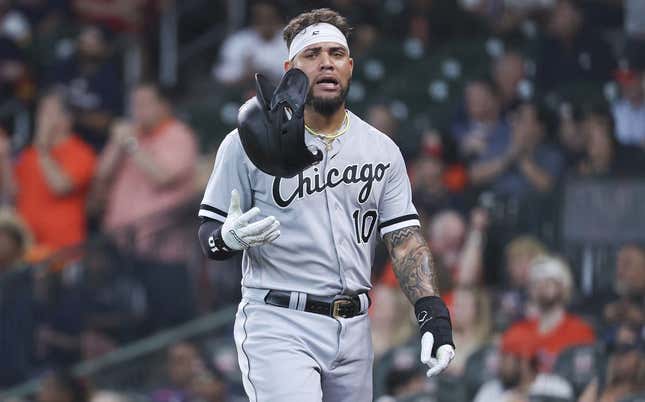 The Chicago White Sox placed third baseman Yoan Moncada on the 10-day injured list with lower back soreness
Air Jordans are more American than McDonald's French fries | Deon Cole's Ultimate Sports Fantasy
It was one of several roster moves made by the team ahead of Friday's series opener against the visiting Baltimore Orioles.
Chicago also reinstated outfielder Eloy Jimenez from the 10-day injured list and claimed infielder/outfielder Nick Solak off waivers from the Seattle Mariners.
Solak and right-hander Jesse Scholtens were optioned to Triple-A Charlotte.
Left-hander Tanner Banks was recalled from Charlotte and right-hander Matt Foster (right flexor strain) was transferred to the 60-day injured list.
Moncada, 27, is batting .308 with two homers and five RBIs in nine games this season.
Jimenez, 26, is batting .211 with three RBIs in five games. He landed on the IL with a hamstring injury on April 5.
Solak, 28, played in four games this season at Triple-A Tacoma and batted .077 (1-for-13) with one RBI.
Scholtens, 29, made his MLB debut on April 7 and is 0-1 with a 3.00 ERA in two relief appearances for Chicago.
Banks, 31, is 1-0 with a 1.80 ERA in three appearances this season out of the Charlotte bullpen.
Foster, 28, opened the season on the 15-day injured list. He was 1-2 with a 4.40 ERA and one save in 48 games (no starts) with the White Sox last season
--Field Level Media