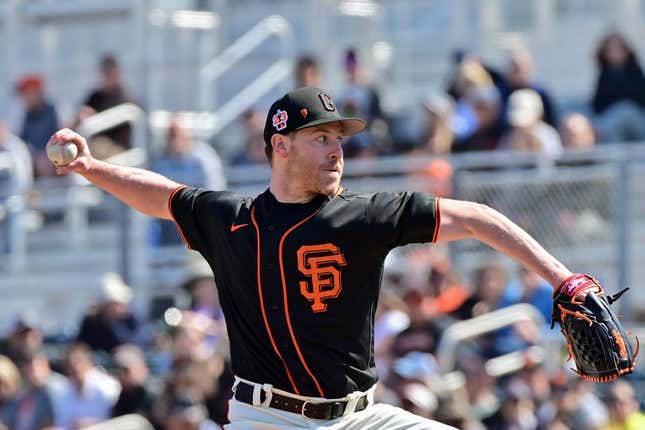 The San Francisco Giants will experience Opening Day for a second consecutive American League projected playoff contender when they begin a three-game series Monday afternoon at the Chicago White Sox
Chris Paul should ride the bench next season | Keep it a Buck(et)
Right-handers Anthony DeSclafani of San Francisco and Michael Kopech of Chicago are the scheduled starters in the first Giants-White Sox matchup in Chicago since September 2017
The White Sox swept a three-game series in San Francisco last July, outscoring the hosts 19-7
Both teams had mixed results against powerhouse opponents in their first series of the season, with the Giants losing two of three in New York against the Yankees, while the White Sox pulled out a 6-3 victory Sunday to gain a 2-2 split with the defending champion Astros in Houston
Yoan Moncada capped an impactful first four games with a two-run home run in the ninth inning of Sunday's win. He also had two doubles and a walk in the game, giving him an eight-hit series with two homers and four RBIs.
"That's the effort that we've spoken about," White Sox rookie manager Pedro Grifol said of Moncada, who hit just .212 with 12 homers last season. "That's the effort that's expected.
Kopech hopes for more of the same from Moncada as he attempts to take the first step toward rebounding from a 5-9 season in 2022 that resulted despite a fine 3.54 ERA in 25 starts.
The 27-year-old has never gone head-to-head with the Giants in his three-year career
He will see a Giants team that had just 19 hits in its three games at Yankee Stadium. Jhony Brito combined with three relievers on a three-hit shutout Sunday
Thairo Estrada had four hits and Mike Yastrzemski three in the series for the Giants, who won the middle game 7-5, sandwiching 5-0 and 6-0 defeats
Coincidentally, the Giants made headlines in New York by signing longtime Yankees catcher Gary Sanchez to a free-agent contract. The addition came as the club was preparing to place Joey Bart on the injured list with a strained back
The Giants had two available catchers Sunday -- Roberto Perez and Blake Sabol, who also plays the outfield. Adding a third either before or during the Chicago series is a possibility, although Sanchez likely would need some at-bats at Triple-A before contributing at the big-league level
"I watched a lot of video on Gary. I also talked to a lot of people. Solid, quality reports," Giants manager Gabe Kapler explained. "I think we all know he's got a really good arm. That might be valuable this season as we see stolen base attempts and success rates rise. Pretty powerful bat at times. A guy when we played the Twins, we considered to be a dangerous bat.
Whoever catches Monday will be handling DeSclafani, who will be pitching in a regular-season game for the first time since getting pulled in the third inning of a 10-3 home loss to the Cincinnati Reds last June.
Shortly thereafter, he was diagnosed with inflammation in his right ankle, which required season-ending surgery.
The 32-year-old had a healthy spring, throwing 9 2/3 innings and striking out 12 in three starts.
He has faced the White Sox just once in his career, that coming as a member of the Reds in 2018. He didn't get a decision in a 12-8 loss, allowing five runs in 5 1/3 innings
--Field Level Media