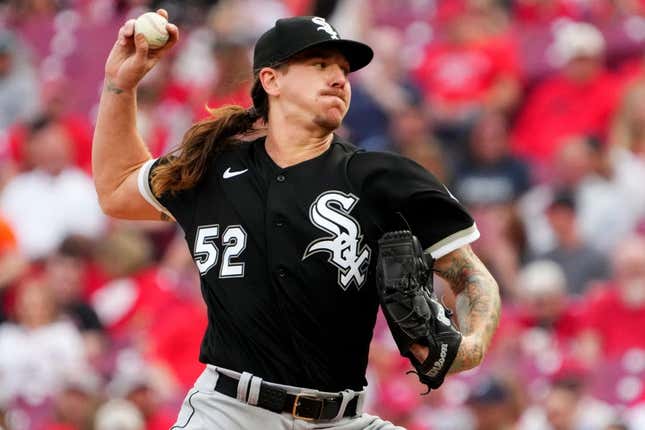 The Kansas City Royals can secure their first series win in more than a month when they host American League Central rival Chicago White Sox on Thursday in the finale of their four-game set
Can the Florida Panthers make a comeback? | Agree to Disagree
Kansas City scored four first-inning runs Wednesday and never looked back en route to a 9-1 win. The offensive outpouring, which included home runs by Edward Olivares, Michael Massey and Nick Pratto, was the second from the Royals in the series
They opened Monday scoring 12 in a seven-run defeat of Chicago. Kansas City heads into Thursday's contest having scored six runs or more in six of its nine games in May, including four games of at least eight runs over the last seven.
"Hitting is contagious," Massey said to Bally Sports Kansas City in his postgame interview. "You see some guys in the lineup start to heat up, it makes you want to get going a little bit more."
With his 3-for-4 performance Wednesday, Massey extended his hitting streak to six games. MJ Melendez has had a hit in every game of the series and Vinnie Pasquantino delivered his third straight multiple-hit performance with a 3-for-5 showing after going 2-for-5 Monday and 2-for-4 Tuesday.
Meanwhile, Chicago will look for a series split with a starter who has flourished in his career against Kansas City.
Mike Clevinger (2-3, 4.84 ERA) takes the mound, undefeated in 14 career appearances against the Royals with 13 starts, posting a 9-0 record and 1.98 ERA
He last faced Kansas City in a no-decision on July 25, 2020, when he struck out six and surrendered two earned runs over seven innings.
After beginning the season with wins in each of his first two starts, Clevinger has lost three and pitched a pair of no-decisions.
In his last appearance Saturday at Cincinnati, Clevinger struck out seven and gave up four earned runs over six innings in his third loss of the season.
Lance Lynn, Chicago's starter credited with the loss Wednesday, noted the significance of the White Sox scoring a split when speaking with reporters postgame
"We've won our last two series. We win (Thursday), we push this one. That's called chipping away," Lynn said.
Chicago lost seven straight series before taking two of three from Minnesota and Cincinnati before arriving in Kansas City. A win Thursday would improve the White Sox to 6-4 in May
Brady Singer (2-4, 8.82) makes the start for the Royals in Thursday's matchup, looking to bounce back after losses in each of his last two starts, and four of five overall
Singer last appeared Saturday, giving up five earned runs in four innings in a loss to Oakland. The four innings were the second-fewest Singer worked in his seven starts of the season, save only his prior appearance April 30 at Minnesota.
Thursday marks Singer's 10th appearance against the White Sox and ninth start, the last coming Aug. 30, 2022, when he struck out four and gave up four earned runs in a no-decision. He recorded a win over Chicago the same month, allowing just one earned run over 7 1/3 innings
Singer is 3-2 all-time against the White Sox with a 3.35 ERA and 46 strikeouts
--Field Level Media