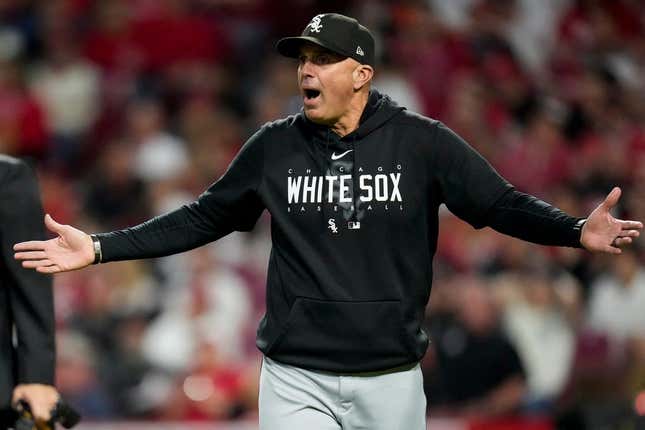 The last time Chicago White Sox manager Pedro Grifol went head-to-head with his former team, the results were less than ideal
Air Jordans are more American than McDonald's French fries | Deon Cole's Ultimate Sports Fantasy
Grifol, who held various coaching positions with the Royals for 10 seasons (2013-22), saw his White Sox fall three times during a four-game set against Kansas City earlier this month
Chicago's first-year skipper will get his first chance at revenge on Friday when the host White Sox welcome the Royals to town for the opener of a three-game series
Grifol won't be the only one seeking redemption against Kansas City, though, as right-hander Michael Kopech (1-4, 5.74 ERA) has also run into his fair share of trouble against the Royals
Kopech is set to make his first start against Kansas City this season after going 0-1 with a 6.00 ERA in three outings against it last year. That includes an Aug. 22, 2022, performance in which he faced just four batters before exiting with knee soreness.
Still, Kopech surrendered four runs on one hit without recording an out.
In 10 career appearances (four starts) against the Royals, Kopech is 0-1 with a 5.47 ERA
If Kopech wants to overcome his struggles against Kansas City, he will likely need some help from the offense, which was perplexed during Thursday's 3-1 loss to the Cleveland Guardians.
The White Sox seemed to be turning a corner after earning two commanding victories over Cleveland, but they were unable to polish off the three-game sweep. Chicago has mustered three wins in a row just once this season
"We've just been inconsistent," White Sox designated hitter Gavin Sheets told NBC Sports Chicago. "This isn't over. I think that's the biggest message. ... This isn't over. We've got way too much talent.
That talent will be looking to get to right-hander Zack Greinke (1-4, 5.01), who is coming off one of his better performances of the season. He allowed two runs on three hits in five innings against the Milwaukee Brewers last Saturday, striking out five without issuing a walk.
Greinke also made history in that outing, becoming the fifth pitcher in major league history to strike out 1,000 different batters.
"I can't really process it," Royals manager Matt Quatraro said. "I've become enthralled with that stat since they told us about it. It's just amazing to me to think about how many people that is -- 1,000 is just a number, but when you think about how many different players that is over the course of 20 years is amazing to me.
Greinke has picked up a total of 2,914 strikeouts in his 20-year MLB career, with 168 of those coming against Chicago. In 32 career appearances (29 starts) against the White Sox, Greinke is 10-10 with a 3.84 ERA
Aside from Greinke's milestones, the Royals' pitching staff has struggled so far this season, but it seemed to shore up some of its issues against San Diego earlier this week
Kansas City took two of three games from the Padres, preventing San Diego from scoring more than four runs in any of the contests.
However, it might be hard to keep up the success on the mound when White Sox outfielder Luis Robert Jr. steps into the batter's box. Robert has recorded multiple hits in seven of his last 13 games and is hitting .419 (19-for-46) with six homers and 12 RBIs during that span
--Field Level Media