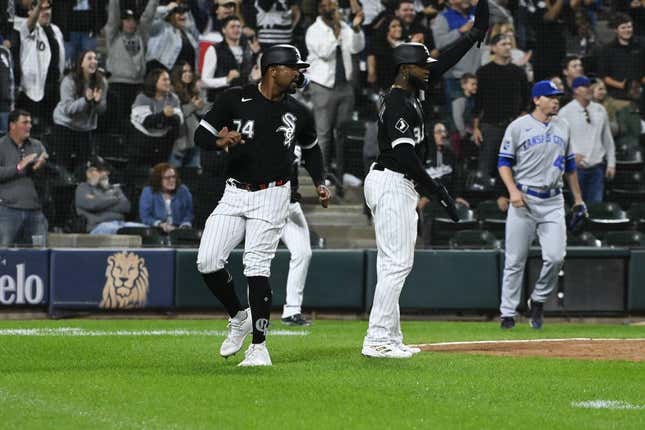 Chicago White Sox manager Pedro Grifol acknowledged "nothing here was good enough this year" before the club split a doubleheader against the Kansas City Royals on Tuesday.
How running an NFL team is like running a restaurant | Chef Emeril Lagasse
That's the reality in a season that started with division title aspirations but quickly went in the other direction.
With that, the White Sox (56-89) enter Wednesday night's series finale vs. the visiting Royals (45-101) with stronger intent on finding more answers in the long term than the short term. Grifol has an idea on a strategy.
"You can have talent and still win a little bit, but you might not sustain it, you know," he said. "There's a way of doing this thing and doing it with the right mindset. We have to really evaluate our roster and change that mindset to where we're thinking about one thing and one thing only: that's just winning baseball games and winning a world championship."
It's far from a title, but the winner of Wednesday's game will claim the season series between the American League Central foes. The White Sox and Royals have split their first 12 meetings.
Kansas City is finding bright spots down the stretch despite having the worst record in the majors.
A new highlight emerged in the nightcap of Tuesday's doubleheader, as catcher Logan Porter contributed two hits in his major league debut. An undrafted minor league free agent who signed with the Royals five years ago, Porter delivered a two-run single in his first career plate appearance.
Porter, 28, grew up in Surprise, Ariz., home of the Royals' spring training facility. He served as a clubhouse attendant and occasional bullpen catcher in high school.
"It's a very surreal experience," Porter said. "Emotions are really high. Seeing familiar faces around here makes it a lot easier for me, more comforting. ... I've been going to spring training games since I was 12 years old, seeing some of the young prospects we had. It's just surreal to see it all unfold, all come together. It's crazy. It really is."
Right-hander Mike Clevinger (7-7, 3.64 ERA) is set to start for the White Sox on Wednesday. After allowing eight runs and 12 hits in four innings of a loss to visiting Detroit on Sept. 2, Clevinger regrouped against the Tigers on Friday. He scattered three hits and struck out seven over seven scoreless innings.
Clevinger found fuel in opposing the Tigers' Reese Olson, who carried a no-hit bid into the seventh inning before the White Sox broke through in a 6-0 victory.
"Makes it a little more fun," Clevinger said. "You're always competing against the other team, every hitter. It's also fun to have those pitchers' duels, so you can see who can outlast who."
Clevinger received a no-decision at Kansas City on May 11, scattering three runs and three hits in six innings with two walks and two strikeouts. He is 9-0 with a 2.16 ERA in 15 career appearances against the Royals, including 14 starts.
Rookie right-hander Steven Cruz (0-0, 7.20) will start for the Royals on Wednesday. Cruz has made each of his five appearances in relief, including one scoreless inning with one strikeout against the White Sox on Sept. 4.
—Field Level Media