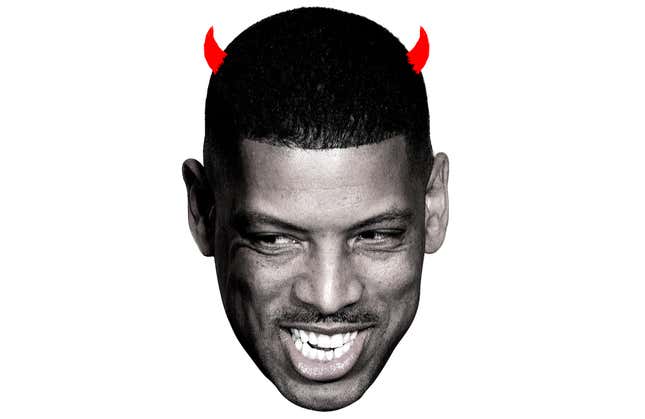 It isn't hard to see why nothing bad has ever quite touched Kevin Johnson, mayor of Sacramento, Calif., even as he's authored a long series of lurid sex and corruption scandals, any one of which would have ended the career of a less fortunate man.
Bass' ERA stinks, but not compared to who he is off the mound | Worst of the Week Countdown
Johnson is a youngish, attractive Democrat with a reputation as a national leader on education issues, a gift for making powerful friends, and a superficially impressive background—UC Berkeley, a long run as a top NBA star, a successful business career. He's just the sort of politician a lot of people want to believe, and a lot of people have done so. His mayoralty will even soon be the subject of a laudatory entry in ESPN's acclaimed 30 For 30 documentary series.
The scandals didn't much matter in 2008, when he easily won election in the face of credible accusations that he'd molested teenage girls, defrauded the federal government of hundreds of thousands of dollars, and lorded over an empire of slum holdings. And they haven't much mattered since, as he's gone from success to success, his star rising ever higher in the Democratic Party firmament through most of his career.
As mayor, he's incurred sexual harassment charges in the course of waging a bizarre war on an obscure non-profit organization; soaked taxpayers in his hometown for hundreds of millions of dollars to build a new arena for the Sacramento Kings; and used public employees to do his own private political work while attempting to hide the evidence by keeping email records off the books, Hillary Clinton-style. Most recently—and brazenly—he got a major national law firm to sue both the city of Sacramento and the Sacramento News & Review simply because the tiny weekly newspaper had filed a public-records request.
---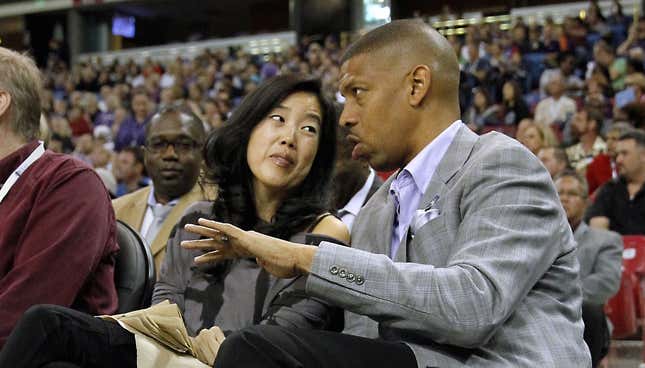 Kevin Johnson and Michelle Rhee take in a 2013 Kings-Clippers game. Photo via AP
---
Johnson is husband to Michelle Rhee, the controversial school-privatization activist, and there is considerable evidence that their shared desire to turn public schools into engines of profit for private actors is what has driven much, if not most, of Johnson's more recent wrongdoing. Despite, or perhaps because of, this, he's enjoyed the profile and appointments of a national figure on the make: public appearances with President Barack Obama, portrayal as a latter-day Metternich by The New York Times, and the patronage of serious players like Michael Bloomberg and Bill Gates.

A new scandal, though, is putting Johnson's rise at serious risk. It involves the mayor replacing civil servants with private citizens funded by the Wal-Mart empire and tasked with the twin purposes of working to abolish public education and bring in piles of cash for Kevin Johnson.
The rising star, it seems, set up a fake government—and some people are starting to notice.
The public employees who weren't
Of all Kevin Johnson's scandals, the most bizarre may be the latest, which involves the mayor suing his own city and the Sacramento News & Review, a local alt-weekly, for pursuing a simple public-records request.
In the spring of 2013, the mayor and his allies took over the National Conference of Black Mayors, drove it into bankruptcy, and then abandoned it in what they described as a "coup," setting off litigation that continues to this day. In June, the News & Review requested emails and other documents related to the takeover, as is their right under California public-records law. The city attorney's office originally told the paper it had decided that the communications were part of the public record, but, rather than making the records public, took the curious step of giving them to Johnson and Ballard Spahr, a national law firm that does work on his behalf.
Johnson's attorneys immediately warned the News & Review and its dogged reporter, Cosmo Garvin, that if they didn't amend his request to exclude any correspondence about NCBM-related litigation, the mayor would sue. When Garvin held his ground, Johnson followed through on his threat, filing a complaint that said Garvin had "stubbornly refused" to obey the mayor's bullying barristers. That means that the paper ended up being sued simply for requesting records. Johnson and his lawyers named the city as a defendant in hopes the court would enjoin City Attorney James Sanchez, who makes the final call on what documents can and cannot be released, from satisfying the reporter's request.
In their complaint, Johnson and Ballard Spahr claim that any emails that touch on NCBM lawsuits should be afforded attorney/client privilege and kept private. Even putting aside the argument that these emails are part of the public record because they were held on city-controlled public servers, attorney/client privilege normally covers only communications between attorney and client. Johnson and Ballard Spahr argue that this umbrella should include not only attorneys, but lots of other people as well.
While the case is pending, in their struggle to keep people from reading Johnson's emails his lawyers have put damaging secrets about the mayor into the public record. Last month, Ballard Spahr submitted what it called a "privilege log," listing 40 people besides Johnson whom they claim are covered by attorney/client privilege, including 10 lawyers from the firm who worked for Johnson on NCBM-related matters. The document confirms that Johnson used lots of public labor during his NCBM takeover. Every member of his official mayoral staff—including communications director Ben Sosenko, chief of staff Daniel Conway, and advisors Patti Bisharat, Cassandra Jennings, Helen Hewitt, and Adrianne Hall—is included on the NCBM emails.
Ballard Spahr's filing also, though, exposes a strange and secretive aspect of Johnson's administration: Lots of folks who used Sacramento city government titles and worked out of City Hall while doing Johnson's dirty work in the NCBM fiasco were in fact not employed by the city government. They were instead charter school advocates, funded by charter school ideologues, who kept their true allegiances and mission hidden.
---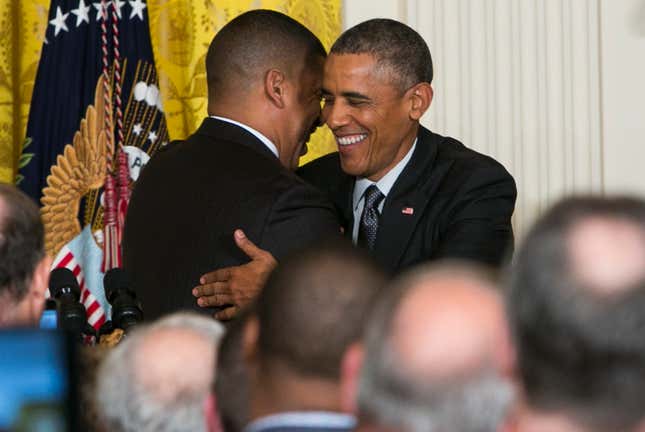 Kevin Johnson and Barack Obama embrace earlier this year. Photo via Getty Images
---
For example: Stephanie Mash identified herself as "Stephanie Mash, Director of Governmental Affairs for African Americans for Mayor Kevin Johnson" and "Stephanie Mash, Esq., Office of Mayor Kevin M. Johnson City of Sacramento." But Ballard Spahr's filing indicates that she was never actually an employee for the city; instead, while helping plan and execute the NCBM coup, Mash was employed by Stand Up, a non-profit charter school advocacy firm founded by Johnson. Mash's online resume makes no mention that she ever worked for Stand Up.

Fellow coup team member Mariah Sheriff used the title "Director of Governmental Affairs in Education, City of Sacramento, Office of Mayor Kevin M. Johnson" for years while serving the mayor. Her LinkedIn page identifies her as "Deputy Chief of Staff, Office of Mayor Kevin Johnson," and says while there she focused on "education initiatives." Ballard Spahr's filing, however, says that Sheriff was with Stand Up, not the mayor's office. Sheriff's online resume makes no mention of Stand Up. Aisha Lowe used the title "interim director of African-American affairs" for the mayor's office during the NCBM debacle. Ballard Spahr says Lowe was another Stand Up employee, never a civil servant.
The Sacramento city payroll office says there's no record that Sheriff, Mash, or Lowe ever worked for the city.
Ben Sosenko, Johnson's press secretary, did not respond to emailed questions about Ballard Spahr's characterization of Sheriff, Mash, and Lowe. Stand Up's Form 990—a form that all foundations and non-profits must file annually with the IRS—shows that in 2013, Lowe served as executive director with a salary of $100,625. (Neither Sheriff nor Mash are included in the filing, though by law only staffers with a six-figure salary have to be named.) Sacramento city government spokesperson Wendy Klock Johnson said she was not aware of any rules regarding use of titles for people "volunteering" for the mayor. The city government does have an extensive "volunteer" program, according to Klock Johnson. But Deadspin's request for records related to Sheriff, Mash, and Lowe's relationship with the city was rejected by the office of City Clerk Shirley Concolino:

The City has determined the records requested to be exempt from disclosure pursuant to Government Code section 6254(c) ("personnel, medical, or similar files, the disclosure of which would constitute an unwarranted invasion of personal privacy"), and Government Code section 6255, which exempts records for which the public interest in nondisclosure clearly outweighs the public interest in disclosure.
Who pays for Johnson's fakes?
With private operatives working out of City Hall and masquerading as public employees, the question is who's bankrolling them—and the rest of the mayor's off-the-reservation missions. It's not hard to answer. Consider that since his 2008 election, Johnson has requested and received millions of dollars for Stand Up, the group that employed the fake civil servants, from the Walton Family Foundation, a conservative grant-giver backed by the founders of Wal-Mart and known for being hell-bent on spreading its pro-charter school gospel. Between 2012 and 2014, while he was planning and executing his NCBM coup, Johnson reported at least six grants from that foundation totaling $1.625 million.
And that's just the Wal-Mart money the public knows about; Johnson has a history of not abiding by disclosure rules. In 2012, the California Fair Political Practices Commission (CFPPC), a panel charged with enforcing state financial disclosure laws, found that Johnson had failed to report at least 25 donations totaling $3.1 million made at his direction to his non-profits, including a $500,000 payment to Stand Up made by the Walton Family Foundation. State law requires that every gift over $5,000 must be reported. (The commission also found that Johnson hid a $200,000 donation to Stand Up he'd requested from the Eli and Edythe Broad Foundation. The Los Angeles Times reported last month that the Broad Foundation was planning to fund "a major expansion of charter schools in Los Angeles.")
---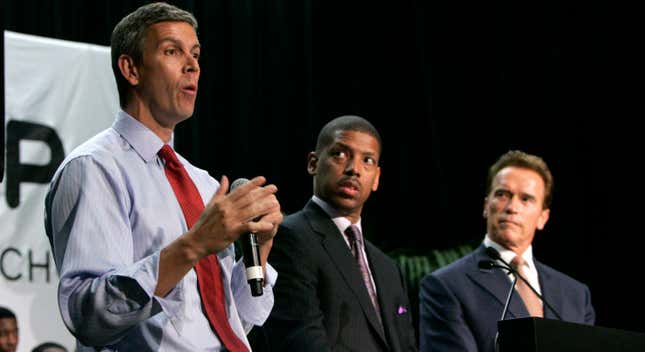 Kevin Johnson, Arne Duncan, and Arnold Schwarzenegger at a 2009 rally in Sacramento. Photo via AP
---
To settle the case, Johnson agreed to pay a fine of $37,500, the largest penalty ever handed down to a public official in the state for non-disclosure violations. He was fined again by the same body last year for not reporting that the Walton Family Foundation had, at his request, also given him more than $22,000 to cover various expenses. As it turns out, the Waltons were paying Johnson's costs to travel to NCBM events, including $2,645.93 to attend the 2013 NCBM annual meeting in Atlanta where he launched his coup.

The Walton Family Foundation is also a massive financial supporter of Students First, another financially flush group. Founded by Michelle Rhee, it houses its headquarters in the same office building in downtown Sacramento as Johnson's Stand Up. In 2013 alone, the Walton Family Foundation gave $8 million to Rhee's non-profit.
(Johnson's behest filings were at one time available through the city of Sacramento's web site. Those documents—which showed that Johnson solicited donations for his foundations from the Sacramento Kings while he was leading the charge for a new arena for the NBA team and solicited donations from Kevin Nagle, owner of minor league soccer team Sacramento Republic FC, while looking for land around town for a new stadium for that squad to help land an MLS franchise—were removed shortly after a Deadspin report on the mayor's use of public resources during his NCBM takeover.)
In early 2013, members of Johnson's "education team," made up of both real mayoral staffers and phonily-titled Stand Up employees, received published guidelines on how to raise more money for the non-profit. Johnson's minions were told to be sure to arrange meetings between foundation heads and "MKJ & MR"—meaning Mayor Kevin Johnson and Michelle Rhee—in hopes of bringing in more grants. Johnson put the Wal-Mart money to work. A document outlining the agenda for a meeting of his education team held at City Hall in February 2013 highlights discussion of the "national mobilization" of Stand Up and the targeting of the"National Conference of Black Legislators." No non-profit or foundation with that exact name exists as far as we can tell, but it's likely no coincidence that just weeks after that meeting, Johnson unveiled the battle plan for his takeover of the National Conference of Black Mayors, in the form of a PowerPoint titled "National Meeting 'Coup.'" Ballard Spahr was brought in shortly thereafter to help plan the NCBM attack and provide legal counsel.
---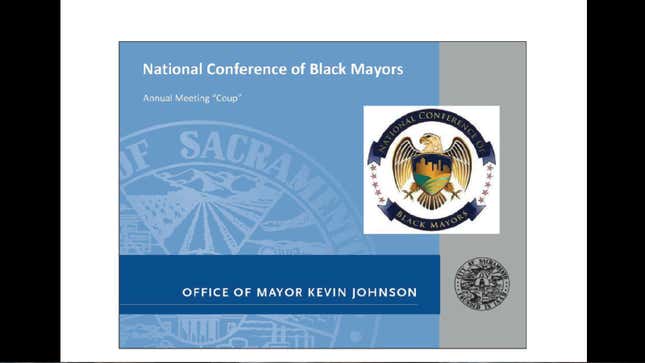 A presentation slide from the 2013 meeting where Johnson outlined his plans to take over the NCBM.
---
In a deposition Johnson gave in one of the NCBM cases, he said that Sheriff, Mash, and Lowe—the Stand Up trio—complemented his mayoral staff in drawing up the coup plan. Tracy Stigler, a longtime Johnson associate, was also in on the attack, according to the deposition; the group's 2013 Form 990 indicates that Stigler was paid $115,000 to serve as director of operations for Stand Up.

"It would be funny, if it was funny"
Calvin Grigsby had no reason to answer a recent plea from remnants of the NCBM. The group has nothing much to offer a savior in the way of resources, power, or cachet, and Grigsby—a lawyer and pioneering black financier who has turned to social and legal activism of late—knows that helping them out involves jumping into a mismatch. But he's taking the case anyway.
"To me, the National Conference of Black Mayors is like family, an important part of our overall history, like a historical black college or the NAACP," he says. "So for me, this isn't just a legal job. There's more to it. It's just not an entity that somebody should take over just to sell charter schools. That's what Kevin Johnson did."
As mayor of Sacramento and overlord of a number of shady foundations, Johnson has had an army, financed by both taxpayers and corporations, helping him wage war on the NCBM over the last two and a half years. Along with having the Sacramento city attorney running interference for him, court records from litigation related to the botched coup indicate that Johnson has used at least 14 attorneys from Ballard Spahr, which shares his fetish for charter schools and covertly assisted him in planning his takeover of the NCBM. The firm claims that all its NCBM-related work for Johnson has been pro bono.
The NCBM remnants, meanwhile, have no money, and before they approached Grigsby, they had no lawyers fighting their fight. Johnson's short run as NCBM president in 2013—engineered with Ballard Spahr's assistance—ended when he realized that the group's old guard would reject his ideology and personality, at which point he had his lawyers freeze the non-profit's bank accounts and, in a move that reeks of evil genius, file a petition in federal bankruptcy court to dissolve the group. A day later, he started up a clone non-profit group called the African American Mayors Association (AAMA), named himself president and installed Stephanie Mash, an official from his charter school advocacy group, as its executive director, then resigned from the NCBM. With the NCBM financially and legally paralyzed, Johnson recruited the historically significant group's sponsors and membership to his new enterprise.
The evil genius moves didn't stop there. While Grigsby was filing the legal paperwork in federal court in Atlanta recently to begin his fight against Johnson and his public-private army, he learned from case records that the NCBM remnants were, unbeknownst to them, being represented by … Kevin Johnson's lawyers from Ballard Spahr. For anybody wishing for the NCBM's permanent demise, as Johnson and Ballard Spahr surely are—Ballard Spahr is also serving as legal counsel for AAMA, Johnson's vanity project—that's the best case scenario.
"I mean, it would be funny," says Grigsby, "if it was funny."
---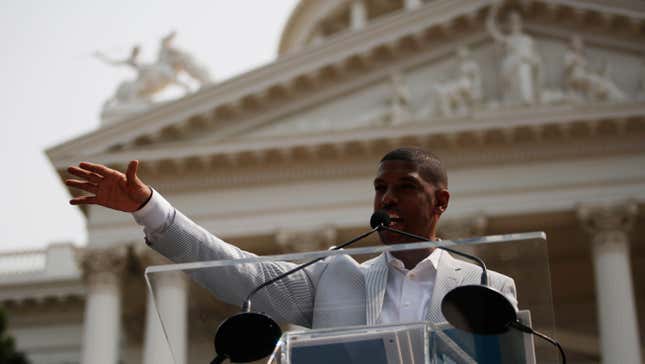 Kevin Johnson speaks at a public event this Sept. 11. Photo via Getty Images

---
Meanwhile, Russell Patterson, a Georgia attorney serving as co-counsel with Ballard Spahr for the trustee in the NCBM bankruptcy case, says Johnson's work is almost done.
"There is no National Conference of Black Mayors. That entity is insolvent," Patterson tells me. Asked if somebody could view having the same lawyers represent both sides in a legal squabble as a conflict of interest, Patterson snaps, "I don't give a crap."
Grigsby swears the NCBM ain't dead yet. He knows what it's like to be an underdog: He spent the 1980s running the biggest minority-owned bond firm in the United States, and says that he was always made aware of his outsider status by members of Wall Street's old boys network.

"You can Google me and you might think I'm a bad guy," says Grigsby, who was indicted in 1996 on charges related to his firm's servicing the $220 million in bonds needed to coax the Los Angeles Raiders back to Oakland. (Represented by Johnny Cochran, he was dubbed a "street fighter" by an appreciative finance industry peer while beating the bonds rap.) "But follow through on everything bad said about me, and you'll see they were making things up to try to get me. Every court agreed with me."
At 70 years old, the chance to play David to Johnson and Ballard Spahr's Goliath only made Grigsby want the job more. A native of Hope, Ark., like President Bill Clinton, he grew up in the segregated South, before the Voting Rights Act. He says he ran safehouses for the Student Nonviolent Coordinating Committee, putting up Freedom Riders during the fight to get blacks the vote, and that during his subsequent investment career he became pals with a number of black politicians—notably San Francisco mayor and NCBM stalwart Willie Brown. He views NCBM's founding in 1974, a year after Maynard Jackson was elected in Atlanta as the first black mayor of a major southern city, as an important chapter in the fight for civil rights.
"A lot of blood got spilled for that vote," says Grigsby. "You fought so you could be something more than three-fifths, you know? You got black voters, then you got black mayors."
So, mismatch be damned, Grigsby went ahead and filed to take NCBM's representation in the bankruptcy case away from Ballard Spahr. If he fails to get to the petition for Chapter 7 bankruptcy voided, the NCBM will be dissolved.
"Kevin Johnson thought it was over," says Mayor Gary R. Richardson of Midfield, Ala., an NCBM board member, longtime associate of Grigsby, and avowed disliker of Kevin Johnson. "It's not over."
"He's going to have to pay"
Grigsby says that his legal strategy involves showing the court that Johnson and Ballard Spahr were acting "in bad faith" when they filed for Chapter 7 in the spring of 2013. The law firm, after all, had issued a press release on March 28, 2013, congratulating itself after getting a court order reinstating Johnson as president of the group after the NCBM's board of directors booted him out of office. That ruling, Johnson said in the release, would give him the power to "restore accountability and fiscal integrity to this venerable and critical organization." Less than a month after broadcasting those sentiments, Johnson and Ballard Spahr filed to dissolve NCBM, having made no attempt to keep the group afloat while working to pay off debts, as allowed under Chapter 11 of the federal code.
The timing involved in Johnson's move to legally dissolve NCBM and his founding of AAMA is key to Grigsby's "bad faith" argument. The petition for Chapter 7 bankruptcy for NCBM was filed by Ballard Spahr attorneys in the U.S. Bankruptcy Court Northern District of Georgia on April 30, 2014; AAMA's website boasts the group "was launched on May 1, 2014 in Washington D.C. by a dynamic group of black mayors led by Sacramento, CA Mayor Kevin Johnson."
---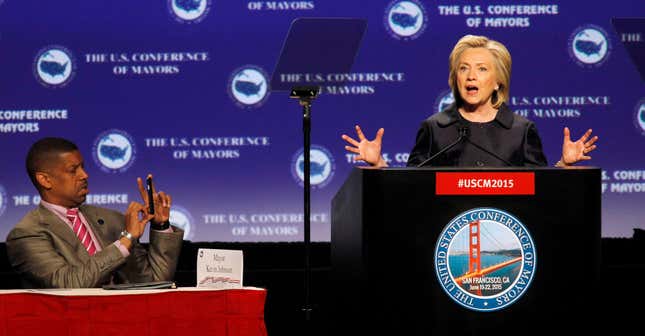 Kevin Johnson and Hillary Clinton at a meeting of the U.S. Conference of Mayors this summer. Photo via AP
---
"One day?" Grigsby says. "What does that tell you? It tells you something's going on."

Johnson immediately named himself AAMA president and, Grigsby asserts, took all of NCBM's "intangible assets," such as membership and sponsor rolls, with him to the new group.
"He's going to have to pay for that," says Grigsby.
Grigsby also intends to go after Ballard Spahr. He scoffs at their claims that all the billable hours its lawyers have worked on NCBM matters have been for free, and is very aware that Ballard Spahr boasts about its huge charter-school financing practice.
"Who believes this is pro bono?" he says, with a giggle. "We'll get all the billing records, all the records they got. I always thought for lawyers 'pro bono' means you're doing something good. What's good about shutting down the National Conference of Black Mayors? There's a business interest at work here."
Grigsby says that the charter school zealotry shared by Johnson and the law firm will factor into the bad faith claim.
Have Democrats finally had enough?
While Johnson has never stayed clear of scandal for long, things have gotten prickly of late even by his low standards. Many members of his own party feel beaten down after seeing Johnson face yet another claim of sexual harassment, violate a court order by deleting text messages in a high-profile lawsuit, and then sue his own city just to hide how he conducts business. Earlier this month, leaders of the Democratic Party of Sacramento County called for an independent ethics panel to investigate Johnson after learning about his NCBM coup.
"Things are being done that really boost maybe the ego and power of the mayor, but don't really have benefit back to the city of Sacramento," said Kerri Asbury, chair of the Sacramento County Democratic Party. "Enough is enough."
Johnson's bewildering gaggle of foundations—Stand Up is just one of at least seven 503-C organizations he controls—have long lent an aura of shadiness to his administration. Since taking office, he's directed big corporations to donate gobs of money to his non-profits and to St. HOPE, his chain of public charter schools. And his behest filings indicate that the groups regularly share money with each other, meaning it's effectively one really deep pool of money for Johnson to swim in. These gifts can have the impact of campaign donations, but aren't subject to campaign-finance regulations.
"It's almost like a parallel government structure has been created," Common Cause's Derek Cressman told the News & Review in 2012 of Johnson's multi-coffered set-up. "But one that doesn't have the same transparency and accountability."
---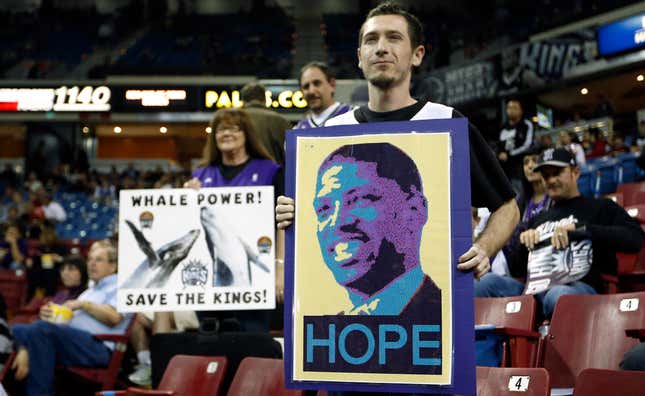 A Sacramento Kings fan celebrates Kevin Johnson in 2013. Photo via AP
---
Having Ballard Spahr confess that Johnson has indeed been running a shadow government out of City Hall will only add to the local Dems' sleaze fatigue—not least because the involvement of the fake civil servants in the NCBM takeover shows how the various recent Johnson scandals all touch one another.

"Kevin Johnson," says Calvin Grigsby, "thought it would be nice if he had a nice black front, like the black mayors, to promote his business."
While executing their scheme, however, Johnson and his minions kept their charter school advocacy quiet.
"Stephanie Mash always represented herself to us like she worked for the city," says Vanessa Williams, the executive director of the NCBM, who had several meetings with Mash, both in person and by phone. "I had no idea she worked for a charter school group. None. I thought she worked for the city."
NCBM brass understand why Johnson would cover up how Stand Up funded his presidential run. NCBM has a long, close relationship with the National Education Association, a massive teachers union with deep anti-charter school leanings. The NEA website lists NCBM as a partner, and NEA president Reg Weaver was a featured speaker at the 2008 NCBM convention in New Orleans, alongside Barack Obama and Hillary Clinton. Having a charter school zealot in charge of NCBM wouldn't sit well with the group's old guard.
"The black mayors are not buying the charter schools, period," former NCBM president Robert Bowser told me last year.
As we know now, Johnson's takeover mission went horribly, so he never got to exploit the pipeline into the black community for charter schools that he tried to get from NCBM. But while the Waltons didn't get much ideological bang for their bucks, they didn't walk away with nothing to show for the millions of dollars they threw at Johnson. In 2013, Johnson successfully lobbied the city council to repeal Sacramento zoning regulations that had kept Wal-Mart out of the city.
Johnson, who as mayor is also a voting member of the city council, had been asked by political watchdogs to recuse himself from the big box debate and repeal vote because of all the Walton family funds that had poured into his and his wife's foundations. He refused, and the zoning repeal was indeed approved. Wal-Mart opened its first Sacramento superstore this spring.
The hidden hand
What's now becoming clear is the way various Johnson scandals connect and feed off of one other. In one theory of the case, the mayor's function as an operative of Wal-Mart and other moneyed players seeking to use the idea of school reform as a way to turn public education into private, for-profit enterprise led to the NCBM coup, which led to the SN&R's public-records requests, which led to Johnson suing the newspaper and the city in an attempt to cover up his dealings.
Seeing that Johnson's NCBM emails could make those connections even clearer, Gawker Media, parent company of Deadspin, has attempted to enter the SN&R lawsuit alongside the paper after our own request for the emails went unfulfilled. The Sacramento city attorney and Johnson's personal lawyers from Ballard Spahr, though, have worked together thus far to prevent Gawker's entry.
Johnson and Ballard Spahr's desire to keep the emails private is understandable, because their release could only add to the embarrassment his administration has already suffered from the NCBM debacle. One example: Among the emails Johnson and Ballard Spahr put on their privilege log is one sent out to the coup team on Sept. 10, 2013, with the subject "Birmingham prep." That comes from Johnson's appearance in Alabama during the commemoration of the 50th Anniversary of the 16th St. Church bombing. He and Michelle Rhee used the solemn occasion to host a town hall meeting promoting charters, an act that peeved NCBM elders to no end. Rhee became a pariah in Washington, D.C.'s black community during her disastrous run as head of the public schools there from 2007 to 2010, and her reputation and ability to stir up hate now transcends the Beltway. Anything that shows that she had a hand in the NCBM's downfall could hamper her husband's effort to permanently kill off the organization and, more generally, expose her role in his various schemes.
Why the Sacramento city attorney, James Sanchez, would aggressively block a news organization's attempt to get at public records makes less sense. One possible motivator? James Sanchez is an appointee of the Sacramento City Council. The Sacramento City Council is headed by Kevin Johnson.
---
Know anything we should know about Kevin Johnson? Email the reporter at dave.mckenna@deadspin.com, or use our SecureDrop system for extra security. Image by Jim Cooke, source photo via AP.