We think we've found the ultimate critique of Sid Hartman — within, of all places, a review of Neil Young's album Prairie Wind, in the comments section of City Pages. To wit:
"I've listened to this disk all the way through probably seven times since I bought it. I've listened to Harvest along side it, just to see if I could find some context...I don't know. You don't live here in Minneapolis, Bill, but if you did, you'd know that this album is the equivalent of a Sid Hartman column. He's been doing it so long, he knows all of the requisite steps and conventions, but the substance of what he's doing has long since drained out of him." More after the vital statistics:
Name: Sid Hartman.
Writes for: Minneapolis Star Tribune.
Most often heard on: WCCO radio, 830-AM.
Nicknames: Loony Old Sid; Sid Vicious; Siddhartha.
Born: Minneapolis, Min., March 15, 1920.
Attended: Does not have a college degree. Does not have a high school degree. May have been raised by cows.
Estimated length of columns, career: Eight miles.
Best comment by a Deadspin reader: "Sid Hartman is a senile jackass who may or may not have died five years ago."
Line most often seen on Minnesota-area blogs: "Yes, I'm aware that Sid is old and crazy and it's almost kind of unfair to pick on him, but in this case it was just too good to pass up."
Best line in a national magazine: "English sometimes appears to be his second language." — Steve Rushin, Sports Illustrated.
Binkies: George Steinbrenner, Lou Holtz, Bobby Knight.
Most resembles: Old Biff from Back to the Future II.
In the world of sportswriting, Sid Hartman is the crazy uncle who lives in the back bedroom and has been known to show up for dinner sans pants. Yes, he once confused skater Tara Lipinski with Monica Lewinsky. Once in a radio interview, he continually referred to NBA star Spud Webb as Spider Webb. Reading Sid is like listening to one of your Grandpa's crazy stories; it can only end in one of three ways: 1. You get up and leave, 2. He falls asleep, 3. Death.
More from City Pages: "Sid Hartman's Strib column remains a tragicomic must-read for any self-respecting sports fan who isn't already living with a crotchety grandpa barking inanities and spraying food over on the davenport." That gem, written by City Pages sports blogger Britt Robson, sums up a large consensus in the Twin Cities. One of the knocks against Sid is that he writes what he feels like writing and doesn't want to be confused with the facts. For instance, that a new Twins stadium would bring in new businesses to revitalize downtown Minneapolis, when even the Twins are now admitting that would not be the case. Heck, Sid's own paper confirms that in their business section, which Sid evidently does not peruse. Probably ruined that page while clipping out soup coupons.
Sid Hartman Archive [Minneapolis Star Tribune]
(An addendum from True Hoop:
"It's no good telling the story of Sid Hartman without mentioning that he essentially founded the Lakers and ran them for years — even as he was writing about them for the paper. He knew everybody in early basketball and did a masterful job of bringing investors together with the right basketball people to make one of the NBA's great franchises.
G/O Media may get a commission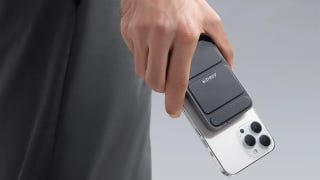 15% off
15% off Anker Top Ten Products
Take charge
Treat yourself to a portable power bank, a magnetic wireless battery for iPhones, or even a solar generator. There is a reason these are in the top ten. For instance, the Anker 747 Power Bank is a 4-in-1 charger utilizing USB-A and USB-C to be capable of charging up to four devices at once. Great to take with you when traveling and in need of keeping your phone, laptop, and even Nintendo Switch powered on.
And that's coming from someone who hates the freaking Lakers.
The whole story is told nicely in Roland Lazenby's new book The Show (and no, I'm not getting paid to say that).")