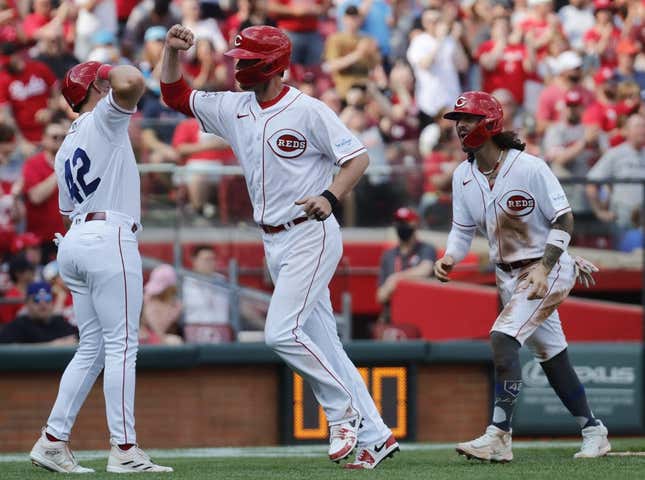 Wil Myers homered twice, drove in five runs and played spectacular defense in support of six shutout innings from Graham Ashcraft as the Cincinnati Reds blanked the visiting Philadelphia Phillies 13-0 on Saturday
'Soccer fandom is full of gatekeepers' says Ted Lasso actor Brendan Hunt
After taking a pitch out of the strike zone from Phillies starter and loser Matt Strahm (1-1), Myers crushed a fastball 406 feet off the facade in left field for a 1-0 Cincinnati lead
With runners on second and third in the third, Myers hit the first pitch from reliever Andrew Bellatti to the seat in left-center for a three-run homer and a 4-0 Reds' advantage
Myers added an RBI double off reliever McKinley Moore in the fifth and a single off position pitcher Josh Harrison in the eighth.
In the field, Myers was playing first base when he ended the third inning by back-handing a sharp ground ball off the bat of Kyle Schwarber. In the fifth inning, Myers made the heads-up defensive play of the game when he threw out Trea Turner at second base.
Turner had grounded routinely to short, but Jose Barrero threw the ball away at second. The ball rolled all the way to foul territory and Myers scooped up the ball and threw over the head of Turner rounding first to get Turner easily to end the inning. Myers ended the game by catching the final out in right field.
The Reds suffered a scare in the bottom of the fourth when Jonathan India fouled a ball directly off the inside of his left foot
India crumpled to the dirt immediately. But after a visit from manager David Bell and trainer Sean McQueeney, India drilled an RBI double down the left field line on the next pitch and stayed in the game until being lifted in the top of the sixth, when the game was no longer in doubt.
On the mound, Cincinnati starter Graham Ashcraft (2-0) was in complete control. After allowing the first two batters to reach in the first, Ashcraft settled down to retire the next three batters. Ashcraft allowed four hits, struck out four and walked four. In two home starts, Ashcraft has allowed just one run on eight hits over 13 innings.
Bryson Stott opened the game with a double to extend his hitting streak to 15 games to begin the season, one shy of the franchise mark set by Willie "Puddin' Head" Jones in 1950.
--Field Level Media