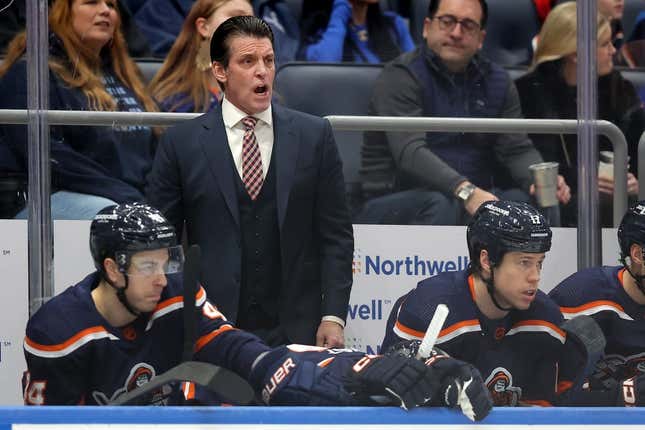 The New York Islanders haven't played in a postseason game since their hopes of reaching the Stanley Cup Finals ended with a Game 7 Eastern Conference semifinal loss to the host Tampa Bay Lightning on June 25, 2021
'Soccer fandom is full of gatekeepers' says Ted Lasso actor Brendan Hunt
But the Islanders can take a big step toward returning to the playoffs Saturday night when they visit the Lightning in the first of two late-season meetings between the rivals
The Islanders last played Wednesday, when they further solidified their grip on the first wild-card spot in the Eastern Conference by outlasting the host Washington Capitals, 2-1, in a shootout. The Lightning were off Friday after beating the visiting Capitals, 5-1, on Thursday night
The win was the second straight at the start of a pivotal five-game stretch for the Islanders (39-28-9, 87 points), who enter Saturday three points ahead of the second wild card, the Pittsburgh Penguins, and four points ahead of the ninth-place Florida Panthers
The Islanders' playoff push began Monday with a 5-1 win over the postseason-bound New Jersey Devils. After visiting the Lightning, New York completes a road trip by facing the Metropolitan Division-leading Carolina Hurricanes on Sunday night before hosting Tampa Bay on Thursday
The Islanders, who fell to the Lightning in six games in the NHL semifinals in the Edmonton bubble in 2020 before their seven-game series in June 2021 ended with a 1-0 loss in Tampa, missed the playoffs last season for the first time since the spring of 2018
"Guys know what the standings are, but I know our team and I know what our focus is now Tampa," Islanders head coach Lane Lambert said. "And so we just have to take care of each game individually and see where it goes from there.
The Lightning (44-26-6, 94 points), who reached the Stanley Cup Finals for a third straight time last year before falling to the Colorado Avalanche, will clinch a playoff spot for the sixth straight season with either one more point or one more regulation loss by the Panthers
Tampa Bay is third in the Atlantic Division and all but assured of a second straight first-round series against the Toronto Maple Leafs, who hold a four-point lead.
The Lightning are hoping consecutive lopsided wins will help establish the consistency they've lacked since the All-Star break. Tampa Bay, which was outscored 17-7 in a four-game losing streak before beating the Hurricanes 4-0 on Tuesday, is 12-11-5 since Feb. 6
"We're being physical and that's not just hits," said Lightning left winger Pat Maroon, who scored twice Thursday in his first multi-goal game since Nov. 9, 2019. "It's winning puck battles in the (defensive) zone
"We weren't closing fast enough and we weren't heavy enough. That's our team. We have to be hard on pucks. We're finding our identity now. We have all the high-end skill, but we have to defend first."
--Field Level Media