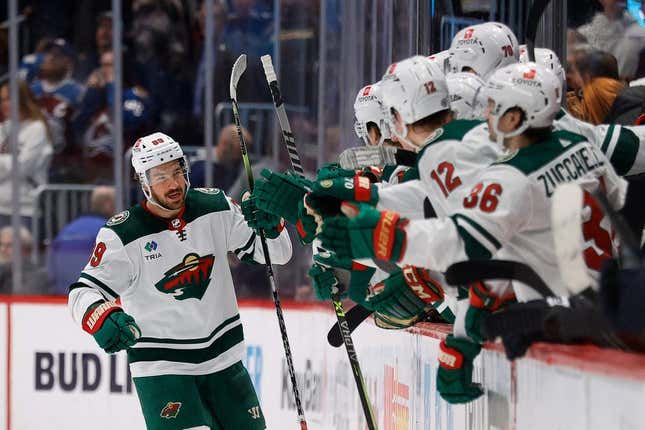 As the regular season winds down for the Central Division-leading Minnesota Wild, coach Dean Evason watched his club play its best month of hockey in March
'Soccer fandom is full of gatekeepers' says Ted Lasso actor Brendan Hunt
But now it's April, when the regular season ends and preparations begin for the Stanley Cup playoffs, which the Wild will compete in for the fourth straight season
A strong test and maybe a sneak preview of a Western Conference Final matchup takes place in the desert on Saturday when Minnesota travels to face the Vegas Golden Knights, owners of the top spot in the Pacific Division
The matchup will be the first of a home-and-home set, with the return meeting in St. Paul, Minn., on Monday.
Following a 16-point February in which they went 7-4-2, the Wild (44-22-9, 97 points) authored their best month by going 9-1-3 in March for 21 points -- helping them pass the Dallas Stars atop the division
In Wednesday night's game in Denver against the Colorado Avalanche, Minnesota put forth a strong defensive effort in a 4-2 win, the club's first win in three tries against the defending Stanley Cup champions.
Winning its third straight game, Minnesota moved to 8-1-2 in its past 11 matches.
With his team ahead 3-1 in the third period, Evason was pleased with the defensive showing, especially a portion of the Wild's 21 blocked shots
"The biggest takeaway in the third was our blocks," Evason said. "Obviously, they pushed, and you knew they were going to have that effort. Our effort defensively was pretty strong."
The Wild won the battle of special teams, too -- though neither team tallied on the power play
However, center Frederick Gaudreau scored two short-handed goals, including the second into an empty net with 33 seconds left.
"I don't think so," joked Gaudreau when asked if he'd ever had two shorties before. "Those empty-netters, they don't really count."
Against the San Jose Sharks on Thursday, the Golden Knights (46-22-7, 99 points) lost 4-3 in overtime after learning earlier they had become the first Western Conference squad to qualify for the playoffs, courtesy of Nashville's 2-0 setback in Pittsburgh
That put Vegas back in after a one-year absence, the franchise's first time missing the postseason. That led to the offseason dismissal of former coach Peter DeBoer and the arrival of current coach Bruce Cassidy.
But other than gaining one point on idle Minnesota, there was little glory to be found in losing to the lowly Sharks, who started the night in last place in the Pacific Division but vaulted past the Anaheim Ducks following Logan Couture's overtime winner.
"Clinched a playoff spot, so checked that box off," Cassidy said. "Now we want to try to win the next thing, which was a game in front of us, and we looked out of sorts a lot of the night.
"They put some pressure on us. They were skating well. Reloading well. (It) was probably one of our poor nights executing."
Vegas chased the match all evening, falling behind 2-0 in the first period and 3-2 in the third. Michael Amadio knotted it 3-all, but Couture sealed the Sharks' win 50 seconds into overtime.
The Knights lost their second straight (0-1-1) after winning four consecutive and eight of nine during a stretch. They went 11-3-1 in 15 March matches.
--Field Level Media