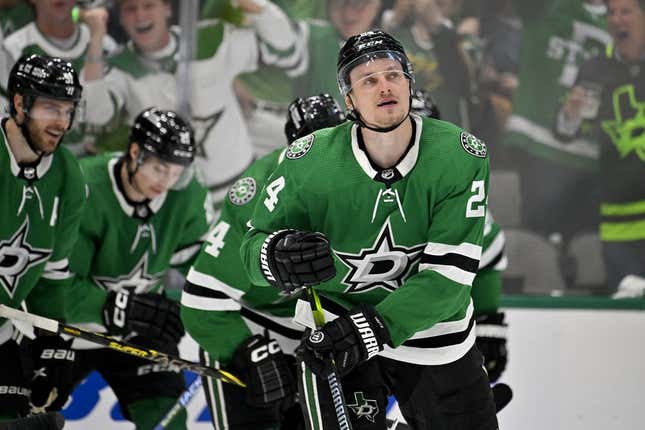 The Dallas Stars hope Roope Hintz continues his scoring tear against the host Minnesota Wild in a pivotal Game 3 of their Western Conference first-round playoff series on Friday in Saint Paul, Minn
Aaron Rodgers should go full Joe Namath | Comedian Bert Kreischer
Hintz recorded his first career hat trick in the Stars' 7-3 win on Wednesday after scoring once in Dallas' 3-2 double-overtime loss in Game 1 on Monday
Hintz scored a short-handed goal on Dallas' first shot of the night in Game 2 before adding an even-strength goal in the second period and capping the night with a power-play goal in the third. He also added an assist.
Hintz is the first player to score short-handed, at even strength and on the power play in a playoff game since Tampa Bay's Tyler Johnson did it in Game 2 of the 2015 Eastern Conference final.
"He's elite and he's capable of taking over games like that. And we needed him," Dallas coach Pete DeBoer said. "Our team, with what happened with (Joe) Pavelski the other night, a little bit rattled, we needed our best players to step up tonight and make a statement. And they did. Every one of them, not just Roope."
Pavelski -- the Stars' third-leading scorer during the regular season with 77 points -- remains in concussion protocol. He was helped off the ice midway through the second period in Game 1 after being checked hard by Wild defenseman Matt Dumba. Pavelski hit his head and left shoulder on the ice upon his fall and didn't return. His status for Friday is uncertain
But if the Stars play in Game 3 like they did on Wednesday, they won't need him
Evgenii Dadonov scored twice, while Jamie Benn and Tyler Seguin each added power-play goals for the Stars, who received four assists from defender Miro Heiskanen and two from Jason Robertson. Jake Oettinger had 23 saves
After taking a 2-1 lead entering the second period, the Stars extended their advantage to 4-1 after Benn and Dadonov scored in the first 5:34 of the period. But the Wild trimmed the lead to 4-3 after Marcus Johansson and Frederick Gaudreau scored in a span of 11 seconds to pull Minnesota to within 4-3 at the 12:05 mark of the period
The Stars, however, put the game away to even the series 1-1 by scoring the game's final three goals, including two by Hintz
"That's how we have to start here at home especially," Hintz said. "And when we go on the road, we have to play there like we used to play there in the regular season."
Oskar Sundqvist also scored, while Gustav Nyquist added two assists for the Wild. But Marc-Andre Fleury got rocked for seven goals on 31 shots after Filip Gustavsson made 51 saves in Monday's double-OT win
While Fleury called his performance "embarrassing," Minnesota coach Dean Evason didn't blame the three-time Stanley Cup winner for the shellacking his team took on Wednesday.
"They had a short-handed breakaway and two power-play goals. What would you like 'Flower' to do, right?" Evason said. "He made some incredible saves for us. We just spoke of all the odd-man rushes that we gave up. Another one was a breakaway, another one was a power play. That's what, five?
"We gave them their opportunities. They took them too. They played really well, but we didn't do the right things in front of our goaltender tonight."
--Field Level Media