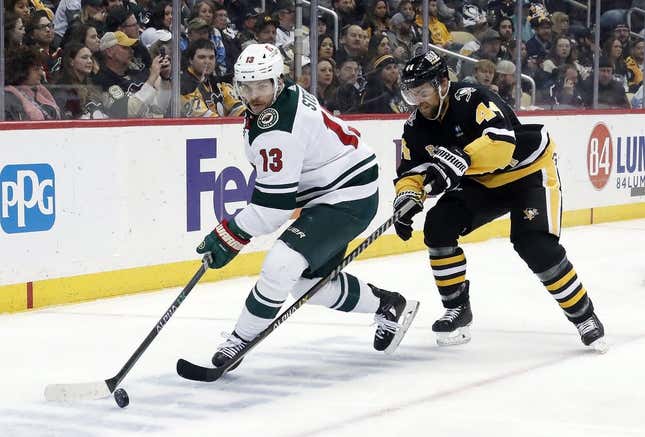 The Minnesota Wild will try to snap a three-game winless streak and improve their playoff positioning when they host the St. Louis Blues on Saturday night
Are the Oakland A's a failed state? | Agree to Disagree
The Wild (44-24-10, 98 points) slipped into third place in the Central Division behind the Dallas Stars and Colorado Avalanche during their 0-2-1 downturn
Minnesota is coming off of a 4-1 loss at Pittsburgh to the Penguins, who were fighting for their playoff lives.
"I feel like they were more desperate than us, they came out hotter and looked like they wanted it more," Wild forward Marcus Johansson said. "We can't wait until we're down and start chasing. We have to be ready from the start. We've got nothing to wait for. We have to keep building our game and play the way we need to play
"Get ready for the playoffs. There's no point in just sitting around and waiting for it."
Wild coach Dean Evason hopes his team can carry its strong finish in that loss forward
"We didn't like the way we started the hockey game, for sure," Evason said. "We knew they were going to be desperate, which they were. They came out and played the right way, we did not. By the time we caught ourselves, it was too late. We played well for two periods, but the game is 60 minutes."
After falling out of the playoff race and trading away veterans with expiring contracts, the Blues (37-35-7, 81 points) have been finishing the season on a more positive note
They are coming off a 3-2 overtime victory over the New York Rangers and St. Louis is 8-2-2 in its last 12 games.
"We're going into games trying to win, play our game and kind of build on that for next year," said Blues winger Kasperi Kapanen, who scored the overtime game-winner. "Obviously, you don't know about next year and what the team's going to look like and whatnot. I think you want to end on a high note, you want to play well until the end and that's what we're trying to do right now.
The Blues are getting a strong finish from the fourth line of Nathan Walker, Alexey Toropchenko and Tyler Pitlick. That group scored twice against the Rangers
"They're playing really well," Blues coach Craig Berube said. "They just play a simple game, but it's worked. They outwork the other team when they're out there. They get pucks to the net. They do a lot of good things. They're really reliable, so they've been playing really well.
The Wild lost forwards Joel Eriksson Ek and Oskar Sundqvist to injuries during the game at Pittsburgh. Sundqvist's status for Saturday was uncertain, while Eriksson Ek is considered week-to-week due to a lower-body injury
Minnesota forward Kirill Kaprizov will make his return from a month-long absence due to a lower-body injury.
The Blues got forward Pavel Buchnevich back from his upper-body injury Thursday, but center Robert Thomas remained sidelined with an upper-body injury and he is questionable for this game
The Wild has won two of the three previous games between these teams. They won 5-2 on Dec. 31 and 8-5 on March 15 while Blues won 3-0 on Jan. 8
--Field Level Media