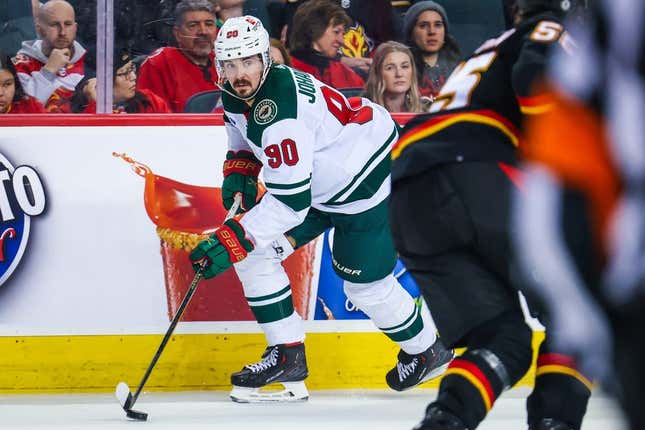 Buoyed by Monday's win in Dallas that snapped a five-game losing skid, the Calgary Flames head to St. Paul, Minn., looking for revenge against the Minnesota Wild on Tuesday night.
How running an NFL team is like running a restaurant | Chef Emeril Lagasse
After all, the Wild handed the Flames a humbling 3-0 defeat on Saturday.
"We definitely owe Minnesota, so we have to be ready to go. It's another big game," Flames forward Tyler Toffoli said.
Toffoli's goal with 6.2 seconds remaining was the difference maker in Calgary's 5-4 win over the Stars, and provided a much-needed boost for the club sitting outside a playoff spot.
"Ever since last year, I feel it's a playoff game every time we play these guys. It's a rivalry. It's fun to play those types of games," Toffoli said.
"I figured I'd give it a shot and try to go for a breakaway," he added. "I saw I had enough time to do whatever I wanted and obviously made the right choice."
The Flames surrendered a pair of two-goal leads against Dallas, but recovered to drum up the game-winning goal.
"We always have to make it a tight game, but it was nice to find a way and get some bounces at the end," Calgary center Elias Lindholm said. "There hasn't been a lot of them this year, so it was nice to get the two points and we move on and play (Minnesota)."
The Flames also received a necessary boost from their newcomers acquired at the trade deadline from the Arizona Coyotes, as defenseman Troy Stecher collected an assist and forward Nick Ritchie opened the scoring.
"That felt good," Ritchie said. "Playing with (Nazem Kadri and Jonathan Huberdeau), they made some good plays out there and I had some other chances. All three of us did."
The Wild, who sit second in the Central Division behind the Stars, return to action for the first time since beating the Flames, which extended their winning streak to four games and has them on an 8-0-1 run.
"We know how we have to play to have success, but you get away from it," Minnesota coach Dean Evason said. "A month and a half ago, we played half a game. Three months ago, we played a period. Now we've got some consistency. The guys are playing the same way."
The Wild have also already received a boost from one of their newcomers and are looking for additional support from another. Defenseman John Klingberg was strong in his first game upon arriving from the Anaheim Ducks at the deadline, posting a plus-3 rating in 19 minutes, 41 seconds of ice time.
"It's a well-oiled team," Klingberg said. "There was a lot of trust out there, everyone knew where they had to be without the puck. ... That counts a long way."
Forward Oskar Sundqvist is expected to suit up for his first game since being acquired from the Detroit Red Wings.
"Hopefully the transition goes quick and getting into a new style of play shouldn't be too hard," said Sundqvist, who won a Stanley Cup with the St. Louis Blues in 2019. "But I'm very, very excited to get going."
--Field Level Media