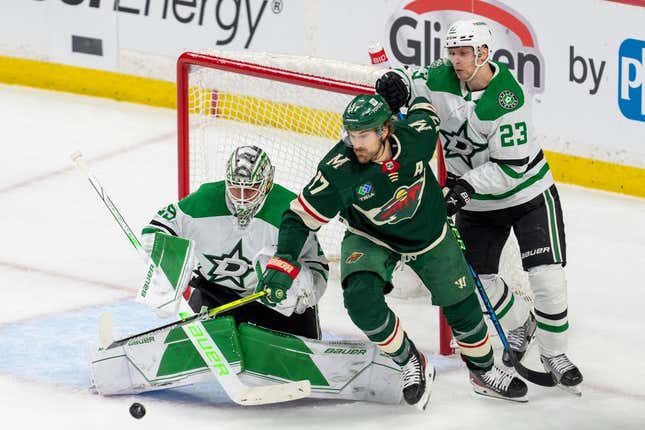 The Dallas Stars aren't expecting the visiting Minnesota Wild to tap the brakes in Game 5 of their Western Conference first-round series on Tuesday night
'Soccer fandom is full of gatekeepers' says Ted Lasso actor Brendan Hunt
The Wild don't plan to ease up, either
Minnesota set the tone midway through Game 1 when defenseman Matt Dumba laid a big hit on Dallas forward Joe Pavelski, leaving him in concussion protocol ever since.
The Wild won the series opener 3-2 in double overtime, but their aggressive style may have cost them a win in a Game 4 on Sunday
Minnesota forward Marcus Foligno was in the penalty box for two of the three goals by the Stars in their 3-2 victory, which evened the series at 2-2
"If they're going to play physical and run around and do things like that, you've got to make them pay for that on the power play and we did." Dallas coach Peter DeBoer said.
Foligno was critical of the officiating after Game 4, which were complaints similar to those lodged by the Stars earlier in the series
"I just feel like it's a little bit chintzy right now," Foligno said of the officiating. "This is playoff hockey. You go and hit a guy and it's not illegal. It's clean and you're getting called to the penalty box. I don't know. I think in that sense maybe they got to them before we did."
Minnesota coach Dean Evason said there was no point in complaining about the officiating, and it didn't sound like the Wild were planning to ease up with their physical play
"We liked the way that we're playing the game: hard, physical, finishing our checks the right way, how playoff hockey should be played," Evason said. "It should be physical. It should be intense. It should be hitting hard."
The Wild would also like to get more from their finesse players, specifically forwards Kirill Kaprizov and Matt Boldy
After combining for 71 goals during the regular season, Kaprizov and Boldy have combined for one through the first four games of the series.
"We can get a little more of a better net-front presence in the sense of our all-around offensive zone play," Foligno said. "But I got a breakaway (in Game 4). We got breakaways and 2-on-1s galore and we've got to cash them in."
Getting shots past Dallas goalie Jake Oettinger is another challenge.
Oettinger stopped 32 of 34 shots in Game 4 for a .941 percentage, which is also his career mark over 13 NHL playoff games, including 11 starts. That's the highest postseason save percentage by an NHL goalie age 24 or under (minimum 10 games) since the league began keeping the stat in the 1955-56 season.
"It starts with Jake and ends with Jake," Dallas forward Tyler Seguin said. "He loves these moments. He believes in himself, and we have all the confidence in the world with him."
The Wild got four shots past Oettinger in their 5-1 win in Game 3, so they know it's possible to beat the young netminder
"If we keep playing like that, we know we have a really good chance to win," Minnesota defenseman John Klingberg said. "The goals are going to come."
--Field Level Media