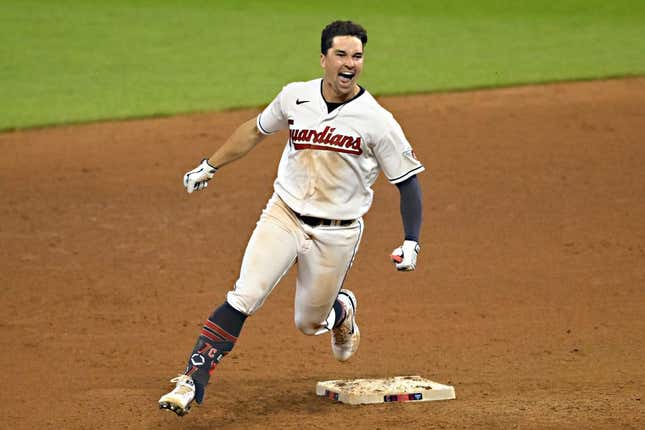 Will Brennan made family and friends proud but surely disappointed a lot of Kansas City Royals' fans in his first major league game in the area
How running an NFL team is like running a restaurant | Chef Emeril Lagasse
Brennan was the hero in his first contest at Kauffman Stadium and will look to help the Cleveland Guardians notch another victory when they visit the Royals on Wednesday night in the middle contest of a three-game set
There were only nine total hits in Tuesday's game but Brennan had three of them, including a two-run double in the top of the ninth as Cleveland posted a 2-1 victory.
"This was perfect," Brennan said of starring in a ballpark in which he used to watch games. "These are the best people ever. The people in K.C. are the best."
Brennan was a two-time first-team All-State player (2015-16) at Blue Valley High in Stilwell, Kan., located four hours south of Kansas City. He then was a freshman All-American at Kansas State in 2017 to start three years of college stardom before the Guardians selected him in the eighth round of the 2019 draft
Those ties to the area made Brennan one of the most popular people in the ballpark on Tuesday night.
"It was tough in the beginning, I'm not going to lie to you," the 25-year-old Brennan said. "It felt like my debut. You don't want to disappoint anybody and you want to go out there and play hard and that's all you can ask for."
Brennan reached the majors for the first time last September and has been a fixture this season for the Guardians. He is batting .276 with four homers and 23 RBIs in 68 games. The three-hit outing was his third of the season
His clutch hit helped the Guardians win for the sixth time in eight games even though they were without manager Terry Francona (illness)
Francona was admitted to a local hospital for medical testing on Tuesday night. Bench coach DeMarlo Hale handled the managing duties and said he learned of Francona's situation just 15 minutes before the first pitch.
Meanwhile, Kansas City had just two hits in the opener while losing for the 19th time in 24 games.
The Royals went ahead 1-0 on an unearned run in the eighth inning but right-hander Scott Barlow blew the save for the second time in 11 opportunities
Kansas City's run came on a throwing error by Cleveland reliever Trevor Stephan on a comebacker. Pinch runner Dairon Blanco stole third prior to scoring on the play in which Stephan's throw home was way off the mark.
"That's why we were playing for one run," Royals manager Matt Quatraro said of the strategy in the then-scoreless game. "We played for the one and got it fortunately and Blanco made that happen. The stolen base was a big play there.
The Royals hope to have star catcher Salvador Perez back in the lineup Wednesday. He underwent an eye procedure Monday to help with the vision issues he has dealt with since 2020
Outfielder Kyle Isbel returned from a hamstring injury and was hitless in three at-bats. It was his first appearance since May 4.
Rookie left-hander Logan Allen (3-2, 3.68 ERA) will start for the Guardians on Wednesday. Allen has struck out 58 in 58 2/3 innings over 11 starts. He has yet to face the Royals in his young career
Allen, 24, gave up two hits in four scoreless innings against the Oakland Athletics on Thursday. He has received three consecutive no-decisions after winning back-to-back starts.
Kansas City will turn to left-hander Austin Cox (0-0, 0.00), who will make his first major-league start in his seventh game. He has allowed two hits and struck out 13 batters in 12 1/3 innings of relief.
He has yet to face the Guardians in his career
--Field Level Media