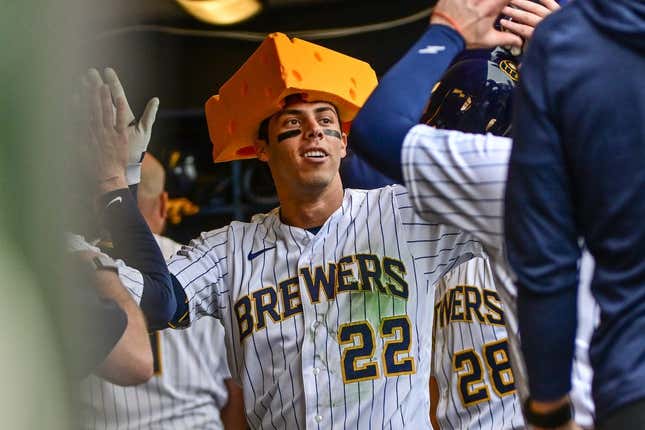 Willy Adames drove in three runs with a homer and double and Freddy Peralta allowed one run over six innings to pace the Milwaukee Brewers to a 6-1 victory over the visiting St. Louis Cardinals on Sunday in the rubber game of the three-game series
Aaron Rodgers should go full Joe Namath | Comedian Bert Kreischer
Peralta (2-0) allowed four hits, striking out seven and walking three in a 102-pitch outing. Peralta, limited to 18 games and 78 innings last season due to shoulder issues, has pitched six innings in each of his two starts, allowing one run on six hits in 12 innings.
Adames put the Brewers in front 3-1 in the fifth with his second homer, a two-out, 383-foot solo shot to left-center
The Brewers pushed the lead to 6-1 in the seventh with three runs off Andre Pallante. Christian Yelich hammered a one-out solo homer to center, his first, and Rowdy Tellez added two-run double
St. Louis loaded the bases with none out in the eighth on a single and two walks off Matt Bush, but failed to score. Pinch-hitter Willson Contreras struck out and Tommy Edman flied to left. Hoby Milner relieved and fanned pinch-hitter Taylor Motter.
Peter Strzelecki tossed a scoreless seventh, his 14th consecutive scoreless appearance dating back to last season. Devin Williams finished with a scoreless ninth. The Brewers bullpen has not allowed a run over the last 23 1/3 innings
Cardinals starter Jake Woodford (0-2) allowed three runs on six hits in 4 2/3 innings, striking out five and walking one
Adames staked the Brewers to a 2-0 lead with a two-out, two-run double in the third. Joey Wiemer walked with one out and Yelich singled. Wiemer took third on a fly to center and Adames followed with a drive to the base of the wall in left
The Cardinals answered with a run in the fourth. Nolan Arenado singled to open, Nolan Gorman drew a one-out walk, and rookie Jordan Walker delivered an RBI single
Walker's nine-game hitting streak to start his career matches the Cardinals record set by Magneuris Sierra in 2017
Milwaukee, which finished its first homestand 5-1, heads out for a 10-game road trip to Arizona, San Diego and Seattle.
--Field Level Media