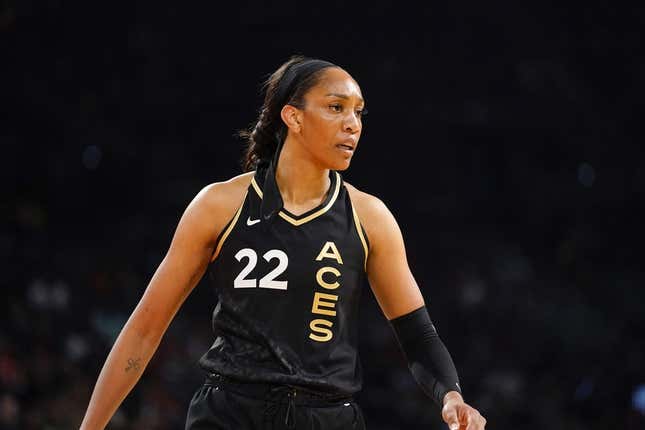 The Las Vegas Aces and Chicago Sky have had different kinds of seasons, but going into Thursday night's meeting in Chicago, they have something in common.
How running an NFL team is like running a restaurant | Chef Emeril Lagasse
Both teams racked up more than 100 points in victories Tuesday night.
The WNBA-best Aces (29-4) scored a season-high point total in a 112-100 victory in Atlanta, giving the team its fifth win in the past six games as A'ja Wilson matched the WNBA single-game scoring record with 53 points.
"This team is special because of how happy you guys are for her," Aces coach Becky Hammon told her team. "It's just one game, though."
Wilson shared the credit for the historic game that included her going 16-for-23 from the field and connecting on 20 free throws.
"I didn't do this alone," Wilson said. "My teammates get all the glory because without them I don't even get the basketball."
The Sky (13-20) toppled the visiting Seattle Storm 102-79 to end a five-game losing streak. Chicago didn't reach the 80-point mark in any of the results in the recent skid.
Interim coach Emre Vatansever is trying to get the Sky headed in the right direction with a chance to reach the playoffs.
There was a different type of production for the Sky as reserve Dana Evans had the big night with 23 points, including four 3-point baskets.
"We talked about how crucial this game was," Evans said. "It's a turning point."
Perhaps this latest outcome can be just what was needed for Chicago.
"We're still a good team, good players," Sky forward Elizabeth Williams said. "Not let the losses frustrate us."
Las Vegas tends to struggle if the offense doesn't click. Its four defeats have come in games when it has failed to reach the 80-point mark. The Aces have solved Chicago's defense, however, winning 93-80 in June and 107-95 on July 25 at Chicago.
There's no time for Las Vegas to back off, even after Wilson's historic outing.
"Making sure we want it more than them," Wilson said of the goal.
—Field Level Media