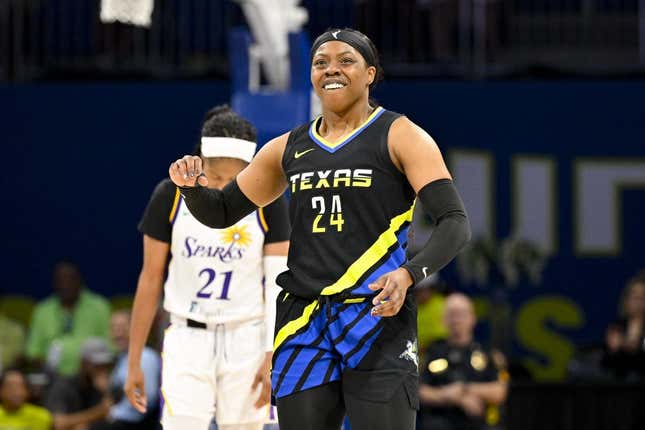 Nearly two weeks ago, the Dallas Wings seemed like they were headed for a disastrous late-season swoon.
How running an NFL team is like running a restaurant | Chef Emeril Lagasse
Dallas coach Latricia Trammell's squad had lost the first three games of a four-game homestand, allowing 104 points in each defeat.
Since then, however, the Wings have tightened up defensively and have scored at will during a three-game winning streak that they will take into a meeting with the Minnesota Lynx in Minneapolis on Tuesday.
"When we're playing our game and we're connecting and sharing the basketball and defending together as a team, this is a very dangerous team," Trammell said, per The Next Hoops, after Dallas' 91-81 home win over the Connecticut Sun on Aug. 12, which snapped its three-game skid.
After salvaging the homestand, Dallas (18-14) again shredded one of the WNBA's best defenses on Friday, using 30 points from Arike Ogunbowale and a dominant fourth quarter to coast past the Sun, 95-75, in Uncasville, Conn.
Ogunbowale was one of six Wings scorers to reach double figures as Dallas picked apart the Washington Mystics 97-84 on Sunday for their sixth win in their past seven road games.
The Wings return to Minnesota after hanging 107 points on the Lynx in a 40-point blowout win on July 12, and Tuesday's game threatens to yield a similar result if Minnesota (15-17) displays the same weary effort it did during Sunday's 88-74 home loss to the Seattle Storm.
Lynx coach Cheryl Reeve blasted her team's "terrible" defensive performance, which Jewell Loyd took full advantage of by canning five 3-pointers for Seattle en route to a 31-point game.
"The focal point was to get them off the 3-point line," Reeve said. "We went under screens, we were out of plays, and they're wide open."
Having just faced the league's top scorer in Loyd brings Minnesota opportunities to adjust its defensive game plan for Ogunbowale, whose 21 points per game rank fifth in the WNBA.
"It's about dictating and being up and making things hard — make them do something different," Lynx guard Kayla McBride said.
"It's a challenge every night, and I look forward to it."
McBride's 13.3 points per game for Minnesota rank second behind Napheesa Collier's 21.2.
After Tuesday's contest, the Lynx and Wings meet in Dallas on Thursday.
—Field Level Media