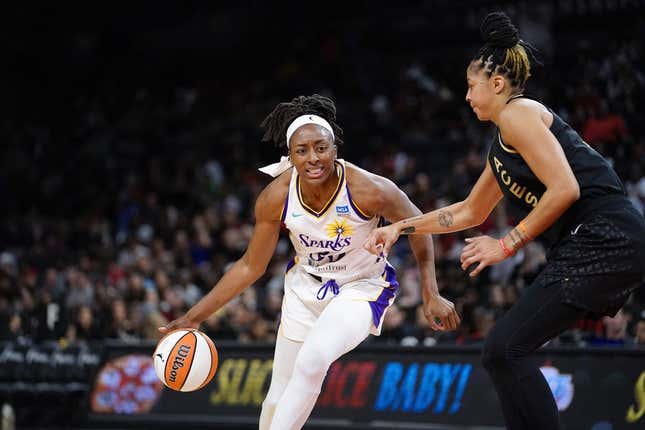 The Dallas Wings look to build on their season-best four-game winning streak when they host the struggling Los Angeles Sparks on Saturday in Arlington, Texas
How running an NFL team is like running a restaurant | Chef Emeril Lagasse
The Wings (12-9) head home after a rousing 99-88 win at New York on Wednesday in which they committed a season-low two turnovers, a key to keeping the high-powered Liberty offense in check. Arike Ogunbowale scored 25 points for Dallas, with Satou Sabally and Teaira McCowan scoring 15 apiece and Natasha Howard adding 14
McCowan also grabbed 12 rebounds for her fourth double-double of the year for the Wings, winners of six of their past seven games in a stretch in which they've defeated league-leading Las Vegas as well as the second-place Liberty
"One of the keys to the win (over New York) was to take care of the basketball," Dallas coach Latricia Trammell said. "We knew with New York being as good as they are, we couldn't give them extra possessions. We have a lot of basketball left and are going to take one game at a time. But I am so excited for them."
The Sparks travel to the Dallas-Fort Worth Metroplex after a 73-70 loss at Minnesota on Thursday in their first game after the All-Star break. The setback was the seventh straight for Los Angeles (7-14), which hasn't won since beating Dallas in back-to-back home games on June 23 and 25
Nneka Ogwumike led the Sparks with 19 points and had a potential game-tying 3-pointer with two seconds left hit the rim and fall away. Lexie Brown added 13 points in the loss while Jordin Canada had 12 and Layshia Clarendon produced 11 points in her return from a right foot injury
Clarendon, who missed 14 games prior to Thursday's loss, could be the key to Los Angeles' turnaround and push for their first playoff spot since 2020.
"If we can make a run and get in the playoffs, we'll be a tough out," Sparks coach Curt Miller said. "If we continue to have to pivot and we fall short, and we're in the lottery, then we hope the balls bounce our way, literally.
--Field Level Media