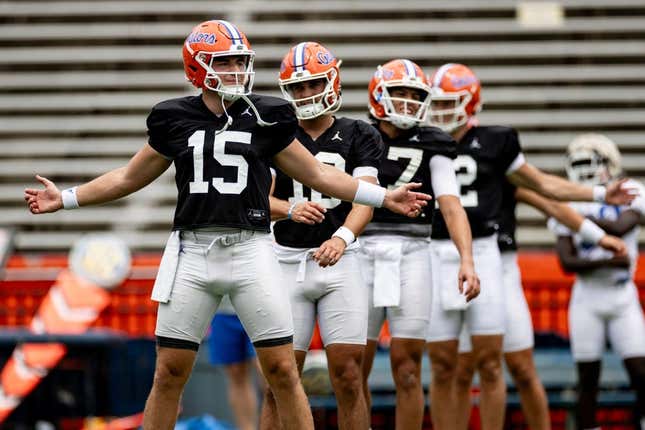 Graham Mertz will be the guy for the Gators when Florida opens the 2023 season at Utah.
How running an NFL team is like running a restaurant | Chef Emeril Lagasse
"We've seen enough,'' Florida head coach Billy Napier declared Friday. "I think the big thing I've been impressed with is just his ability to come in and learn the system, translate what he knows and apply that to our system. Probably has worked as hard as any player on our team."
Mertz, who is wearing Tim Tebow's No. 15 jersey with the Gators, started 32 games at Wisconsin before entering the transfer portal in January and quickly aligning with Napier and the Gators, who were in the early stages of learning starting quarterback Anthony Richardson was on his way to the NFL. The Indianapolis Colts made Richardson the No. 4 pick in the draft in April.
At that time, Mertz was locked in a tight competition at quarterback with redshirt sophomore Jack Miller, a former transfer from Ohio State.
"My biggest thing is I want to be coached, and I want to be coached hard,'' Mertz said of choosing Florida instead of staying at Wisconsin following a coaching change. "The standard here is exactly where you want it to be. It was nice to have that plan and hear that. They were 100 percent honest with me, telling me what they saw in my game, what I needed to improve, and how they would improve it. That was very refreshing. For me, it was a no-brainer."
The Gators were informed of the QB call by Napier on Friday, with 20 days left to prepare for the game at Salt Lake City on Aug. 31.
Mertz, a redshirt junior, would be in line to make his debut at The Swamp in Gainesville on Sept. 9 against McNeese State.
—Field Level Media