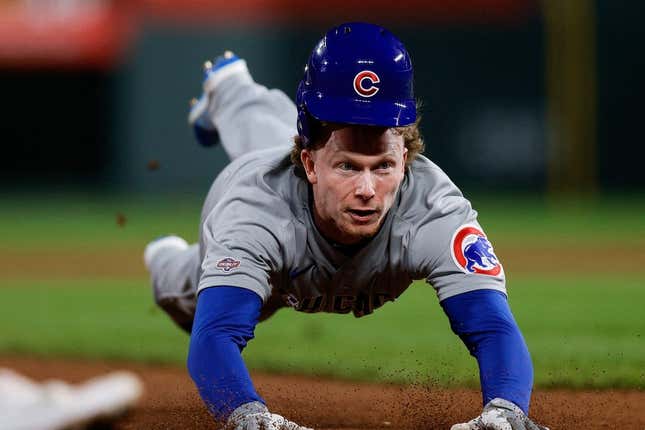 Amid a heated pennant race, the Chicago Cubs have been forced to make some tough decisions. Selecting the contract of Pete Crow-Armstrong wasn't a hard one, though.
How running an NFL team is like running a restaurant | Chef Emeril Lagasse
Crow-Armstrong, a 21-year-old outfielder, is on a major league roster for the first time and is expected to help Chicago (78-67) down the stretch. He didn't start Monday's 5-4 comeback win at the Colorado Rockies but will get the chance soon, possibly Tuesday night when the teams play the second contest in a three-game series.
The Cubs will send Javier Assad (3-3, 2.83 ERA) to the mound while the Rockies will throw Chris Flexen (1-7, 7.36) in a matchup of right-handers.
Crow-Armstrong had a strong season in the minors. He combined to hit .283 with 26 doubles, seven triples, 20 home runs, 82 RBIs, 37 stolen bases and an .876 OPS in 107 games between Double-A Tennessee and Triple-A Iowa this season.
He's also considered one of the top defensive outfield prospects and MLB Pipeline's No. 12-ranked overall prospect.
"He earned the call-up," Chicago manager David Ross said Monday. "Big outfield here, definitely can play some defense, steal a base. He'll get some starts mixed in; he can definitely help us out."
Crow-Armstrong entered Monday's game in the seventh inning as a pinch runner and recorded a sacrifice bunt in the ninth.
Pitching is always a hot topic playing in Denver, and the Cubs hope Assad can rise to the moment in his first career start at Coors Field. He is coming off a Thursday start against the Arizona Diamondbacks, and he took the loss in a 6-2 game after giving up three runs on seven hits in 5 1/3 innings.
He has faced the Rockies once in his career, on Sept. 18, 2022, at Wrigley Field. He took the loss after allowing four runs on two hits and four walks in two innings.
Colorado (51-92) has dropped five straight and is headed for its first 100-loss season but is still trying to take something out of a disappointing campaign. Kris Bryant returned to the lineup on Monday and went 1-for-4 after missing nearly two months with a broken left index finger, and the young lineup continues to battle.
The Rockies took a 4-3 lead into the ninth inning on Monday but couldn't hold it. Nolan Jones, who threw out Seiya Suzuki at the plate for his 15th outfield assist of the season, missed an opportunity late in the game when he couldn't haul in a leadoff double by Dansby Swanson that opened the door for a two-run rally in the ninth.
"I made a mistake," Jones said. "The ball should have been caught, and it cost us the game. ... I want to make that play, I want to win every game we can, but there are a lot of positives."
Despite owning the worst record in the National League, Colorado can be a huge factor in the postseason race. Of their 19 remaining games, 16 are against teams with playoff aspirations.
Flexen can put his mark on the postseason picture Tuesday night. He will face the Cubs for the fifth time in his career — his second start — and is 0-1 with a 12.79 ERA against them.
—Field Level Media