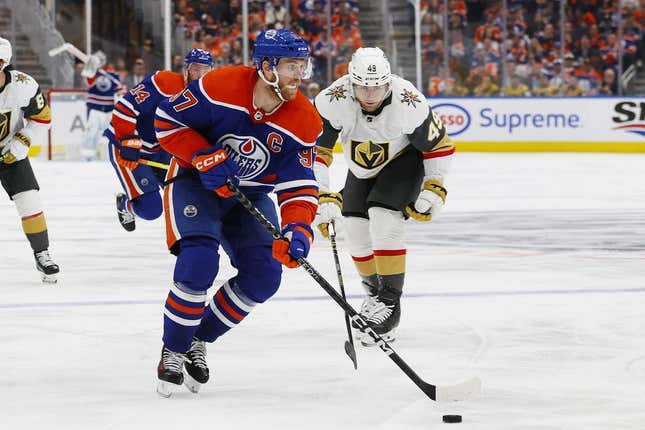 The Edmonton Oilers are in familiar territory as they prepare to host the Vegas Golden Knights when their Western Conference semifinals series resumes on Wednesday night
Chris Paul should ride the bench next season | Keep it a Buck(et)
Just like in the opening round, the Oilers are down 2-1 in the best-of-seven series heading into Game 4. Edmonton won three straight against the Los Angeles Kings to advance
"We've bounced back before," Edmonton captain Connor McDavid said. "Obviously, it's a big Game 4, and we understand that. I expect, again, that sense of urgency to go up. I would expect our best game in Game 4."
The Oilers were certainly far from their best in Monday's 5-1 drubbing they received at the hands of the Golden Knights
After taking an early lead, Edmonton was greatly outplayed in all areas of the game by a Vegas squad that lost its starting goaltender, Laurent Brossoit, due to injury midway through the first period.
"To a man, not our finest hour in any way," Oilers coach Jay Woodcroft said
It is expected Stuart Skinner, Edmonton's No. 1 goaltender, will be back in the net after he was pulled from Monday's clash.
Woodcroft had no update on the status of forward Zach Hyman, who was on the receiving end of a hard check from Nicolas Hague in the first period. Hyman finished the game but did not practice on Tuesday.
Regardless, whoever hits the ice for Edmonton is well aware that they must respond with a win. Otherwise they will return to Las Vegas on the brink of elimination.
"We know we have more. I think that's the positive thing," Oilers forward Ryan Nugent-Hopkins said. "We've been a good team at responding after a tough game and I expect that, come Wednesday night, we're going to bring our best game forward.
Brossoit, who took over the top goaltending job in Vegas late in the season, did not practice on Tuesday.
"He is getting more tests. I will know more (Wednesday)," Golden Knights coach Bruce Cassidy said
The goaltending position was a revolving door all season for Vegas, and now Adin Hill appears to be back at the forefront. Hill posted a 16-7-1 record in the regular season with a 2.45 goals-against average and a .915 save percentage. His last start was March 7, when he was injured.
The game was tied 1-1 when Hill took the net on Monday, and he stopped all 24 shots he faced to record the win.
"I've never done it, so I can't really say how it is, but I'm sure it's tough," Golden Knights forward Jack Eichel said of Hill's performance. "It's tough to see our starting goalie go down and be in the type of pain he was in
"You don't want to see anyone go through that. We know what L.B. has been through in terms of rehabbing and getting back to great playing form, so it's tough to see him get injured there. But ton of credit to Hillsy coming in mid-game. I know he hasn't played a lot lately, but I thought he did a great job."
Hill likely benefited from playing the third period of his team's 5-1 loss in Game 2.
"He got a taste of the temperature of playoff hockey," Cassidy said. "It wasn't the best circumstances, but it probably helped him a little (Monday). As for our team, we've been through a lot with goaltenders all year. I think we'll try to keep playing the same way no matter who's in there."
--Field Level Media