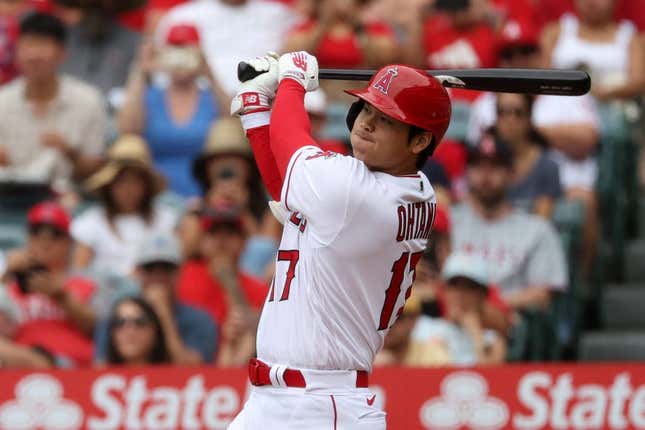 What happens off the field could be more intriguing than what transpires on it when the visiting Los Angeles Angels and the Detroit Tigers meet for a three-game series that begins on Tuesday
Is Texas or Florida State a bigger national title contender? | Agree to Disagree
The Shohei Ohtani trade watch will move to Detroit, and while Ohtani won't pitch in the series, he will look to add to his major-league-leading home run total -- provided he's not dealt this week.
Ohtani is headed to free agency in the winter, but the Angels remain on the fringes of the American League wild-card race, which could convince them to hold onto the dual-threat superstar
Los Angeles has won five of its past six games, all of which were part of a nine-game homestand. It swept the New York Yankees in a three-game series before taking two of three from the Pittsburgh Pirates over the weekend, including a 7-5 victory on Sunday.
The Angels are now embarking on a nine-game road swing
"It's like the playoffs right now for us," Los Angeles utility man Andrew Velazquez said. "That's why, going into this road trip, winning this series (against the Pirates) was very important."
On Sunday, Ohtani blasted his 36th homer during the first inning, a liner that cleared the center field fence.
"I don't know if I've seen a ball hit like that -- a golf ball maybe," Angels manager Phil Nevin said. "I thought he lined out to center. I really did. Or maybe it gets over (the center fielder's) head or hits the wall. But it disappeared into the trees. Every day, he does something different to impress you.
That's why it's such a difficult decision for the Angels -- retain the game's premier player and hope a postseason berth will convince him to re-sign, or deal him to the highest bidder before he leaves after the season
The successful homestand has made the decision even tougher.
"It was a nice stretch at home, absolutely," Nevin said. "The guys are responding well. They understand everything's still in front of us."
Right-hander Griffin Canning (6-4, 4.52 ERA) is scheduled to start for the Angels on Tuesday. In his latest outing, Canning recorded a career-high 12 strikeouts against the New York Yankees in 5 2/3 innings on July 17. He allowed two runs while throwing 120 pitches and wound up with a no-decision
Canning will be opposed by left-hander Eduardo Rodriguez, who could be the Tigers' biggest trade chip before the Aug. 1 deadline
Rodriguez (6-5, 2.69 ERA), who is expected to opt out of his contract after this season, has won his last two starts. In his most recent appearance, Rodriguez limited the Kansas City Royals to two runs and four hits while striking out seven in seven innings on Wednesday.
"That's what I want to do all the time," Rodriguez said. "I've been working so hard this year to keep that kind of stuff the whole time. Working in bullpens, working with the pitching coach and everybody trying to keep throwing the ball right where I want to all of the time.
"(Wednesday) was that kind of game. I was throwing everything right where I wanted and I threw all of my pitches."
The Tigers have won their past two games, including a 5-1 victory over the San Francisco Giants on Monday. Riley Greene, Spencer Torkelson and Kerry Carpenter combined for seven hits, two runs and three RBIs. They hit Nos. 2-3-4 in the lineup
"The middle of the order was excellent," Detroit manager A.J. Hinch said.
--Field Level Media